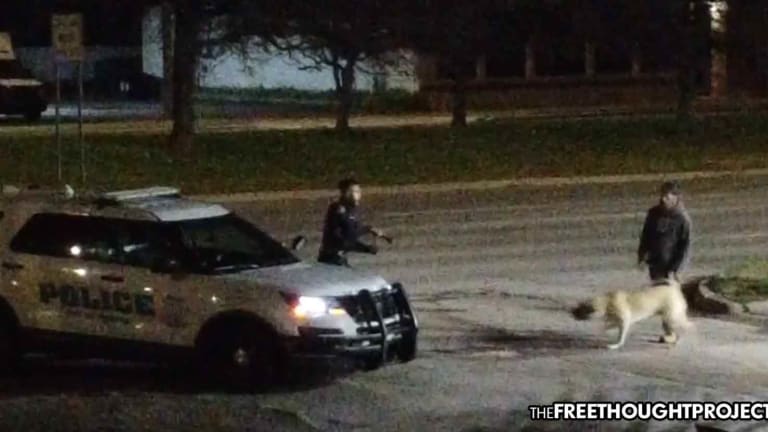 Security Guard Uses Drone to Film Cop Kill Innocent Man's Happy Dog and the Video is Heartbreaking
A security guard flying a drone to check the building captured a police officer shooting and killing an innocent man's happy dog.
Inkster, MI -- Over the years, TFTP has reported on countless unnecessary dog shootings by police officers. These shootings are so common that many of them have been captured on video. From videos of happy dogs wagging their tails to chained up and helpless animals being senseless executed, the puppycide by cop list is too long to recount. Never, however, have we reported on drone footage of police killing a happy dog, until now.
That footage just cost Antonio Williams his job as a security officer at a local marijuana dispensary. The incident unfolded last Monday as Williams flew his drone around the building as part of his security detail.
Williams just happened to see Brad Brock and his dog Moose nearby as they talked to an Inkster police officer. Brock had called 911 that night to report that someone needed assistance.
As the drone footage shows, Brock is talking with the officer and his dog Moose is nearby, wagging his tail as it walked up to another man on the scene. Moose was happy and not at all aggressive.
Unlike the man near Brock, who casually let Moose greet him and walk on, the officer immediately pulled his gun and began dumping rounds into the happy dog as it wagged its tail.
"The video clearly shows the dog was not aggressive," Williams told WXYZ. "The officer pulled his weapon and I don't know how many times he fired because I was busy wondering where the bullets were going."
As WXYZ reported:
Police asked Williams to make a statement on the shooting and he did. He said police did not ask him for the video.

But Williams said managers at the marijuana dispensary demanded that he turn the video over to them and not release it to anyone, threatening his job if he did otherwise.

Williams said he decided the right thing to do was to give his video to Moose's owner.
Unfortunately for Williams, his integrity was the nail in the coffin of his job at the dispensary. They didn't want the attention from the video's release so they fired Williams after he gave it to Brock.
"What I chose to do with that footage was my right and my choice," Williams said. "If the dispensary had an issue with it, they voiced it. The consequence was my termination and I'm OK with that. We move forward."
It's a good thing Williams had his drone that night as the Inkster police department claims that the dashcam was not recording and that the officer's body camera had a dead battery so they had no police video.
Williams says he has no regrets and he is glad that Brock now has the video of his dog being shot so he can pursue justice for Moose.
"I believe that he (Moose's owner) deserved that footage. That was his dog, and that dog was in his life because he lost his leg. I can relate to that loss. I can relate to that man," Williams said, referring to Brock's owner who he later learned had lost a leg in a crash five years ago, according to WXYZ.
Williams is no stranger to police. When he was a child, he was sentenced to life in prison for taking the life of his mother's abusive boyfriend. Williams said he got tired of seeing his mother abused so he stopped it and it cost him his freedom.
"I think what happened was the result of seeing my mother abused over and over, and then feeling like I was strong enough to do something about it in that moment, not understanding the consequences," Williams said.
Williams was freed in 2017 after the state revisited his sentencing and realized it was too harsh. Now, he helps others by dedicating his time at various community outreach organizations and the National Organization of Exonerees.
As for Brock, he is still mourning the loss of Moose but is incredibly thankful for Williams' video.
"He's my hero," Brock said. "And if there's anything I can ever do for him for what he has done for me, I will always have his back.
"He is the reason my dog is getting justice. He is the whole reason. I am so, so angry and upset and hurt that he lost his job because that is wrong."