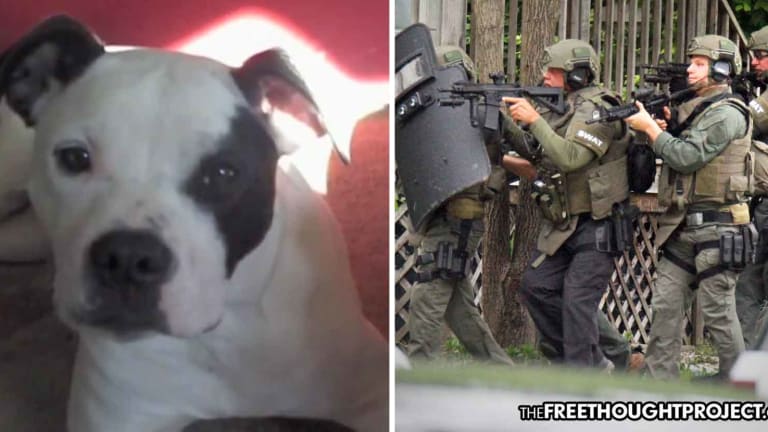 Family Gets $750k After SWAT Raided Their Home, Killed Their Dog—Over Unpaid Utility Bill
Over a dozen SWAT officers raided a family's home, held children at gunpoint and killed their dog because they couldn't afford to pay the electricity bill.
St. Louis, MO -- Nothing says Police State USA quite like a SWAT team raiding a family home and killing their dog because they are unable to pay their gas bill. The woman whose dog was killed and home destroyed by SWAT officers is Angela Zorich, and her story about her police state experience will shock the conscience. After fighting the system for nearly 5 years, Zorich's family is finally being compensated.
According to the lawsuit, which was settled this week, Zorich was the victim of a massive military-style raid and subsequent puppycide. The raid was carried out because police said they needed "to check if her home had electricity and natural gas service."
"I saw them and they're just pouring in, they're covered head to toe, they got helmets, they're like military style," said Zorich.
"This is an example of police overreaching and using excessive force to get a family out of their house," said Kenneth Chackes to the Riverfront Times, the attorney who represents Zorich.
According to the lawsuit, on April 25, 2014, St. Louis County Police officers came to her house. Her son cussed at them. They inspected the home's exterior and placed a "Problem Properties" sticker on the front window.
Days after being publicly shamed and labeled by the St. Louis Police Department as a "Problem," on April 28, Zorich called them to follow up. She was told by police that she was being investigated for failing to have natural gas or electric service; two violations against city code.
Zorich admitted to the police that she did not have gas, but said that she did have electricity. Zorich asked for another inspection to prove that she had the utilities. The officer told her that was fine, but that the investigation would continue.
The next day, on April 29, 2014, the home of Angela Zorich was raided by multiple officers from the St. Louis County Police Tactical Response Unit.
The Riverfront Times outlines the details of the lawsuit:
Zorich was at home with several family members and her pit bull, Kiya, when a St. Louis County Police Tactical Response Unit burst through the door without knocking, according to her suit. The unit had at least five officers with M-4 rifles, supported by at least eight uniformed officers.

The officers entered so quickly, Zorich's suit alleges, that Kiya didn't even have time to bark. A tactical officer fired three shots into the dog, and the dog's "bladder and bowels released and she fell to the floor." The dog "was laying on the floor in her own waste and blood struggling to breathe. She had a gaping hole in her chest."

Zorich claims the officers kept trying to talk to her about the natural gas, but she was focused on her dog, whom she'd raised as a puppy and who (she says) had "never shown agression to any person."

At one point in the raid, Zorich alleges, an officer pointed his firearm at her son's head and said "One word, motherfucker, and I'll put three in you."
"They put me and my son on our knees to watch her die. The officer squatted over her while she was dying with the search warrant, and he said, 'You know why we're here?' and I said, 'No I don't know.' When he said, 'We're here because your gas is off.' I lost it," Zorich said.
Police claimed that they had to shoot Zorich's dog because it charged at them. However, an autopsy would reveal that the dog was shot from behind as it ran away from police.
Zorich was subsequently taken into custody at the police station. When she was finally let go and allowed to return to her home, she found to be completely trashed. Beds had been overturned, and items that were once on shelves had been thrown to the floor.
The citations issued to Zorich, which had allegedly justified the heavily militarized raid on her home, were for substandard siding, guard rail, screens, window glass and deck.
A dozen armed men dressed for war, were dispatched to a woman's home, killed her dog, and kidnapped her because of some moldy wood and her inability to pay her gas bill.
In what world is this considered "justice"?
The apologists will say that Angela Zorich provoked police into this action against her. If she didn't want to be raided, they will say, she should have just paid her gas bill. The thought of the raid being retaliatory in nature won't enter their minds.
Luckily, with her legal team, Zorich got the actual justice she deserves.