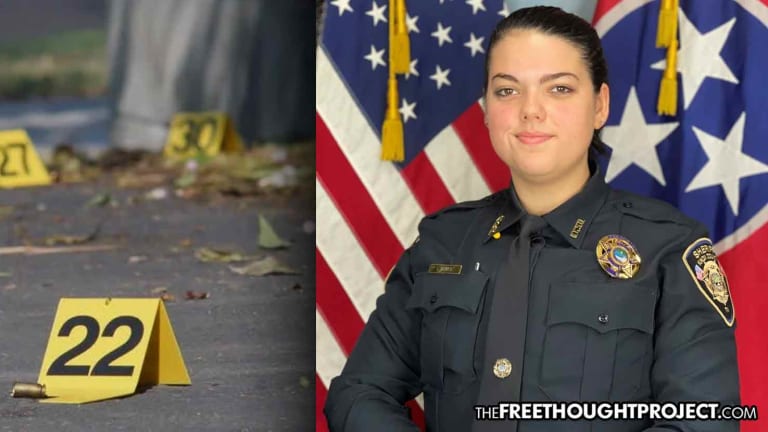 While Trying to Kill a Dog, A Cop Missed and Shot His Partner Instead
A Tennessee cop is in ICU after being shot by her partner as he tried to kill a dog.
Knoxville, TN -- It is no secret that cops shoot dogs — a lot. Frequent readers of TFTP know too well how many beloved family pets are gunned down every year by public servants in the U.S. It happens so much that there is a term for it called "puppycide." We have an endless archive of stories in which dogs meet their untimely ends at the end of a cop's gun.
According to an unofficial count done by an independent research group, Ozymandias Media, a dog is shot by law enforcement every 98 minutes. That number could be higher too as many of the cases never make the media reports.
When these cases do make the local media, often times, they are dismissed by apologists who claim the dogs' owners were committing crimes or should have had better control of their dog. Unfortunately, however, it is not just people suspected of crimes who see their dogs gunned down in front of them. Cops go onto the wrong properties all the time and kill the dogs of innocent families — and they do so with impunity.
Epitomizing the problem with cops shooting dogs is the fact that even their fellow officers are not safe. According to the Knox County Sheriff's office, two deputies were responding to a call Tuesday night when a dog came from behind the residence.
Deputy Jordan Hurst then pulled his gun and attempted to kill the dog but instead shot his partner, deputy Lydia Driver.
Driver was taken to the University of Tennessee Medical Center and is recovering from emergency surgery in the ICU. She is expected to recover and according to the sheriff, she is in good spirits.
Hurst has since been placed on paid administrative leave and no details -- including the reason for the deputies walking into the yard -- have been released. No arrests have been made and no suspects have been named in the response to the reported call.
Instead, the sheriff told the citizens that cops have to make tough decisions and this case is above their comprehension.
"Officers deal with people and situations the average person will never experience in their lifetime. This incident is unfortunate, but we will get through it together. We are blessed to serve a community that loves and appreciates our men and women. For that, I'm grateful," Sheriff Tom Spangler said.
As this case, and others like it illustrate, it is no secret that police officers are unafraid to put the lives of innocent people in danger and pull their guns out to shoot at dogs. The Free Thought Project has reported on multiple instances in which cops have attempted to shoot dogs and shot men, women, and children instead.
As we reported, and as this case illustrates, even their fellow officers aren't safe from cops attempting to kill dogs.
Officer Lane Butler was fighting for her life last year in an Indiana hospital because one of her fellow officers pulled his gun on a dog and shot her instead.
According to police, officers were responding to a complaint of criminal mischief on a Tuesday morning in January when the shooting happened. Police were at a woman's apartment to see if a person wanted on a warrant was inside. Police noted that the woman was cooperative and let officers search her home.
Before the officers entered the home, the woman warned them that her large dog was inside and in a cage. Butler and two other officers, LaFrene Butler and Aaron Wright, then entered the home and began searching it. As they searched the home, however, the dog reportedly escaped from the cage and the officers then fled the residence.
As the officers fled, Wright pulled out his pistol in a futile attempt to defend himself from the dog. Instead of shooting the dog, however, the officer shot Butler in the back as they walked out the door. Butler was wearing a bulletproof vest, but the round went in just above the protected area in her upper back.
After he negligently shot his fellow cop in the back, the department announced that Wright will face no discipline. 
While Butler survived this shooting, others haven't been so lucky.
Take for example the tragic case of Autumn Steele.
The tragic incident unfolded in January 2015 as Gabriel Steele, Autumn's husband, was loading up their 4-year-old son, when Autumn began yelling at Gabriel and the police were called.
"He's got my kid!" yells Autumn.
Officer Jesse Hill was at the Steele residence acting as an escort in their domestic dispute incident. During this commotion, the couple's dog came running out of the house.
"Hey, hey, quit fighting, stop it," says Hill.
In the video, we can hear the dog growl, at which point Hill says, "Get your dog." Only moments later, Hill fired off two rounds.
One of the shots struck Autumn Steele in the arm and another in the chest. The dog was also hit, but he recovered. Sadly, Steele would not recover and died at the hospital. Police and the DA then proceeded to railroad Steele's family as they fought for justice. A tragedy from all sides.