While media debate the facts and figures of police brutality, the biggest issue is that facts and figures on police killings are horribly incomplete.
The tragic cases of Eric Garner and Michael Brown are galvanizing the nation against rising police brutality and militarization. As awareness grows daily, mainstream media talking heads will attempt to keep their loyal fans uninformed and distracted. Bill O'Reilly recently provided a prime example as the following "statistic" was aired on his show and paraded about by Facebook fans.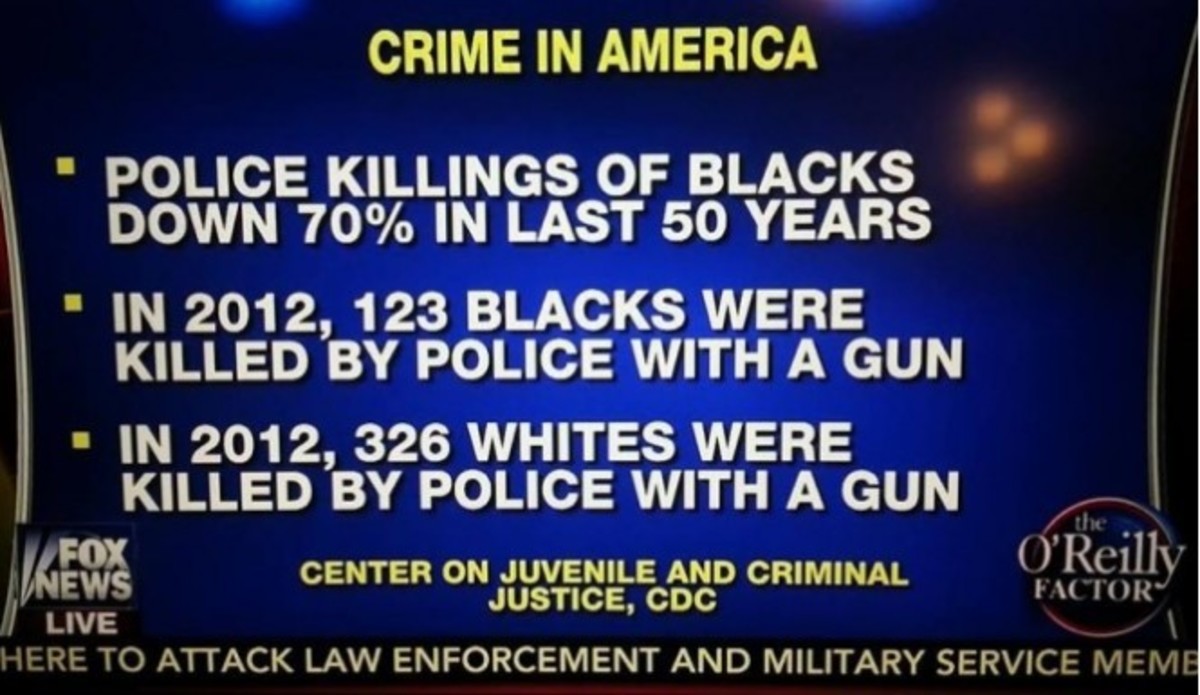 The funny thing is, the same sources used by O'Reilly actually show the opposite of the propagandist's intended message. The Center on Juvenile and Criminal Justice published "Who Are Police Killing?" which demonstrates that African Americans are far more likely to be killed by police officers than whites over a 13 year period, based on the same CDC data that O'Reilly uses.
While it is true that police killings of African Americans have decreased 70% in the last 50 years, if we use the last 40 years then the decrease is far less. Apparently when Jim Crow laws were finally ended in 1965, police had less excuses to commit murder.
If one fails to take into account that the population is 77 percent white and only 13 percent black, then O'Reilly's statistics would tend to back his insidiously skewed assertions. Unfortunately for FOX News, the Free Thought Project uses a method called fact checking.
The bottom line is that today, African Americans have a much higher chance of being killed by police. "Still, the rates for younger African Americans remain 4.5 times higher, and for older African Americans 1.7 times higher, than for other races and ages," reports the CJCJ, the very source O'Reilly used to imply otherwise.
But showing the folly of a race-baiting talking head is a trivial matter. The larger issue brought to light here, one that needs desperate attention, is that information on police killings is horribly incomplete. The lack of a data clearinghouse is a "national embarrassment," according to criminology professor Geoffrey Alpert.
The U.S. Department of Justice keeps no real database of police shootings, instead relying on more than 17,000 local precincts to "self-report" police shootings. The problem is, according to the government's own report, some jurisdictions fail to file reports or they purposely omit what is termed "justifiable" homicide.
So, the Eric Garner murder would not be reported because it was deemed "justifiable" by the local authorities. The 2012 murder of Albert Payton, who walked outside carrying a small utility knife and was gunned down in front of his mother by DC cops, does not exist in government data.
Albert Payton's death as well as over 550 other police killings from 2007-2012 never happened, according to the national count. Also in dozens of other cases where the killing was reported, it was attributed to the wrong agency.
Besides this inept system of self-reporting to the federal government, there appears to be no way of knowing how many citizens are killed by police. Journalists and criminal justice academics estimate that the real number of police homicides in the U.S. is more than double the figure reported by government, or approximately 1,000 people every year.
With all the information-collecting abilities of the state, why is this particular statistic non-existent? As Jim Fisher, a former FBI agent and criminal justice professor remarked, "The answer to me is pretty obvious: the government just doesn't want us to know how many people are shot by the police every year."
The state can only keep us in the dark for so long. Private individuals and alternative media are shedding light on the brutality of the American police state. Perhaps the most comprehensive database of police killings in the U.S. is kept by the public charity "Fatal Encounters," founded by D. Brian Burghart. Help spread awareness by contributing your own data about police killings to Fatal Encounters.