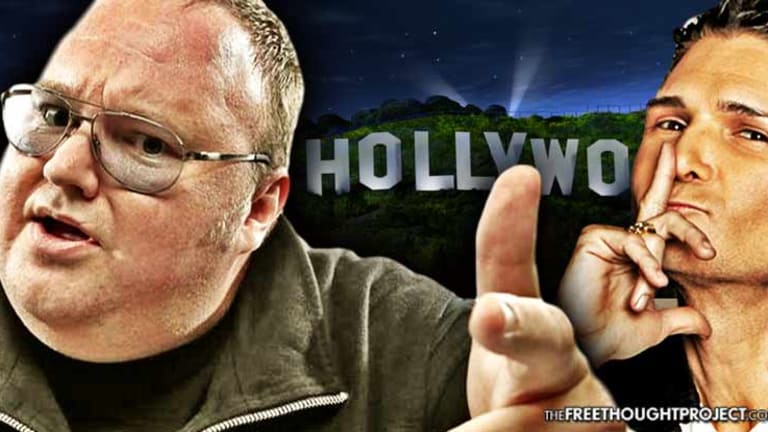 As Sex Abuse Rocks Tinseltown, Kim Dotcom Reveals Plan to Take Down Elite Hollywood Pedophiles
It is time to let this instance shine a light into the darkness of Hollywood—instead of serving as a distraction from the rest of the atrocious crimes.
The recent revelations of the sexual abuse of mega elite Hollywood mogul and fundraiser for the chrony Clinton family, Harvey Weinstein, prove that Hollywood, the mainstream media, and even government officials will cover for or look the other way as sexual predators act out their sick fantasies in front of them.
As the NY Times reports, this sexual harassment did occur in front of everyone and no one said anything about it.
He had an elaborate system reliant on the cooperation of others: Assistants often booked the meetings, arranged the hotel rooms and sometimes even delivered the talent, then disappeared, the actresses and employees recounted. They described how some of Mr. Weinstein's executives and assistants then found them agents and jobs or hushed actresses who were upset.
Even CNN got in on the action by bashing the person who they vehemently defended during the 2016 presidential election, Hillary Clinton.
On Tuesday morning, Virginia Sen. Tim Kaine, the Democratic party's 2016 vice presidential nominee, sat down for an interview on CNN's "New Day." Asked about the allegations of sexual harassment against Harvey Weinstein, the deposed Hollywood mogul, Kaine said: "Any leader should condemn this. These allegations are low-life behavior."

By that definition, the last two Democratic presidents as well as the party's 2016 nominee are not leaders.
While this news should come as no surprise to those who've been paying attention to the claims of abuse inside Hollywood, the recent and negative exposure given to the Hollywood elite is helping to garner attention to this long depraved practice inside the terrifying world known as Tinseltown.
As the elite point fingers at one another over who should distance themselves further from this sexual predator, internet sensation Kim Dotcom took to Twitter to propose an actual solution.
Pointing out the horrid nature of the film industry and their lust for sexual abuse and even slavery, Dotcom began Tweeting his idea to solve this problem.
Dotcom's plan to expose the depraved ways of the elite is to have victims come forward and work for justice under the protection of an attorney.

To do this, Dotcom is asking for folks to build a secure website on which victims of the Hollywood elite can document their abuse and seek damages for their actions.
Making sure to let everyone know he was fully aware of the horror show that is Hollywood sex abuse, Dotcom retweeted a video of a Cory Feldman interview in which Feldman exposed the sadistic acts of Hollywood pedophiles.

While looking through the replies to his request for someone to build a website to document abuse, it appears that there are several people willing to accomplish this task. Now, the only hard part is getting the victims to come forward. When a victim comes forward, they are normally tarred and feathered in the mainstream media and made to look like fools. Even when their stories are corroborated by others, nothing happens to those responsible.
As the Free Thought Project reported last year, childhood star turned adult actor Elijah Wood, also claimed Hollywood is in the midst of a massive sexual abuse scandal, which can be compared to that of Jimmy Savile in Britain.
Wood came forward in an interview to blow the lid off the dark underground world of child acting in Hollywood.
In the interview with the Sunday Times, Wood dropped a bombshell, noting how child actors were regularly "preyed upon" by industry figures.
"Clearly something major was going on in Hollywood," said Wood. "It was all organized."
What Wood is talking about is the rampant sexual abuse of child actors, which has been previously exposed by Corey Feldman as well as Corey Haim.
In an episode of their reality TV show, The Two Coreys, a candid fight broke out during which Haim claimed Feldman stood by and watched as a person Feldman "still hangs out with" and is "best friends with" proceeded to "rape" the 14-year-old Haim.
"There are a lot of vipers in this industry, people who only have their own interests in mind," continued Elijah Wood in his interview. "There is a darkness in the underbelly – if you can imagine it, it's probably happened."
Wood says the abuse runs unchecked because the victims "can't speak as loudly as people in power."
"That's the tragedy of attempting to reveal what is happening to innocent people," he said. "They can be squashed but their lives have been irreparably damaged."
Wood is referring to the immense power of Hollywood elites to control the narrative and quash any allegations of abuse before they even happen.
This narrative is so controlled that after Wood made these comments, the very next day the mainstream media attacked him and forced him to downplay them.
Indeed, this control over the narrative is so strong, that the NY Times, the paper who just exposed Weinstein, could've done so over a decade ago — but chose not to.
On Sunday, reporter Sharon Waxman wrote a piece for The Wrap that said that the New York Times had quashed her investigation into Weinstein's sexual misconduct back in 2004.
In her original report, Waxman tracked down Fabrizio Lombardo, the head of Miramax Italy. She traveled to Italy and discovered that Lombardo knew nothing about filmmaking. He was reportedly being paid $400,000 in less than a year to "take care of Weinstein's women needs." At the time, Disney, the then-parent company of Miramax, told Waxman that they had no idea Lombardo existed.
The fact that Weinstein is getting exposed for his alleged past abuses is a major blow to the depravity taking place behind the silver screen. Americans would do wise, as Kim Dotcom has done, and let this instance shine a light into the darkness of Hollywood—instead of serving as a distraction from the rest of the atrocious crimes.