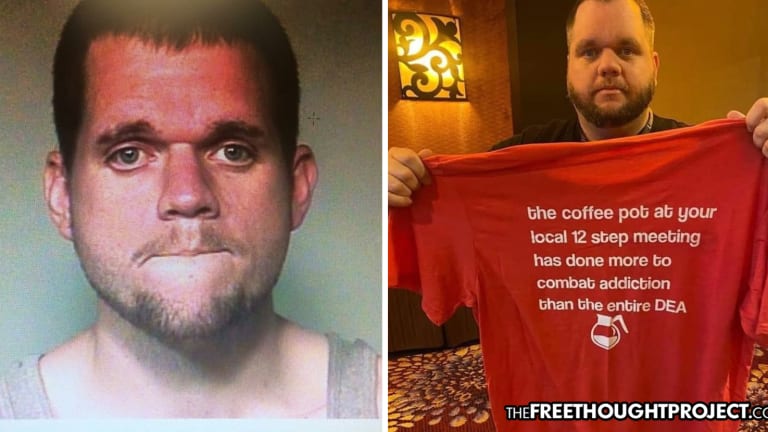 Former Drug Addict Creates Live-Saving Addiction Program that Works in Spite of the War on Drugs
"The only thing that the government offered Drew was jail time and a criminal record. And he could still get drugs in jail."
Despite the overwhelming evidence showing that kidnapping and caging people for possessing illegal substances does nothing to prevent use and only leads to more crime and suffering, government is still hell bent on enforcing the war on drugs. Like a crack addict who needs to find his next fix, the state is unable to resist the temptation to kick in doors, shake down minorities and the poor, and ruin lives as they maintain their futile quest to enforce the war on drugs.
Instead of realizing the horrific nature of the enforcement of prohibition, many cities across the country double down on the drug war instead of admitting failure. As we can see from watching it unfold, this only leads to more suffering and more crime. Luckily, there are cities, and now entire states in other parts of the country that are taking steps to stop this violent war and the implications for such measures are beneficial to all human kind — but it's not happening fast enough.
Despite kidnapping and caging people for illegal substance for decades, the United States currently finds itself in the worst overdose epidemic in history. The solutions offered by the state are not saving lives and, as the current crisis illustrates, their "solutions" aren't solutions at all and they are making the problem worse.
Fortunately, there are forces outside of the state which are working to stop this problem — and unlike the government — it's effective.
Meet Drew Cook.
Former vice presidential candidate for the Libertarian Party, Spike Cohen, released a series of tweets this week, explaining Cook's history with drugs, what he did to overcome that history, and how he channels that history now in order to save lives.
According to the post, Cook was a hardcore IV drug addict for over 12 years. When Cook needed help, the only "help" the state offered was in the form of chains and metal bars — and these don't work.
It put a strain on his relationships, his career, his whole life. The only thing that the government offered Drew was jail time and a criminal record. And he could still get drugs in jail.
As we've seen since the inception of the drug war, kidnapping, caging, and killing people has done nothing to deter demand and instead has led to a slew of more dangerous substances flooding the market. Now, these synthetic substances like fentanyl are so deadly that the leading cause of death for adults aged 18-45, is now opioid overdose.
After he hit rock bottom in 2012, Cook knew something had to change, so he sought support from substance abuse groups and he got sober that year. Since then, he has spearheaded his own groups and figured out ways to help others who are in similar situations.
So in early 2021, Drew founded the LP Sober Caucus. Since then, Drew and @LPSoberCaucus members have handed out hundreds of fentanyl testing strips & Narcan, set up drug-free hospitality rooms at LP conventions across the country, and raised & donated money for sobriety centers.

@LPSoberCaucus has even funded drug rehab scholarships to help people who want to get into treatment and get clean from their addiction.
Thanks to the program's success, Cook is now expanding it to offer these services to the public. In June, Cook started Out of Harm's Way Okc, a harm reduction organization focused on helping people — not caging them.
OHWOKC, supplies fentanyl test strips for folks to test products, antiseptic wipes, Narcan, and other items that reduce harm by lowering the risk of overdose and the spread of disease. The group has already helped hundreds of people and saved multiple lives and they are doing so without the state.
Cook is now filing to become a non-profit so they don't have to pay a portion of their donations — which fund the group — to the government. The filing is around $1,000 and the givesendgo.com campaign has already surpassed this amount after Cohen's recent twitter thread. Now, all the money collected after will go toward saving more lives, helping more people get sober, and show the world that compassion, harm reduction, and logic are far superior to handcuffs, cages, and bullets.
If you'd like to help Cook in his quest to save lives and get people sober, you can do so at this link.