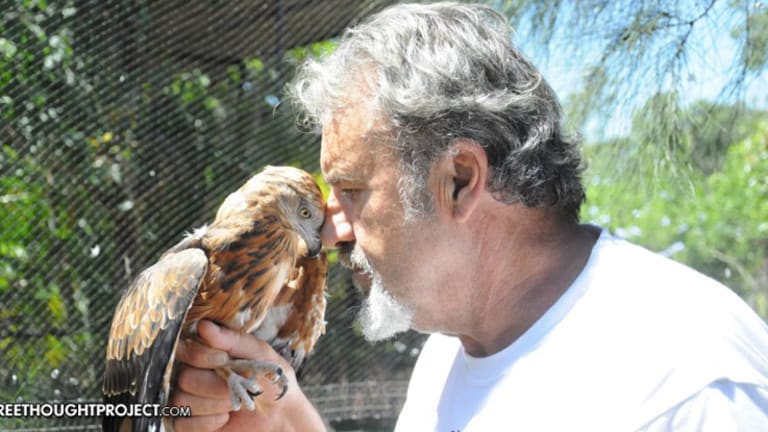 Free To Good Owner: 5 Acre Animal Sanctuary, And You'll Love The Catch
This wildlife sanctuary in a tropical paradise can be yours, free of charge, as long as you care for hundreds of animals.
Australia — For years, Harry Kunz fielded various unsavory but lucrative offers for the use of his remote and strikingly scenic wildlife sanctuary in north Queensland — which visitors frequently call a "paradise" — but none of the propositions included caring for the hundreds of animals brought there each year.
So, now — under the condition Eagles Nest Wildlife Hospital continue operating, and the diverse animal population receives appropriate care — he's giving it away. For free. Kunz will even train interested parties.
"I've had a few offers but I said no, I want this continuing as a wildlife hospital because that's what I've tried to do for almost 30 years now," Kunz, a native of Austria who arrived in Australia in 1982, told the Guardian. "I don't want to lose what I created and built up, every shred, with all my money."
Some have proposed converting the sanctuary, with its aviaries, into a zoo, while others vowed to give "$100,000 a year to allow a dope plantation" on the property — but Kunz' mission has always been rehabilitating injured animals of any breed.
Eagles Nest, according to the website, "is a five acre sanctuary for the indigenous wildlife of Far North Queensland; providing a first class service for the rescue, rehabilitation and release of any animal in need. There is no discrimination against species, any animal, no matter how small or common is rescued and cared for [...]
"Situated on a beautifully planted property, Eagles Nest has over 40 aviaries, designed and landscaped to suit the needs of a variety of species. The largest being a free-flight aviary for rehabilitating Eagles at over 30 metres long."
Upon arriving in Sydney in the early 1980s, Kunz told the Guardian, he witnessed area veterinarians euthanizing native birds with only relatively minor, treatable injuries:
"I got a shock because, where I come from in Austria, a sulphur-crested cockatoo was $3,000 in a pet shop. I didn't know you could buy them here for $10.
"For me it was an exotic wonderful bird who had just a broken wing. What's the big deal? Anybody can fix this."
So Kunz, an expert in birds of prey, began to do just that — but his mission to rehabilitate and care for raptors quickly expanded to include any species of animal in need of help — from cassowaries and emus, to koalas, reptiles, and abandoned domesticated dingos.
Eagles Nest maintains one of the few permanent keep licenses granted to animal sanctuaries in Queensland, "but can live a good quality of life after treatment, can remain in care at the sanctuary permanently," the website explains. "As such, a number of animals reside at Eagles Nest, including a range of raptors i.e. owls, falcons, kits, eagles and hawks, and other native wildlife."
Most commonly, animal patients have been poisoned by pesticides or other chemicals, attacked by domesticated cats and dogs, or have been hit by vehicles — Eagles Nest encourages the public to remove roadkill a few meters from roadways since larger birds who feed on it are frequently hit by careless drivers.
But, when it comes to informing the hospital's visitors, Kunz says, the "biggest success I can have" is dissuading people from hunting for sport.
"The worst thing I've discovered is that 98% of hunting is done because it's 'fun.' Some people say, 'Next year when it grows up I can shoot it,'" he lamented to the Guardian.
"On the weekend, parties of six or seven people will go to the pub then take their guns and drive out shooting everything — birds, possums, whatever moves, whatever they see.
"I've got eagles with gunshot wounds, falcon hawk, cockatoos, you name it.
"There is no bigger, stupider predator than humans."
Humans, in fact, are nearly exclusively responsible for threats to wild animals in Australia and elsewhere, as the website explains, from the recreational hunting and chemicals mentioned above, to habitat loss, mining, logging, agriculture, urban development, and many other infringements.
Around 1,200 animals are brought to the hospital every year for rehabilitation — some are able to be released, but others become permanent residents. Located in the Wet Tropics of the Atherton tablelands, the Eagles Nest property has an incredibly diverse array of plants to provide natural space to nearly any species of animal.
"Eagles Nest Wildlife Hospital is dedicated to preserving and protecting our native animals and the environment as a whole…At the hospital, the whole property has been fully planted to provide food and shelter to many native, wild birds, possums, gliders and a number of wild macropods have taken residence at the hospital because they know it is a safe environment," the website states.
Ideally, the next caretakers would be a couple, family, or small group of dedicated and passionate animal lovers, and prospective candidates would train with Kunz for as long as needed until he can determine who is best suited to continue the sanctuary's mission.
Kunz "says he can teach everything, from where to obtain free truckloads of bananas or sweet potatoes from supportive farmers, to maintaining the private, government and corporate grants that keep the place running," reported the Guardian.
While Eagles Nest will indeed be free to the right candidate, Kunz says, don't mistake that he's just "a senile old idiot giving his house and property away." It's a serious offer — but, despite mandatory dedication and hard work, the rewards aren't limited only to the philanthropic.
"Flocks of rainbow lorikeets come down, you have breakfast with the animals, it's a beautiful place," Kunz said, furthering his 'sales' pitch and adding visitors describe Eagles Nest as "paradise."
While Kunz wants to ensure the right fit, his standards aren't impossibly rigorous. As he told the Guardian,
"The only thing they need is the love for our environment and wildlife, and common sense."