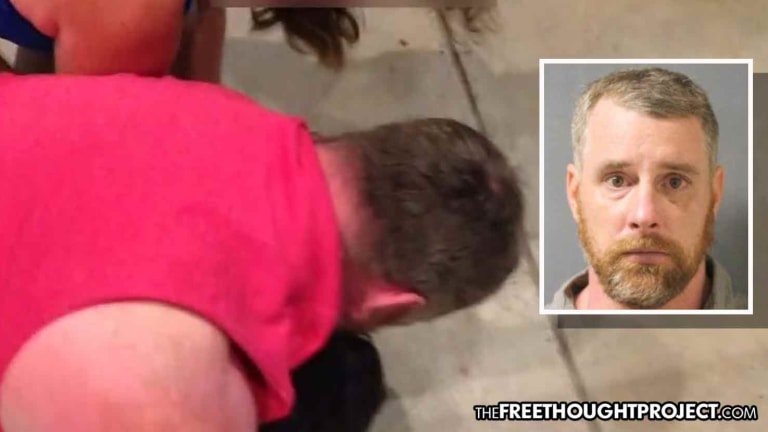 Husband of Cop Gets 25 Years for Choking Man to Death as His Officer Wife Watched and Did Nothing
The husband of a Texas cop has been sentenced to 25 years in prison after choking a man to death in front of his wife outside of a Denny's.
Harris County, TX — Terry Thompson, a 41-year-old Harris County man choked another man to death at a local Denny's last year. The dramatic footage of the fight emerged days later which prompted a heavy backlash by people wanting to know why the couple was not charged. However, after the backlash, Thompson and his wife were both charged, and this month, a jury convicted Terry Thompson of murder for the death of John Hernandez.
As FOX 26 reports, Thompson is the husband of former Harris County Sheriff's deputy Chauna Thompson, who is also charged with murder. The jury reached a verdict during its second day of deliberations.
At lunchtime, Thompson left the courtroom and had a meal with his wife. Two hours, later just before 2 p.m., the jury reached its verdict finding Thompson guilty of murder.
Last year, as TFTP reported, protests erupted with citizens demanding justice for John Hernandez. Now, they are finally getting it.
"The video to me is almost by itself enough. You see a person on the ground who is completely immobilized and grunting and moaning. And you see a big guy on top of him choking him and he dies of that choking," said Hernandez family attorney Randall Kallinen. As TFTP reported, Hernandez, 24, was drunk when he went to the restaurant that fateful Sunday night, his family told reporters. From the surveillance video, a wobbly Hernandez can be seen entering the restaurant. He sat down but got up to leave the establishment, over the objections of his wife who pleaded for him to stay. The drunken man then reportedly relieved himself outside the front entrance, apparently in front of the deputy and her husband. Taking umbrage with the grown man peeing in the parking lot, the deputy's husband confronted Hernandez about his actions. According to the Thompson, he claims the drunken Hernandez struck him and started a fight which ended when the deputy's husband reportedly choked the man unconscious. The off-duty deputy helped restrain Hernandez and noticed he wasn't breathing. She started CPR and waited for paramedics to arrive. After on-duty police arrived, surprisingly, the deputy's husband was not immediately charged with assault, involuntary manslaughter, manslaughter, or even murder. Hernandez was transported to the hospital by ambulance, was placed into intensive care, but was later taken off of life support, and died. Following Hernandez' death, Harris County Sheriff Ed Gonzalez asked for the Texas Rangers and the Department of Justice to become involved in the investigation. From the video, the large man in a red tank top (deputy's husband) can be seen seemingly choking Hernandez to the point which led to his demise. Bystanders, apparently realizing what was taking place, attempted to step in front of the camera as the man can be seen rendering Hernandez incapacitated. Thompson can be heard telling Hernandez, "Do you want me to hit you again?" Panic can be heard in the young lady's voice standing nearby when she notices someone is recording the incident. Thompson was free on bond during the trial, according to FOX 26, but moments after the jury found him guilty of murder, he took several deep breaths, turned to his wife and mouthed "I love you". Then his freedom was gone. Thompson was handcuffed and taken to jail. "I'm satisfied to know justice was served and he cannot be free after what he did," said John Hernandez's parents Ignacio and Elena Hernandez. "This was a win for the community, because everybody was really emotional thinking this was just going to go by the wayside and it didn't," says Hernandez's cousin Diana Escalante. As the video shows, Thompson's weight, combined with the choke, likely contributed to Hernandez fatal injuries. One man, dressed in what appears to be biker attire, threatened the person recording the attack with going to jail and continued to step in front of the camera. No one, in the 52-second video, can be seen attempting to break up the fight, appearing to be more concerned with the fact someone was recording the encounter than fearful someone may be dying beneath Thompson's weight. The video was presented to the Hernandez family's attorney who demanded accountability and now, they finally got it. "This clearly showed Terry Thompson choking and eventually killing John Hernandez," said Kallinen at the time. Indeed, it does.

In June of 2018, a Thompson was temporarily freed after his trial ended with a hung jury. However, prosecutors came back with a stronger team this time, and it worked.
On Wednesday, Thompson was sentenced to 25 years for fatally choking John Hernandez to death outside a Denny's restaurant.
We will now await the trial of his wife, who watched as her husband choked the life out of this man.