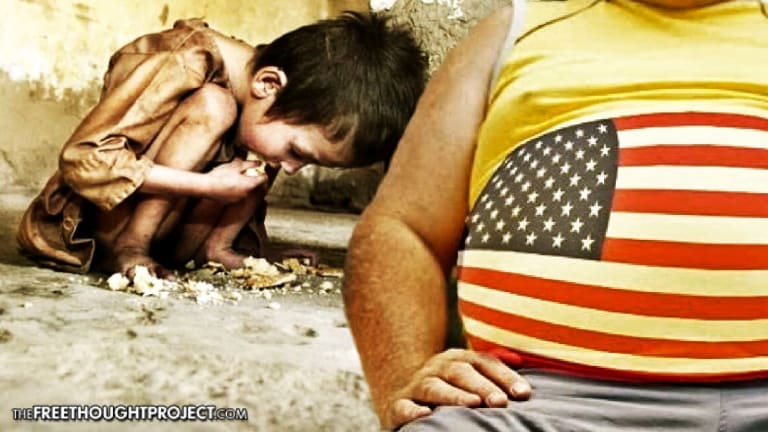 As Americans Fatter than Ever, World Faces Worst Starvation Crisis Since WWII
As starvation strikes many countries across the globe, Americans' obesity rates are at an all-time high.
As many as 20 million people could die of starvation in four African regions if something doesn't happen quickly to change the projected outcomes. The dire prediction affects Yemen, Somalia, Northeast Nigeria, and South Sudan. Each one of the countries has been war torn as of late with large-scale civil wars.
The United Nation's Humanitarian chief Stephen O'Brien said on Friday, "We stand at a critical point in history. Already at the beginning of the year we are facing the largest humanitarian crisis since the creation of the UN (1945)." Going further O'Brien stated, "Now, more than 20 million people across four countries face starvation and famine. Without collective and coordinated global efforts, people will simply starve to death. Many more will suffer and die from disease."
Americans, on the other hand, have not only their plates full but their bellies full as well. According to a new Centers for Disease Control study conducted in 2015, Americans are fatter than ever, at least in one important demographic. "In 2015, 30.4% of Americans 20 and older said they were obese, up from 29.9% in 2014," says CNN which analyzed the study. "Although the 2015 rate is not significantly higher than the previous year's, it represents a continuation of a trend that has been going on since at least 1997, when researchers began using the current survey and when only 19.4% of Americans said they were obese," an indicator of how far down the slippery slope of obesity Americans have traveled.
While the famines occurring in the world are taking place far from the shores of the United States, many people still wonder if what is happening in Africa and the Middle East could ever happen in the Western Hemisphere. Answer: It's already happening. Cuba, if anyone who's honest will tell you, has been suffering food shortages ever since the Castro regime took over and instituted their communist system of government. And now, Venezuela, a country which has seen its fair share of decades of prosperity, is suffering its own humanitarian crisis, with many families reportedly digging through garbage in an effort to find sustenance.
Even in the world's most obese nation, according to the most recent data, in 2015, 42.2 million Americans lived in food insecure households, including 29.1 million adults and 13.1 million children.
Doomsday preppers, folks whose end of days fears drive them to stock up on necessities, understand the realities of famine on a different level of reality. They remember the depression era difficulties which kept many families from eating as much as they would have liked, and they've decided to do something about it — often stocking up on water, dried foods, meals ready to eat, and ammunition — should the need to find food overtake one's concern for their fellow man.
We at TFTP had a chance to interview a few preppers who told us it's never too late to start and there are a few ways Americans can begin to prepare for unexpected food shortages. First, when buying dried goods, buy one or two bags more than you need. Second, begin to stock up on universal currencies such as silver and gold. Third, take a gun safety course. Fourth, have a bugout bag, and a bugout plan, so that in the event of some form of chaos, one can escape to safety with the basic necessities for at least a few days. Lastly, have a plan which includes a sustainable supply of fresh water. Without it, no one, not even the best of gardeners, can grow food.
UN Secretary-General Antonio Guterres recently made a statement, warning that this food crisis has been "neglected" by the world.
"Let's not forget that each one of these people is an individual case of extreme suffering," he said. "There is a moral obligation for us all to do everything we can to support these people."