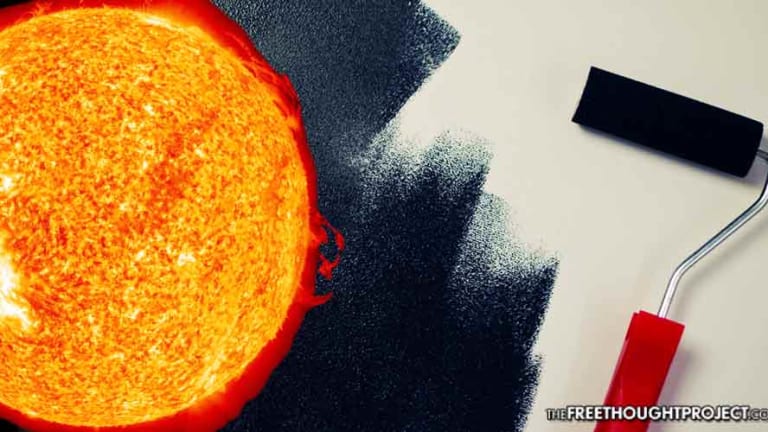 New 'Solar Paint' Turns Your Entire House into Source of Clean Energy
The new solar paint will actually produce the world's cleanest energy that could even be used to replace fossil fuels in combustion engines.
As governments scramble to tax their citizens into a greener world, research in the free market is proving to be the ultimate catalyst in a sustainable future. As governments pass legislation to prop up the fossil fuel industry, renewables are battling back in this epic David and Goliath match. One of the latest and most unique innovations that is showing promise to free humanity from the grip of fossil fuels is solar paint. Yes, solar paint.
Researchers in Australia, from the Royal Melbourne Institute of Technology (RMIT), have developed a solar paint that can absorb water vapor and split the molecule to separate it into hydrogen — the cleanest source of energy.
The research has recently been published as "Surface Water Dependent Properties of Sulfur Rich Molybdenum Sulphides – Electrolyteless Gas Phase Water Splitting" in ACS Nano, a journal of the American Chemical Society.
According to a report on RMIT's website:
The paint contains a newly developed compound that acts like silica gel, which is used in sachets to absorb moisture and keep food, medicines and electronics fresh and dry.

But unlike silica gel, the new material, synthetic molybdenum-sulphide, also acts as a semi-conductor and catalyses the splitting of water atoms into hydrogen and oxygen.

Lead researcher Dr Torben Daeneke, from RMIT University in Melbourne, Australia, said: "We found that mixing the compound with titanium oxide particles leads to a sunlight-absorbing paint that produces hydrogen fuel from solar energy and moist air.
"Titanium oxide is the white pigment that is already commonly used in wall pain, meaning that the simple addition of the new material can convert a brick wall into energy harvesting and fuel production real estate.
"Our new development has a big range of advantages," Daeneke said. "There's no need for clean or filtered water to feed the system. Any place that has water vapor in the air, even remote areas far from water, can produce fuel."
The solar paint is so efficient that it doesn't need humid climates to function either. This technology can work in arid climates too.
"This system can also be used in very dry but hot climates near oceans. The sea water is evaporated by the hot sunlight and the vapor can then be absorbed to produce fuel," Daeneke explains.
Professor Kourosh Kalantar-zadeh, Daeneke's colleague, explained on the university's website how hydrogen is the cleanest source of energy and could be used in fuel cells. But that is only the beginning. This solar paint could also serve as a replacement for fossil fuels as it can be used in combustion engines.
"The produced hydrogen can then be directly used either in a fuel cell or in a combustion engine," says Daeneke.
"Ultimately we hope that the solar paint might be used alongside traditional solar cells, potentially coating areas that receive too little light to be viably covered with expensive solar cell modules," Daeneke said.
As Inverse reports, Although Daeneke thinks it will take at least 5 years to engineer the final product, he expects the paint will be very cheap. Since there are already cars and buses that are hydrogen powered today, Daeneke says, once the collection process is completed this could be a powerful source of clean energy in the future. And because it's effectively just a white paint, you could put it on your house or fence to create another kind of clean energy with a little humidity and sunlight.