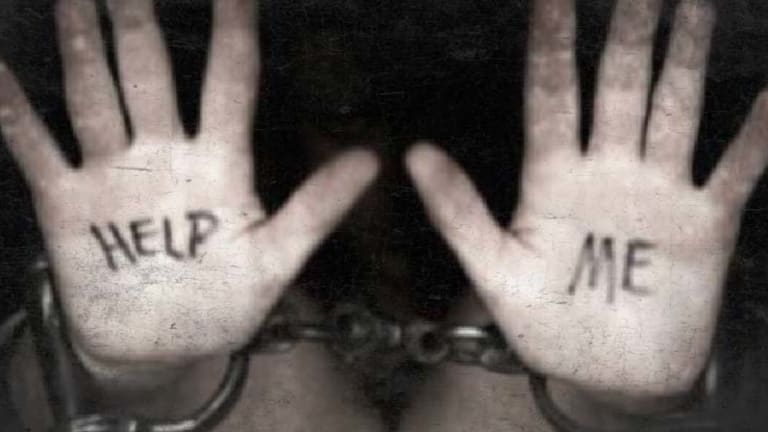 Child Sex Trafficking Victim Sent to Jail Because they Had Nowhere Else to Put Her
Texas authorities rescue sex trafficking victims, then jail them because they don't know what to do with them.
The Free Thought Project has observed a disturbing trend in law enforcement. We've known for years the police have locked up innocent people, who get caught up in a police dragnet. But the latest practice by law enforcement crosses so many ethical boundaries it's unfathomable the good people of Texas are allowing it to take place on their watch. They're now jailing sex trafficking victims because they have no place to put them.
According to the Texas Tribune, many of them are minors — like Lena (17) who never found herself on the wrong side of the law. She was rescued from sex traffickers. But that's when another imprisonment occurred for her. In the fall of 2016, after police helped rescue her from her traffickers, she was booked into the county jail.
"The 17-year-old lived with two dozen women in a single room. She slept on a metal bunk and wore an oversized orange jumpsuit every day. She went to the bathroom with no privacy, using a toilet attached to the wall," the Tribune writes.
Having endured a troubled life, an abusive adoptive mom, several foster homes, only to end up running away from home, Lena found herself as the property of pimps who exploited her need for the love of a father.
According to the Tribune, Texas has only one facility for victims of sex trafficking called the "Freedom Place," which can only house 20 girls at a time. But they don't take in girls who have a history, like Lena's, of running away from such facilities. So the police are opting to use a controversial program called "arrest and recovery" which attempts to rehabilitate them in jail and then drop their arrest-related charges. Lena offered sex for money to an undercover police officer, an offense which brought her to jail and may have saved her life, but imprisoned her nonetheless.
The Tribune writes, "No one wanted Lena in jail — not the Houston police who arrested her, not the district attorney who pursued the case. In their eyes, she was not a prostitute; she was a child who had been sexually exploited and needed protection and care. Lena and teenage victims like her end up in jail for one simple reason: There's nowhere else for them to go."
While the Tribune does an excellent job of chronicling Lena's fight for self-worth and freedom, the newspaper stops short of criticizing the police for creating such a program which places minors in the company of murders and sex offenders.
While it may be a stretch to segue into the reasons why police cannot create an imaginative way to save Lena's life from human traffickers, the issue begs a response. If police in Texas would abandon their fight against marijuana, maybe it could free up resources to create a holding center for high flight risk youth who may have been sex trafficked, needing appropriate medical care and counseling, and some sense of normalcy and structure.
The ugly reasons why they don't do what they know they should be doing may be as grotesque as the problem of sex trafficking itself. It doesn't pay. Busting marijuana dealers, growers, and users, does pay, especially when large amounts of money are confiscated in asset forfeiture seizures.
While the Tribune might not be willing to call out Texas Baptists for not stepping up and being good Samaritans, nor willing to accuse the police of being more interested in generating revenue than fighting crime and protecting victims, we are. Those who question the state and hold them accountable aren't devoid of humanitarianism. In fact, it requires so-called authorities to get out of the way and let people with means and motivation do the job they cannot. Hopefully, this story will be provocative enough to have authorities question why they're pouring so much money and resources into fighting a war on a drug that half of the rest of the country is embracing as medicine. Only then will the great state of Texas think big enough to create better programs for victims of sex trafficking.