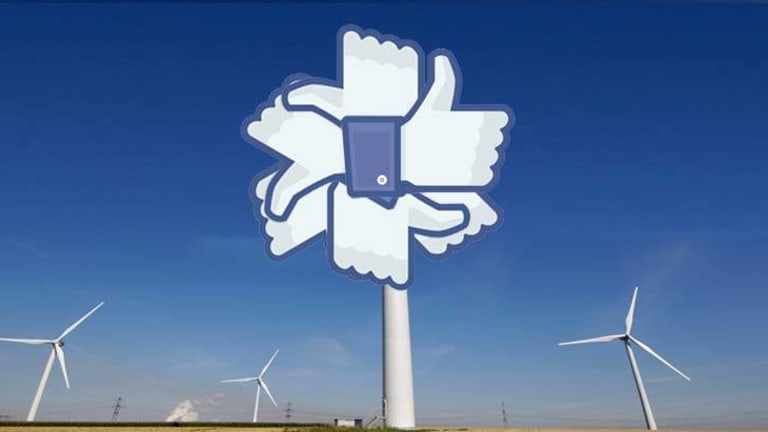 Facebook Goes Off-Grid: Announces that their Texas Data Center Will Run on 100% Wind Energy
Facebook just announced that their new data center in Ft. Worth, Texas will run entirely on wind.
(RT) -- Facebook announced it will use 100 percent wind energy to run its new data center in Texas. The social networking giant has committed to powering all its operations with 50 percent renewable energy in the next three years.
Facebook will partner with Alterra Energy to build a 202-megawatt wind farm on 17,000 acres to fully power the Fort Worth plant. The company won't own the wind farm, but it will buy the power for the data facility that will house computers and storage systems.
"Thanks to our continued focus on efficiency and our investments in renewables in recent years, the carbon impact of one person's use of Facebook for an entire year is the same as the carbon impact of a medium latte," said Tom Furlong, vice president of infrastructure at Facebook, according to the website EcoWatch.
The Fort Worth facility is the company's fifth data center and will be used to handle the growing demand from its 700 million Messenger users and 300 million Instagram users, as well as groups and companies that use Facebook platforms to build membership and businesses, reported Fort Worth Star-Telegram.
Facebook boasts 1.5 billion worldwide users who post 45 billion messages, view four billion videos and post two billion pictures every day.
"Facebook's scale is unprecedented," Furlong said. "Our mission is to connect the world. Just dealing with this kind of scale is a huge technological challenge. But our goal is actually bigger than that. We want to connect the next five billion people."
Other internet companies are transitioning to cleaner, greener energy sources for their data centers as well. Google plans to build a data center powered 100 percent by renewables at a soon-to-be closed coal-fired plant in Alabama, and Amazon announced last month that it will build an 80-megawatt solar farm on the eastern shore of Virginia.
The environmental campaign group Greenpeace, however, is skeptical over Amazon's recent announcement that it plans to power new data centers in Ohio and India with renewables.
"Facebook's announcement draws a sharp contrast to Amazon Web Services, which has failed to explain how it will power its newly announced data centers…despite the company's commitment to use 100 percent renewable energy," David Pomerantz, Greenpeace senior climate and energy campaigner, told EcoWatch.
"Facebook's new goal of using 50 percent renewable energy and commitment to powering its Texas data center with clean wind power demonstrates the kind of transparency needed to show that it is making steady progress toward its goal of using 100 percent renewable energy," he added.
According to Greenpeace, the utility provider to the region where Amazon's Ohio data center facilities are planned generates 83 percent of its electricity from coal. Amazon purchased 150 megawatts of wind power from Indiana, but its Amazon Web Services will demand more power than that in Ohio.
Greenpeace's most recent report, "Clicking Clean: A Guide to Building the Green Internet," found that Amazon has failed to provide transparency about how it will keep its commitment to use 100 percent renewable energy, particularly as it expands its data center operations in coal-heavy regions like Ohio and Virginia.