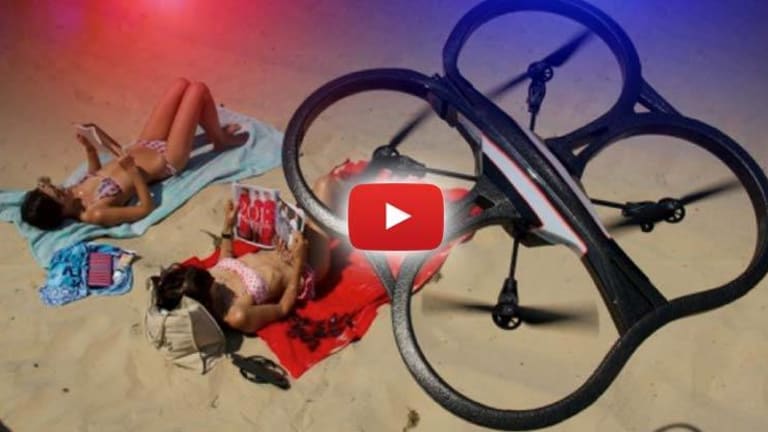 Spring Break in a Police State -- Cop Drones Spy on Partying Kids to Bust them for Victimless Crime
Police will be able to monitor thousands of spring break students from the sky this year, in search of victimless crimes.
South Padre Island, TX -- It was recently reported that spring break celebrations will be monitored by police drones. For generations, college students have been able blow off some steam during spring break in relative safety. Even in the past, students who went on vacation to party, had a better chance of getting arrested than they did of getting hurt or mugged.
Police encounters are the greatest danger that spring breakers face while they are on vacation, and it has become even worse in the modern police state.
As 25,000 college students expect to attend the spring break festivities, the South Padre Island Police Department recently announced that they will be using drones to monitor partiers during spring break this year.
"It's going to give us a bird's eye view when we need it," city spokesperson Gary Ainsworth told the Valley Morning Star.
"It's a 4K camera, so it's crystal clear," he added.
Police Chief Randy Smith insisted that the drones will be used for mostly rescue missions. "We can use it for beach patrol. We're looking at deploying some that have a safety feature that releases a life jacket over a subject that is in distress,"Smith said.
However, it is obvious that the police will be more interested in scanning the crowd for drug users, underage drinkers, and nonviolent people who are just trying to have a good time.
On the ground, the events will be patrolled by city police, state troopers, officials from the Texas Alcoholic Beverage Commission and Texas Parks and Wildlife game wardens, all of whom will likely be more interested in writing tickets than they are with helping people.
It was reported by the Chron that the city is planning on keeping these drones and using them in the future.
Police drones are becoming more commonplace as the technology becomes available to departments across the country, making it possible for officers to have their eyes on everyone at all times. Orwell's 1984 is quickly becoming a reality.
John Vibes is an author and researcher who organizes a number of large events including the Free Your Mind Conference. He also has a publishing company where he offers a censorship free platform for both fiction and non-fiction writers. You can contact him and stay connected to his work at his Facebook page. You can purchase his books, or get your own book published at his website www.JohnVibes.com.