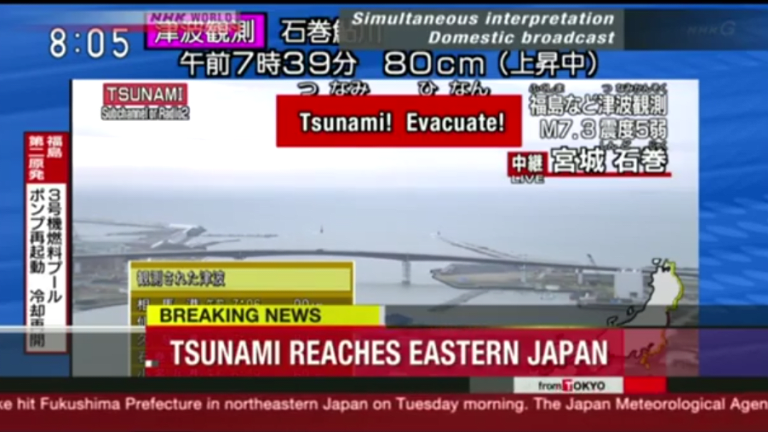 Not Again: Tsunami Strikes Fukushima, Knocking Nuclear Reactor's Cooling System Temporarily Offline
A tsunami and evacuation warning has been issued for Japan's Fukushima prefecture, as one of the nuclear plant's cooling systems was knocked offline. Further tsunamis are still likely.
Fukushima Prefecture, Japan — A massive quake struck off the coast of Japan, triggering a tsunami warning to evacuate the same coastal area where a quake and tidal wave devastated the Fukushima Nuclear Power Plant in March 2011.
Initial reports from the U.S. Geological Survey estimated the quake at magnitude 7.3, but has since revised the number to M 6.9 — still a powerful trembler by any definition — and was felt even in Tokyo, nearly 150 miles to the southwest of the epicenter.
The Japan Meteorological Agency has held to the 7.3 magnitude intensity of the quake.According to reports, the earthquake struck at a depth of around six miles, and was centered just 12 miles off the coast of Iwaki City in the Fukushima prefecture. Alarm sirens blared shortly afterward and residents were urged to evacuate immediately as a tsunami moved quickly toward the coast.

Although the largest tsunami wave was estimated to be approximately 3 feet (90 cm) in height — by comparison, the 2011 tsunami dwarfed that, between 60 and 100 feet tall (18 to 27 meters) — unconfirmed reports from Japan's public broadcasting network, NHK, claimed the cooling system at TEPCO's Number 3 reactor in the Fukushima nuclear facility had been knocked offline. Although TEPCO initially denied that claim, it has since stated that cooling system did, indeed, shut down, however, it plans to have the system operational as soon as possible.
That cooling system is essential to prevent nuclear fuel rods from exploding — as happened in the 2011 earthquake and subsequent tsunami.

Original reports in Japan warned the tsunami could reach as high as 10 feet — and although waves hitting the coast have been much smaller, the government warned residents further waves might still be on the way.
CNBC reported TEPCO has claimed no damage to the Fukushima Daiichi nuclear facility — however, it would be worth noting, the company has been exposed for a pattern of mendacity and suppression about the extent of the damage the plant incurred in 2011. Power blackouts have been reported in the area.
Workers at Fukushima Daiichi were evacuated along with residents in the area, according to a TEPCO spokesperson cited by CNBC.
A fire has been reported inside a chemical factory in Iwaki City, though that has not been confirmed.
"An Iwaki city fire dept official said there was smoke or fire at Kureha's research center in a petrochemical complex in Iwaki city at 6:17 a.m., but it was extinguished at 6:40 a.m. Other details were not clear, he said, adding that no other major damage in the city has been reported at the moment," CNBC reported.
Ships in ports in the tsunami warning zone quickly moved out to sea to avoid being knocked into the coast and being damaged by the tidal waves.
Live footage of the incoming waves amid the piercing tsunami warning sirens echoed the images five years ago on a far smaller scale — and this event is the largest alarm and evacuation effort since that time.
New Zealand and Hawai`i were not under threat of a tsunami from this quake.
This is a developing story and will be updated as needed.