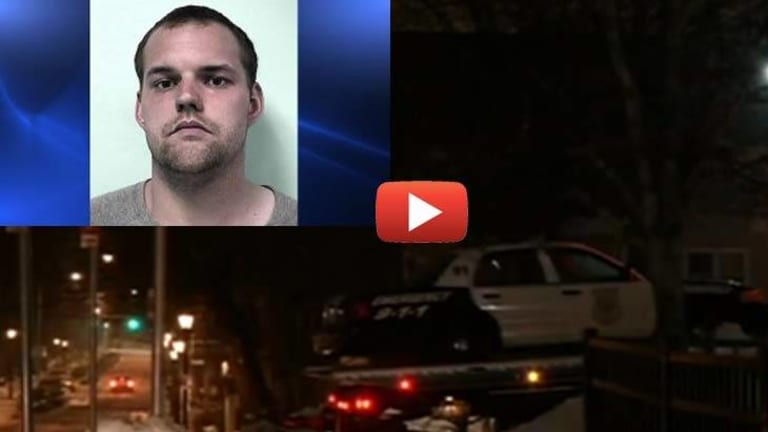 Listen As A Man Taunts Police For 20 Minutes After Stealing their Police Cruiser
Amazingly enough, police didn't kill the man who stole one of their cruisers, taking it on a 20-minute joy ride.
"Sir, why can't I even buckle up in your car, you guys got the seatbelt back, what the heck man?"
Springfield, MA-- Michael Kopeski, 27, has been charged with larceny of a motor vehicle, failure to stop for police, four counts of assault and battery on an officer, and resisting arrest after allegedly stealing a Springfield Police vehicle early Thursday morning and using the radio to taunt officers as he drove around in it.
The incident began when the police were called to Kopeski's girlfriend's home around 4 am for a domestic dispute. Kopeski initially complied with the officers, until they would not allow him back into the home to get his belongings. The man reportedly became enraged and called the officers "pigs" before spitting on their cruiser and threatening to take it, WWLP reports.
The officers had left the keys in the vehicle and the doors unlocked. On top of that, the vehicle was not outfitted with a GPS system. The officers attempted to engage the automatic lock but were too slow, and Kopeski jumped in. One of the officers managed to get the passenger side door unlocked, and pepper sprayed into the vehicle as Kopeski was driving. That move could have being catastrophic, but Kopeski was seemingly not phased and made off with the vehicle.
For twenty minutes, the man cruised around and taunted the officers through their radio. You can listen to the full transmissions here:
The man complained about the pepper spray and was remarkably nonchalant while speaking to the panicked officers.
KOPESKI: You don't get bored working this shift? "Name omitted". "name omitted" you're boring me man, I'm going to look for crime.

POLICE: What's that go again for "name omitted".

KOPESKI: "Name omitted" I'm going to look for crime.

POLICE: Just stay where you're at.

KOPESKI: You guys don't even know where I am.

KOPESKI: Can I go through the inaudible on Tapley.
KOPESKI: Hey how do you change the radio in here? The channel.

POLICE: All we use is that channel 1.

KOPESKI: I'm talking for the tuneage, man. Not for communicate.
Once they found him, an officer had to break the cruiser window to gain access and Kopeski allegedly began punching at the officer. Amazingly enough, police didn't kill Kopeski while attempting to detain him.