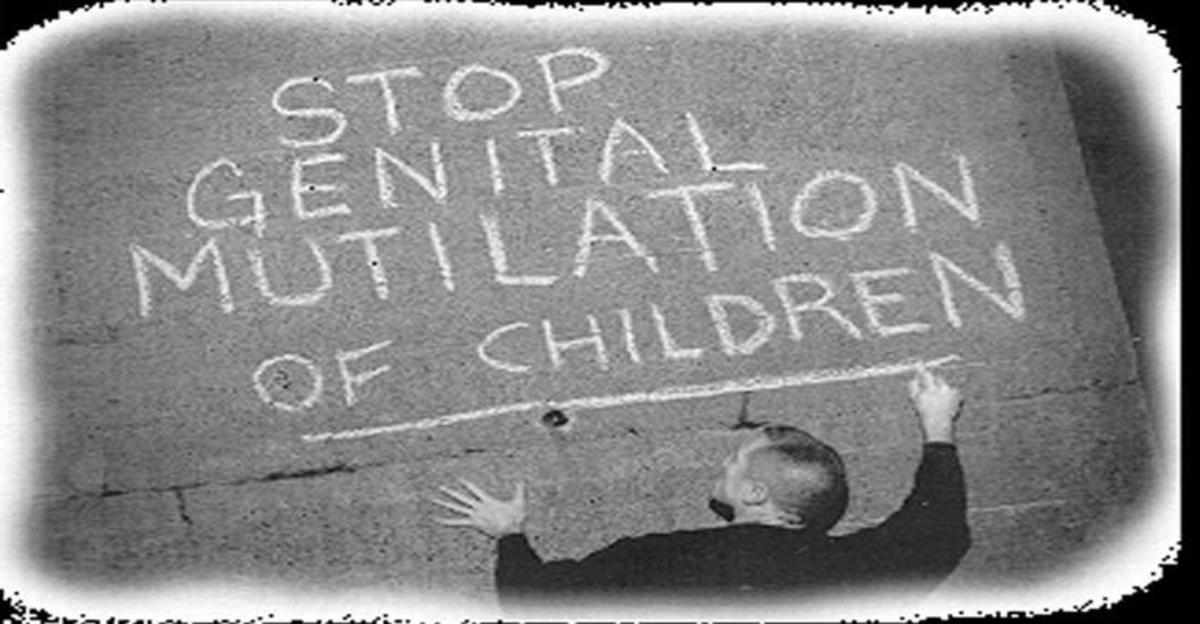 Palm Beach, FL — As Americans cheer on the wars in the Middle East lambasting the entire Muslim Community for the barbaric act of female circumcision, an American woman is jailed for refusing to circumcise her own child.
Contrary to popular belief, not all Muslim populated countries practice female circumcision. Many Christian majority countries practice this horrendous act. Also, those who stand against it, far outweigh those who are for it. 
The irony here is that the same rabble-rousers who use female genital mutilation as a reason to "turn the whole place into a parking lot," are silent when one of their own citizens faces the same persecution.
Last month, Heather Hironimus signed a consent form to allow the circumcision of her 4-year-old son. She did so under duress, as she was threatened with "indefinite imprisonment" for not giving consent.
Hironimus has been involved in a months-long battle over the preservation of her son's intact penis. The child's father, Dennis Nebus, forced the mother of his child and his son into hiding in a Broward County domestic violence shelter after seeking a court order to circumcise his son.
Hironimus was then charged with interference of custody, a third-degree felony. She was thrown in jail on May 14th and Nebus took custody of their son.
The IBTimes reports:
The origins of this saga lie in a parenting agreement signed by Hironimus and the boy's father, Dennis Nebus, at the time of birth. The parents were not in an ongoing relationship and they signed an agreement on shared parenting, which included a clause stating that it would be the father who would schedule and pay for any circumcision procedure.

Nebus never took up the option until the child was three years old. In the intervening time, there were two important developments. The first was Hironimus learned more about the consequences of circumcision, including risks of complications from either the procedure or the anaesthetics involved.

Like ever-growing numbers of American parents, she came to believe or understand the supposed health benefits to circumcision are spurious and do not justify the risks and the loss of bodily integrity.

Secondly, and equally significantly, her son grew old enough to have an opinion as to what should happen to his own penis and decided he did not want bits of it cut off by a doctor for no sensible reason.
However, the facts about circumcision and the child not wanting his penis to be cut mattered not to this Florida father. Nebus pressed on.
Strapping down a newborn baby boy to rip apart fused tissue so they can be crushed and sliced away from his genitals without medical cause, while he is awake and can feel it, is wrong. Forcing a similar practice on a 4-year-old boy who refuses it, is evil. 
Two weeks ago, Hironimus was brought from her jail cell and into a courtroom. She was in handcuffs and crying when Judge Jeffrey Gillen of the 15th judicial district court in Palm Beach County told her to sign the consent form or remain in prison indefinitely. With tears rolling down her face and under duress, she signed the form.
The notion that that Hironimus was under duress when giving her consent has caused an outpouring of support from anticircumcision activists.
"This was not a genuine consent, in our opinion," Jennifer Moose of The INTACT Network tells New Times. "Heather was under duress and in handcuffs. She was coerced."
The INTACT Network, which is a group that shares research-based information on intact care and circumcision, has started a letter-writing campaign to send to urologists across the country to educate them on the Hironimus-Nebus case, according to the New Times. 
"The warnings to the doctors is basically that Heather's consent was not a genuine consent," Moose says. "We're asking them to consider the medical ethics."
Not only is Hironimus being forced to give her consent, but her son, who does not want to have the surgery is being forced to have his foreskin removed.
Hopefully, this letter campaign reaches enough doctors to where this young boy will not be forced into such a brutal act of aggression.
All of the coercion and threats to force this genital mutilation on a child are being facilitated by the state.
Not only is this procedure in contrast with the boy's best interests, but it poses significant risks of infection, an extended recovery period, and permanent disfigurement.
The reality here is that this process is no different than the forced female circumcisions in other countries. But since we call this geographical region "The Land of the Free," the rabble-rousers remain silent.