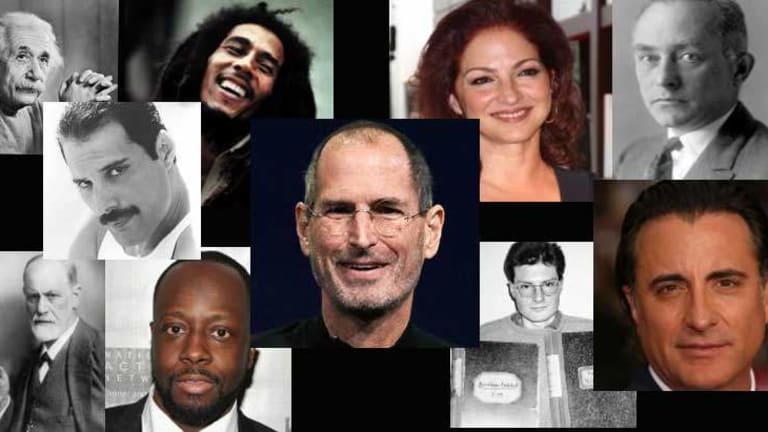 10 People That Will Change Your Mind On the Syrian Refugee Crisis
These 10 famous refugees persevered through enormous hardships and went on to change the world as we know it.
The Syrian refugee crisis is creating national debates on how to handle the influx of people from war torn nations all around the world. Last week the internet was ablaze with the news that Apple co-founder Steve Jobs himself was the son of a Syrian refugee after street artist Banksy created a mural depicting Jobs as a refugee.
It is no secret that modern society has been greatly influenced by the work of countless refugees from all over the planet. Below is a list of perhaps the ten most recognizable individuals who have been forced to emigrate, and not only impacted our way of life, but in many cases the entire world.
1. Steve Jobs
The son of Abdul Fattah Jandali, a refugee who fled his home during massive protests, Jobs went on to become one of the most influential minds in the age of the modern computer. He made it his mission to completely change the user experience and in doing so affected the music industry, how wireless carriers provide services, and fundamentally changed the way that hardware and software are sold all around the world.
2. Albert Einstein
Einstein famously emigrated to the US in 1933 to escape the horrors of Nazi Germany. While he had previously won a Nobel Prize in 1921, he continued to make groundbreaking advancements after his arrival in the United States. Einstein also famously supported the Manhattan Project, ushering the world into age of nuclear power.
3. Max Born
Born was German physicist and mathematician who, like Einstein, was forced to flee Hitler's Third Reich. He moved to England and accepted a position with St. John's College in Cambridge. Born would later go on to win a Nobel Prize in 1954 for his research in Quantum mechanics.
4. Sigmund Freud
Freud is most famously known for his revolutionary work in the field of psychology and is known by many as father of psychoanalysis. He was yet another brilliant mind to be threatened by the scourge of the Nazis and left his native Austria for England in 1938 after an extensive legal battle with Nazi authorities.
5. Christopher Meili
Meili is perhaps one of the most notable banking industry whistle blowers in modern history. In 1997, he discovered officials at The Union Bank of Switzerland were destroying documents that linked them to their involvement with Nazis during the Holocaust. After receiving death threats and having an investigation opened against him for violating Swiss banking laws, he fled to the United States and received political asylum. Meili's discoveries have an impact on the banking industry to this day.
6. Gloria Estefan
Mrs. Estefan was born in Cuba and fled with her family to Miami as a result of the Cuban revolution. She played a fundamental role in introducing US culture to Latin based music as a member of The Miami Sound Machine. In addition to 7 Grammy awards, she has won a Hispanic heritage award and also received the 1993 National Music Foundation's Humanitarian of the Year award.
7. Andy Garcia
When he was just five years old, Garcia's family fled Cuba after the failed Bay of Pigs invasion and settled in Miami. He has since gone on to star in a swath of television shows and iconic films including The Godfather III, The Untouchables, and most recently, Ocean's Eleven and its sequels.
8. Wyclef Jean
Wyclef is a Haitian-born musician and actor, most widely known as a member of musical group The Fugees. His family fled the brutal Duvalier regime in 1982 and settled in New Jersey. During his life, Wyclef has released dozens of albums, films, and has won 3 Grammy awards. In 2010, Wyclef made national news with his announcement that he was running for president of Haiti, although his bid for candidacy was later rejected.
9. Bob Marley
You cannot mention reggae music without immediately thinking of Bob Marley. Beyond his influence in the realm of music, Marley has become a cultural icon as a symbol of rebellion. In 1976 after a failed assassination attempt, Bob moved to England where he resided for two years and recorded his albums "Exodus" and "Kaya," which included several of his most popular tracks.
10. Freddie Mercury
One can hardly attend a sporting event without hearing the thunderous tones of the stadium anthems Mercury helped produce. Born in Zanzibar Africa, his family was forced to flee to England in 1964 due to the Zanzibar revolution. Mercury would then go on to become the voice of the band Queen and write several songs that helped to define a generation of music.
It's important to remember that these ten individuals amount to an extremely low percentage of individuals who have been forced to flee their homes and resettle in a new land only to go on to drastically change the world in which we live.
It is for this very reason that we must start treating all human beings with more respect, regardless of race or religion. Among the tens of thousands of individuals who are being forced to leave their war-torn homes, it is likely there are countless numbers of incredible scientific minds, or perhaps another cultural icon who can help define future generations of peace and tolerance. It is time we put the human back in humanity, America.
Johnny Liberty is a researcher and investigative journalist. You can follow him on twitter @LibertyUnltd