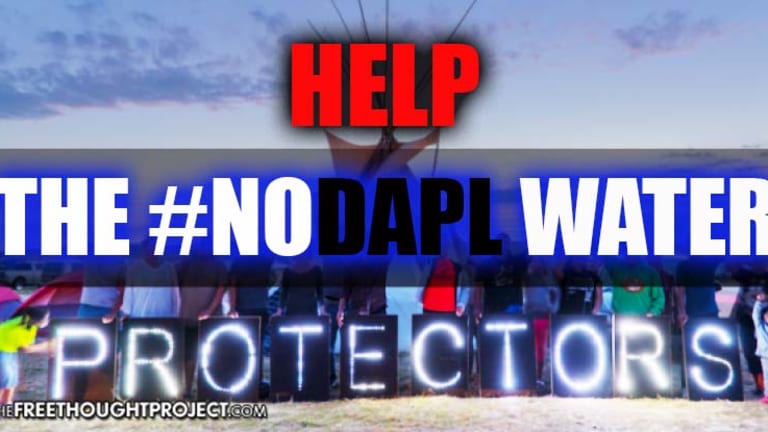 22 Things YOU Can Do this December to Help the Water Protectors at Standing Rock
Here are 22 ways you can help the Standing Rock Sioux fight the Dakota Access Pipeline.
As the Standing Rock Sioux continue their efforts to halt construction of the Dakota Access Pipeline in the interest of protecting the Missouri River — the drinking water supply for the tribe and around 18 million people downstream — a national movement to peacefully oppose the project has gained momentum.
Peaceful water protectors have been shot with rubber bullets, bean bag rounds, tear gas, mace, pepper spray, concussion grenades, and have even been drenched with water in sub-freezing temperatures — and those arrested reported being strip-searched, detained in cement-floored dog kennels, numbers written in marker on their arms, and denied medical care.
All of this evinces a concerted effort by law enforcement to guard a contentious pipeline project at any cost — including the use of violent intimidation — rather than defend the constitutional rights of Indigenous peoples and their supporters, whose imperative is to protect the water from potential oil contamination.
A leak or spill from a completed Dakota Access pipeline is a veritable guarantee, as the Pipeline Hazardous Materials Safety Administration lists 9,000 'significant' incidents over the last two decades — and that doesn't include an untold number of less sizable spills, both reported and unreported.
Preserving a clean water supply benefits all of us — and future generations. So, on that note, the following are 21 things you can do during December to support the Standing Rock Sioux Tribe and take action to protect that most fundamental human need: water.
1. Write a letter to President Obama and express your concerns about the pipeline. Written letters are widely believed to be more effective than emails (which can be submitted here), and nearly as effective as phone calls.
The White House; 1600 Pennsylvania Avenue NW; Washington, DC 20500
(202) 456 - 1111 or (202) 456 - 1414
3. Call North Dakota Governor Jack Dalrymple and voice your concerns about the pipeline and his refusal to address brutal, military-style policing used against Native Americans and other water protectors: (701) 328 - 2200.
4. Donate to support the Standing Rock Sioux Tribe's "legal, sanitary, and emergency purposes" fund, found at this link, or contribute to its GoFundMe campaign at this link.
5. Speak in language Big Oil understands: money. If you have an account with one of the Big Banks lending money for Dakota Access construction, consider withdrawing your money and opening an account with a local credit union. Norway's largest bank, DNB, has already pulled its assets from the project due to public pressure and potential lost business from angry customers.
6. Contact one of the over 70 law enforcement agencies violently policing peaceful activities at Standing Rock.
Politely request they withdraw their officers immediately. Some sheriffs around the country have refused to send troops to assist the Morton County Sheriff's Department after outraged constituents made their feelings on the matter clear. Agencies involved, with links to articles in which they were mentioned, can be found on the ACLU's website here, and contact information can be found here.
7. Call the Army Corps of Engineers and demand they not grant the permit needed for Energy Transfer Partners — now owned by Sunoco — to drill and install pipeline under the Missouri River: (202) 761 - 5903.
8. Donate to the Sacred Stone Legal Defense Fund here.
9. Water protectors have just endured the first storm of the season, and face downright frigid conditions in the months to come. Donations of clothes and winter items have poured in, leaving the camp somewhat overwhelmed. What IS needed are propane and tanks for heating, and firewood:
Standing Rock Sioux Tribe; Attention: Donations; PO Box D; Building #1; North Standing Rock Ave.; Fort Yates, ND 58538
Corporate Offices; 8111 Westchester Drive; Dallas, TX 75225; Phone (214) 981 - 0700
Lee Hanse Executive Vice President Energy Transfer Partners, L.P.; 800 E Sonterra Blvd #400; San Antonio, Texas 78258; Phone (210) 403-6455 [email protected]
Glenn Emery Vice President Energy Transfer Partners, L.P.; 800 E Sonterra Blvd #400; San Antonio, Texas 78258; Phone (210) 403-6762 [email protected]
Michael (Cliff) Waters Lead Analyst Energy Transfer Partners, L.P.; 1300 Main St.; Houston, Texas 77002; Phone (713) 989-2404 [email protected]
12. Educate yourself about the historical context surrounding the battle against the pipeline by learning the history of the Standing Rock Sioux Tribe.
13. Contribute to the Sacred Stone Camp's GoFundMe campaign.
14. Donate much-needed medical supplies, particularly first aid supplies, liquid antacid (which can be mixed with water and sprayed to treat burning from tear gas and pepper spray), gas masks for medics, and much more.
15. Sign the Change.org petition initiated by Standing Rock Sioux youths — which is less than 50,000 signatures away from its goal of 500,000 — and will be hand-delivered to the Army Corps of Engineers.
16. Contact Citibank (here), which pushed other banks into investing in the Dakota Access Pipeline, even when the project has been criticized by the oil industry as redundant and unnecessary.
17. Senator Cory Booker recently wrote a letter to Attorney General Loretta Lynch requesting the Justice Department send monitors and open an investigation of civil rights violations at Standing Rock. Call or write to him and let him know he's done the right thing — and encourage him to follow through:
Senator Cory A. Booker; 359 Dirksen Senate Office Building; Washington DC 20510; Phone (202) 224-3224
19. Also, contact members of the House of Representatives and discuss your concerns about the pipeline: https://www.house.gov/representatives/find/
20. Contact Attorney General Loretta Lynch and urge the Justice Department to investigate brutal tactics and civil rights violations occurring at Standing Rock:
U.S. Department of Justice; 950 Pennsylvania Avenue, N.W.; Washington, D.C. 20530-0001 Phone (202) 353 - 1555 or (202) 514 - 2000
21. Call the U.S. Department of Energy and suggest it's past time to focus on renewable energy so the future won't be filled with projects like Dakota Access:
(202) 586 - 5000 or (800) 877 - 8339 for hearing or speech impaired
U.S. Department of Energy; 1000 Independence Avenue, SW; Washington, D.C. 20585
22. Go to Standing Rock if you are able. Join the movement, support the Standing Rock Sioux and stand against the Dakota Access Pipeline. Please be respectful of Indigenous peoples, and don't treat the camp as a festival or entertainment event. This is a sacred occasion, and gatherings are prayerful and peaceful. More information about what to expect can be found in this link.
***
Although the Dakota Access Pipeline has been spun to appear controversial by corporate media, Energy Transfer Partners CEO Kelcy Warren, and the Morton County Sheriff's Department, the core of the issue for the Standing Rock Sioux Tribe is protecting the water.
Water, as the most basic human need, connects us all — thus connecting all of us to the movement opposing the pipeline's construction. If oil were to poison the Missouri River, countless fragile ecosystems would suffer — and clean drinking water for the Standing Rock Sioux and 18 million people downstream would be but a memory.
This fight, as well as those to come, involves all of us — because Mni Wiconi, Water Is Life.
">