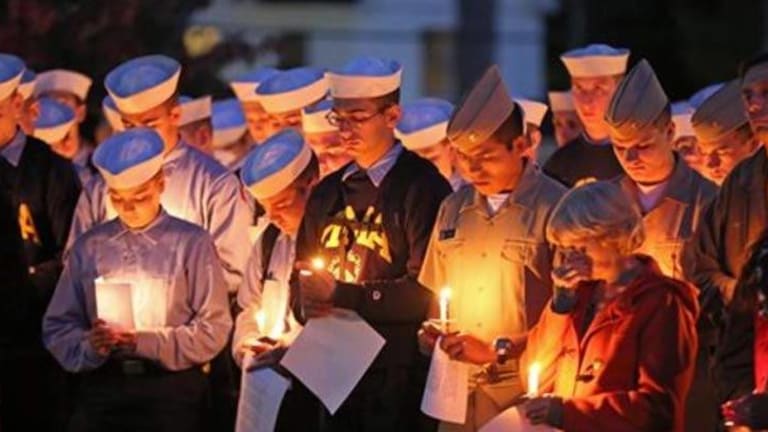 33 Heroes are Possibly Dead and No One Cares Because they Aren't Cops
Twenty-eight Americans and five Polish nationals -- were apparently lost in the space of a few hours.
The sinking of the cargo ship El Faro off the Bahamas on October 1 gave the public a tragic reminder of the largely unappreciated dangers of commercial shipping, which is vital to the consumer economy. All thirty-three crew members – twenty-eight Americans and five Polish nationals -- were apparently lost in the space of a few hours as Hurricane Joaquin churned the sea into a fury. Significantly, thus far in 2015, thirty-two police officers have suffered violent on-duty deaths. Not minimizing the fact that every death resulting from an accident or violence is a tragedy, it is appropriate to note that merchant seamen follow one of many private sector occupations that are dramatically more dangerous than law enforcement.
Bound from Jacksonville, Florida to San Juan, Puerto Rico, the 790-foot El Faro suffered a catastrophic engine failure that left the crew unable to escape Joaquin's storm track. Search and rescue units from the Coast Guard found a 225-mile debris field that included life jackets, containers, and a severely damaged lifeboat. Only one body has been found thus far, leaving some of the crew's relatives with a desperate but fading hope that survivors will yet be located.
Among those hoping for a miracle are the faculty and students of the Maine Maritime Academy. Four alumni of MMA were numbered among the El Faro's crew – including its captain, Michael Davidson.
"We're all talking about it and thinking about it, but we're very confident in all the mariners' abilities," Midshipman First Class Jordan Harmen told CBS affiliate WGME. "I don't think anyone is ever ready for this, but I know if they've received the same training I am, which they have, then they are as ready as they possibly can be," added Midshipman First Class Austin Bottorf.
Midshipmen at MMA are trained for a hazardous and challenging career devoted to private commerce, rather than state-licensed coercion. This doesn't mean, however, that nature is the only potential adversary they face. The U.S. merchant marine, a civilian enterprise, suffered the highest casualty rate of any service during World War II. In recent years, a growing number of commercial crews have dealt with the still-active threat of piracy (a practice that grew out of inter-state military conflict centuries ago). But even without the dangers associated with war and piracy, merchant shipping is a hugely risky occupation.
A Danish survey cited by the journal Occupational Environmental Medicine found that commercial shipping crews faced a rate of fatal workplace accidents more than ten times higher than workers "in shore-based industries." In 2013 the U.S. Bureau of Labor Statistics documented that worker in offshore industries (which includes commercial shipping and jobs on oil and gas platforms) experienced a workplace fatality rate of 27.1 deaths per 100,000 employees. The national fatality rate for all occupations that year was 3.8 deaths per 100,000 employees.
The life of a sailor has been described as long stretches of tedium leavened by moments of sheer terror. This is true for merchant seamen as well, who spend long tours in cramped, spartan quarters separated from friends and family, often beyond the reach of email or telephone communication.
Unlike their counterparts in the Navy and Coast Guard, merchant seamen are not the subjects of government-engineered veneration, nor are they likely to be on the receiving end of "spontaneous" expressions of gratitude for their genuinely heroic service by people who enjoy the benefits of international commerce.