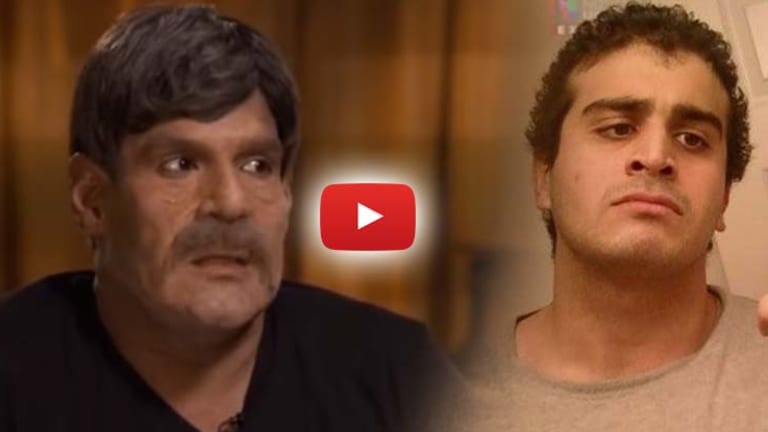 Orlando Shooter's Gay Lover Reveals Real Motive for Nightclub Massacre -- It's Not Islamic Terror
In a bombshell interview, a man who claims to be the Orlando shooter's gay lover revealed the REAL reason for the murders.
Orlando, FL - A man claiming to be a former gay lover of Orlando shooter Omar Mateen has come forward to proclaim that the Pulse nightclub massacre was not a terrorist attack based on Islamic fundamentalism, but rather a form of "revenge."
This new information seems to directly refute the official narrative that Mateen was motivated by a desire to carry out an attack of Islamic terror in the name of ISIS, which is based solely on the 911 call made by Mateen during the massacre.
"I've cried like you have no idea," the heavily disguised man, identified only as "Miguel," told Spanish language channel Univision News. "But the thing that makes me want to tell the truth is that he didn't do it for terrorism. In my opinion he did it for revenge."
Miguel said the two engaged in a "friends with benefits"-style relationship after meeting on the gay dating app Grindr, adding that the Orlando shooter, who killed 49 people in his violent attack, was "100 percent" gay.
Mateen's alleged lover told Univision host Maria Elena Salinas that they had met between 15 - 20 times during the span of their relationship, which ended in December of last year, after Miguel moved away from the Orlando area.
Miguel told Univision that he would have never thought Mateen was capable of carrying out the massacre that resulted in the deaths of 49 people, and injuring another 50.
"I never detected anything. He was a very sweet guy," Miguel said. "He loved to cuddle… That was one of the things I was starting to see from him. He was looking for love. He wanted to be embraced."
Miguel went on to say that during a discussion between the two about Mateen's practice of Islam, the Orlando shooter described the Muslim faith as a "beautiful and spiritual religion."
"It's a religion where everything is about love. Everybody is welcome. Gay, trans, bisexual, hetero, everybody," Miguel recalled Mateen saying.
During the interview, Miguel also revealed that Mateen's rage against gay Puerto Rican men was likely rooted in the fact that the shooter had sex with two Puerto Rican men, one of whom was later revealed to be HIV positive.
"He adored Latinos, gay Latinos, with brown skin — but he felt rejected," the man said. "He felt used by them — there were moments in the Pulse nightclub that made him feel really bad. Guys used him. That really affected him."
Mateen was "terrified" he, too, was HIV positive, according to Miguel.
"When I asked him what he was going to do now, his answer was, 'I'm going to make them pay for what they did to me,'" Miguel recalled.
The FBI has confirmed that they have interviewed the alleged lover.