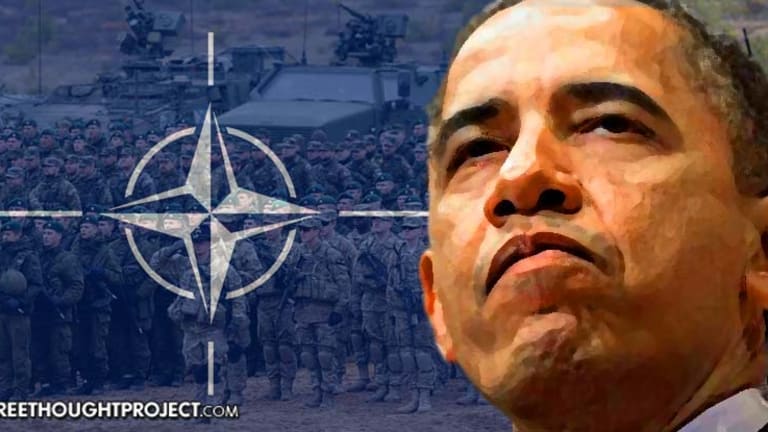 BREAKING: NATO Put 300,000 Troops on 'High Alert', Not in Response to Russia But to Provoke Them
As the US touts a Russian threat in the run-up to the election, NATO just announced the preparation of 300,000 troops for high alert.
Eastern Europe — Continued anti-Russia propaganda just took a turn for the serious, as NATO scrambles to ready a massive force of 300,000 troops to be placed on 'high alert' amid U.S. panic Russian hackers could interfere in tomorrow's presidential election.
This news follows several reports NATO plans to bring tens of thousands of troops to the border with Russia as soon as the beginning of next year.
Without unassailable evidence of any successful hacks by Russian actors, the United States has rushed to blame its Cold War foe for leaks of thousands of documents obtained and published by Wikileaks, which have nearly irreparably damaged the integrity of Hillary Clinton's campaign.
Indeed, though both the Clinton camp and President Obama's administration have continually blamed those leaks on Russian hackers hell bent on rigging the election — while simultaneously and unironically insisting the system isn't rigged — no solid evidence has yet surfaced backing that allegation.
Nonetheless, at this late hour, NATO — often viewed as a puppet of the U.S. government — rushes to prepare troops for a putative threat Putin poses to paranoid Eastern European nations.
Although an enormous amassment of NATO troops would be alarming in any context, there now exists a particularly treacherous minefield in the hotly disputatious U.S. election — set to kick off in less than 24 hours.
On Friday, NBC News, citing top-secret documents and unnamed military officials, reported:
"U.S. military hackers have penetrated Russia's electric grid, telecommunications networks and the Kremlin's command systems, making them vulnerable to attack by secret American cyber weapons should the U.S. deem it necessary."
This, in response purely to continued scaremongering from U.S. officials about Russia purportedly seeking to influence and co-opt the election — again, despite a gaping void of credible proof.
"What's really important about WikiLeaks is that the Russian government has engaged in espionage against Americans," Hillary Clinton asserted at the third and final presidential debate in late October.
"They have hacked American websites, American accounts of private people, of institutions. Then they have given that information to WikiLeaks for the purpose of putting it on the Internet. This has come from the highest levels of the Russian government, clearly, from Putin himself, in an effort — as 17 of our intelligence agencies have confirmed — to influence our election."
This assertion immediately fueled ridicule and condemnation from multiple officials and media organizations — including Wikileaks and, shockingly, left-slanted Politico.
"Clinton's '17 US intelligence agencies' may be the biggest, most immediately disprovable wopper ever intentionally made during a debate," Wikileaks tweeted at the time.
In fact, those 17 agencies might declare the hallmarks of Russian hackers present in various caches of emails and documents, but as Politiconoted, officials have only ever claimed those signatures were simply "consistent with the methods and motivations of Russian-directed efforts."
In other words, U.S. intelligence surmised Russia performed the hack because it certainly seemed feasible.
But that threadbare assessment provided the impetus for American military hackers to penetrate sensitive Russian infrastructure in preparation to unleash malware rendering the nation impotent at the first sign of election interference — a chilling consideration given the precious little, if any, proof the U.S. required in its very justification for the move.
As already declining relations between the West and Russia continue to deteriorate, sabre-rattling from both fronts has led both fronts to enunciate the right for offensive first strikes, under the premise of taking defensive measures.
Even setting aside the precarious and bellicose proxy war taking place in Syria and in other theaters, United States' obstinance has pushed the West closer to all-out war with Russia — as well as Putin's rapidly growing collection of allied nations.
NATO officials assert preparing 300,000 troops for high alert concerns the ostensible aggression Russia has endeavored along Europe's Eastern and Northern borders — but the alliance also has an issue with comprehension of what constitutes a legitimate threat.
"We have seen Russia being much more active in many different ways," NATO Secretary-General Jens Stoltenberg toldThe Times, adding, "We have also seen Russia using propaganda in Europe among Nato allies and that is exactly the reason why Nato is responding. We are responding with the biggest reinforcement of our collective defence since the end of the Cold War."
It isn't often an international military entity claims propaganda as a tangible incentive for mobilizing hundreds of thousands of military personnel — but this murky excuse deftly and unshockingly parallels that of the United States.
"We have seen a more assertive Russia implementing a substantial military build-up over many years; tripling defence spending since 2000 in real terms; developing new military capabilities; exercising their forces and using military force against neighbours," Stoltenberg added, referencing the disputed Russian annexation of Crimea and theoretical desire for similar action against Europe's Eastern bloc.
Despite the ongoing preparations for high alert, and months of massive troop buildup along Russia's western bounds to match its modernized military forces, not every Western official finds these moves necessary or prudent.
In June, chairman of the NATO Military Committee Gen. Petr Pavel skeptically dismissed the idea of a Russian threat, "because such aggression is not on the agenda and no intelligence assessment suggests such a thing," he explained.
As NATO and the U.S. military have manipulated this vehicle of propaganda to declare itself justified in striking first, so has Russia done the same — although Putin's warnings for NATO to step back from its borders plainly presents a more accurate self-defense narrative.
For months, direct conflict between Russia and the West seemed only a distant possibility, but with the U.S. ratcheting up its anti-Putin propaganda while haplessly provoking Russia into a combatively defensive stance, military action seems to be fast materializing.
At this point, the only thing restraining the flame to the fuse on this perilous powderkeg is the lack of an untenable assertion by the United States that Russia — all veracity aside — has meddled in tomorrow's election.