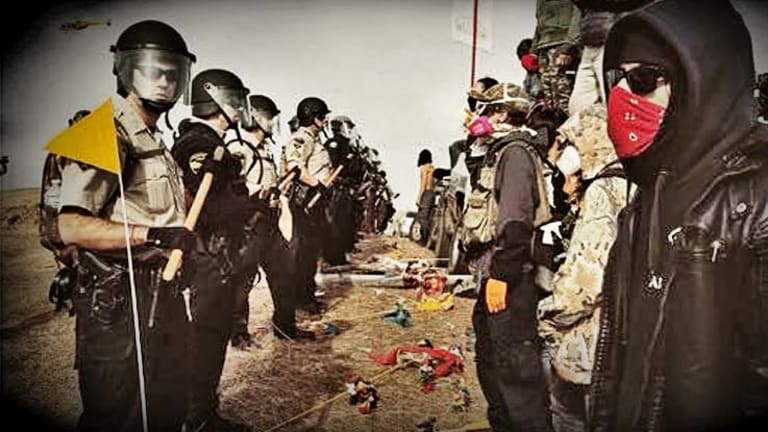 #NoDAPL Last Stand: Final Construction Could Begin Today As Army Corp Grants Easement
Construction could resume on the Dakota Access Pipeline as soon as today, after the Army Corps of Engineers announced intent to grant the necessary easement for its completion was issued Tuesday.
Cannon Ball, ND — Final construction on the Dakota Access Pipeline could begin as soon as today, now that the U.S. Army Corps of Engineers filed a notice of intent on Tuesday to grant Energy Transfer Partners the easement necessary to drill under the Missouri River's Lake Oahe reservoir.
In short, the Army Corps failed to uphold a December announcement it would complete a full environmental impact assessment as the Standing Rock Sioux Tribe had requested, and has instead abruptly sided with the Trump administration for Big Oil over environmental concerns and treaty rights.
Although the USACE announcement merely codifies an executive memorandum issued by President Trump — which called for completion of both the $3.8 billion, 1,172-mile Dakota Access and the Keystone XL Pipelines — just days after he came to office, the significance in the ability for ETP to complete construction of the notorious pipeline cannot be overstated.
Acting Secretary of the Army David Speer told Congress he plans to grant the easement to the pipeline's owner for the next 30 years.
In the notice to federal court, USACE states it will "waive its policy to wait 14 days after Congressional notification before granting" the easement to ETP, which could feasibly begin drilling under Lake Oahe sometime today.
"The Obama administration correctly found that the tribe's treaty rights needed to be respected, and that the easement should not be granted without further review and consideration of alternative crossing locations," Jan Hasselman, lead attorney for the Standing Rock Sioux Tribe, explained, quoted by Native News Online.
"Trump's reversal of that decision continues a historic pattern of broken promises to Indian tribes and violation of treaty rights. They will be held accountable in court."
Court may be the last remaining option for those who oppose the pipeline. Several pieces of litigation over Dakota Access remain stalled in federal courts, but will not have teeth should ETP resume construction the moment USACE gives the official green light.
Both the Standing Rock Sioux and Cheyenne River Sioux Tribes responded to the disappointing but expected development, with Standing Rock Tribe Chairman Dave Archambault II — himself the subject of controversy — stating,
"The drinking water of millions of Americans is now at risk. We are a sovereign nation and we will fight to protect our water and sacred places from the brazen private interests trying to push this pipeline through to benefit a few wealthy Americans with financial ties to the Trump administration.
"Americans have come together in support of the Tribe asking for a fair, balanced and lawful pipeline process. The environmental impact statement was wrongfully terminated. This pipeline was unfairly rerouted across our treaty lands. The Trump administration – yet again – is poised to set a precedent that defies the law and the will of Americans and our allies around the world."
In a press release, Cheyenne River Tribe Chairman Harold C. Frazier, asserted,
"The Cheyenne River Sioux Tribe fully intends to fight DAPL until all legal avenues have been exhausted. While the federal government chooses to disregard the laws made to govern themselves, we will respect those laws and continue to legally resist the destruction of homes, people, and culture.
"The Cheyenne River Sioux Tribe has also received a letter from TransCanada (KXL) stating they filed a Presidential Permit application on 27 January 2017. It is clear that the coyotes which have been hiding in the shadows are taking advantage of this full lunacy. We will have to renew our fight and spend more of our precious resources resisting this onslaught yet again. Resources that would be better spent building institutions that preserve our culture, language, beliefs and way of life.
"While we are disappointed that the American government has failed us, we are holding on to the hope that the American people will not."
Subject of months of protests worldwide, and appalling violence by the Morton County Sheriff's Department-led, multi-state coalition of police against water protectors occupying space to halt construction, Dakota Access will now cross under the water source of the Standing Rock Reservation and 18 million people downstream.
While Energy Transfer Partners duplicitously claims the pipeline won't leak and the path under the reservoir through bedrock is perfectly safe, its own pipeline safety and accident record — and that of the oil and gas industry — belies unnecessary risk in situating fossil fuel infrastructure near bodies of clean water.
Over 9,000 'significant' spills occurred over the last 30 years, alone, and that figure doesn't account for moderate and minor accidents with damage adding up over time. According to Richard Stover, an environmental advocate and former research astronomer at the University of California, Santa Cruz, who assisted CityLab in compiling and analyzing data to map the information, "these accidents have resulted in 548 deaths, 2,576 injuries, and over $8.5 billion in financial damages."
With justifiable concerns regarding the safety of DAPL, thousands of Native American, Indigenous, and non-Native water protectors have visited camps near Standing Rock over the months since Camp of the Sacred Stones was erected for youth in April 2016.
Police have repeatedly attacked groups of water protectors with nearly every supposed less-than-lethal weapon and munition available — including water cannons in sub-freezing temperatures — leaving scores injured, including a few permanently.
Camp populations dwindled for some time, particularly amid North Dakota's unforgiving winter conditions, but hundreds still remain encamped near Standing Rock — both in staid opposition to DAPL and for the tremendous cleaning of camps ahead of spring flooding.
News construction on the contentious pipeline could resume as early as Wednesday led a coalition of water protectors to issue a worldwide Call to Action today, February 8, as a collective last stand:
"The Indigenous Coalition at Standing Rock is calling for February 8th to be an international day of emergency actions to disrupt business as usual and unleash a global intersectional resistance to fossil fuels and fascism. Connect with other struggles. Think long-term movement building. We are in this for the long haul.
"The Standing Rock Sioux Tribe has consistently asked for people to go home, and we understand this. Regardless, water protectors remain on the ground at the Sacred Stone Camp, determined to stop the black snake, and we support them. If you go, expect police violence, mass arrests, felony charges for just about anything, abuse while in custody, targeted persecution and racial profiling while driving around the area, etc.
"We are calling for emergency actions all over the world. PLEASE, THIS IS OUR LAST STAND. Please visit everydayofaction.org to find or register an action wherever you are. Check out our world action map to join the mass distributed actions" planned for today.
Indeed, it's now entirely feasible police and National Guard forces could effect the ultimate crackdown on camps and perform mass arrests — though how this will play out is anyone's guess.
Emphatically, however, what has been made plain is U.S. government makes no qualms over its imperialistic policies against Native and Indigenous peoples — and that environmental concerns and human rights become moot when Big Oil stands to profit.
"All of our hearts are broken," lamented Linda Black Elk, part of the water protector healer council, in a video on the Army Corps' decision. "I��m just going to ask you guys to keep us all in your prayers. Pray for the water. Pray for the people. Pray for the water protectors. Pray for the tribe."