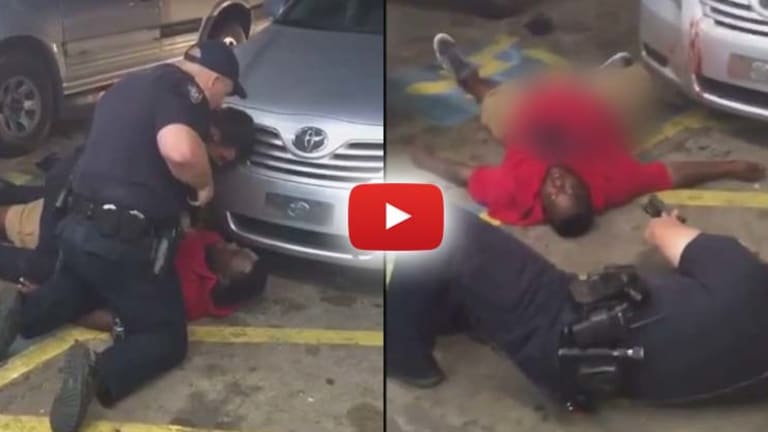 BREAKING: No Charges for Cop Who Killed Alton Sterling on Video
The Department of Justice will not be charging the Baton Rouge police officers responsible for killing Alton Sterling last July as he sold CDs outside a store.
Louisiana police officers who killed Alton Sterling as he sold CDs outside a service station in Baton Rouge — video of which sent the nation into a tailspin in renewed contention over police killings of unarmed black men — will not be charged, the Department of Justice now reports.
Four people familiar with the case reported to various mainstream outlets the DOJ plans to reveal within the next 24 hours an investigation into the factious killing has been closed for good.
The Washington Postreports Sterling's family has yet to be informed by officials from the Justice Department that Officers Blane Salamoni and Howie Lake will not be charged, and it remains unclear when or how that announcement will go public.
"We have not heard nor received an update and are unaware of any charges that may or may not be filed," spokesperson for the attorneys hired by Sterling's family, Ryan Julison, told the Post. "We have not received word, nor has the family been given any notice of upcoming updates regarding this case."
On July 5, 2016, around 12:30 a.m., Baton Rouge Police responded to reports of a man selling CDs in front of a store — and those calls explicitly stated he was unarmed.
Incidentally, the store owner had known Sterling for years — and his selling of CDs was typical.
Shortly after arriving on scene, police began struggling with the 37-year-old, during which the two cops' body cameras fell from their holsters, rendering their footage virtually useless — making witness cellphone video central to the case.
Witness video, albeit brief, clearly evinced officers tackling Sterling to the ground, wrestling, and then shooting him to death.
"He has a gun!" one of the officers screams.
"You f*****g move, I swear to God," commands another officer, immediately before firing two rounds into Sterling — at point blank range.
After officers fire two more rounds, the person filming pans away, frightened — before audio captures no less than three additional shots.
Video seems to show Sterling had his arms pinned behind his back by the cops right before officers began shooting — though footage isn't indisputable.
Onlookers familiar with the area said at the time security cameras for the store would have captured the entire incident.
Should reports prove true, the Justice Department would be, in the eyes of many, ignoring that the officers had Sterling under control and ready to be taken into custody just before shots began ringing out.
Like far too many similar deaths of African American and minority men during encounters with police, dubious circumstances and unanswered questions — in conjunction with video evidence of brazen error on the part of law enforcement — seem not to give the DOJ pause in deliberating accountability.
Indeed, when the news and video of Sterling's untimely killing began spreading like wildfire across social media, demonstrations broke out spontaneously around the nation.
With the groundswell of fury over yet another black man killed by law enforcement, the Department of Justice's civil rights division initiated an investigation with the FBI and U.S. Attorney's office in Baton Rouge into Sterling's death.
The New York Timesreports,
"The decision was the first high-profile case in which the department under Attorney General Jeff Sessions decided not to bring charges against law enforcement. Earlier on Tuesday, an officer in South Carolina, Michael T. Slager — charged in the fatal shooting of a black man, Walter L. Scott — pleaded guilty to a single count of using excessive force to deprive Mr. Scott of his civil rights under a plea deal in which federal and state officials will not pursue other charges against him."
A decision not to charge the officers for wrongdoing for killing Alton Sterling — and the equally explosive choice not to charge Slager for Scott's death — appear to send a chilled message this Justice Department will not depart from the previous administration's notorious penchant for siding with law enforcement in controversial killings.
Although sources confirmed to the Post, Times, and USA Today there will be no charges brought, the fact the family of Alton Sterling had not been informed about the impending decision prior to major network reports evinces the diminishment of the value of life — which has become callously characteristic of the State.
[UPDATE] In a matter of hours following the first revelations the DOJ would not be pressing charges, CNN
DOJ denies it has communicated a decision in Alton Sterling case despite media reports saying it won't seek charges https://t.co/7RjpEwzUjFpic.twitter.com/RLRg0Kshck
— CNN Breaking News (@cnnbrk) May 2, 2017
">tweeted a clarification, stating, "DOJ denies it has communicated a decision in Alton Sterling case despite media reports saying it won't seek charges."

Media outlets never claimed their information from sources was official, but the Justice Department's timely clarification adds at least a degree of doubt that decision is final.
">