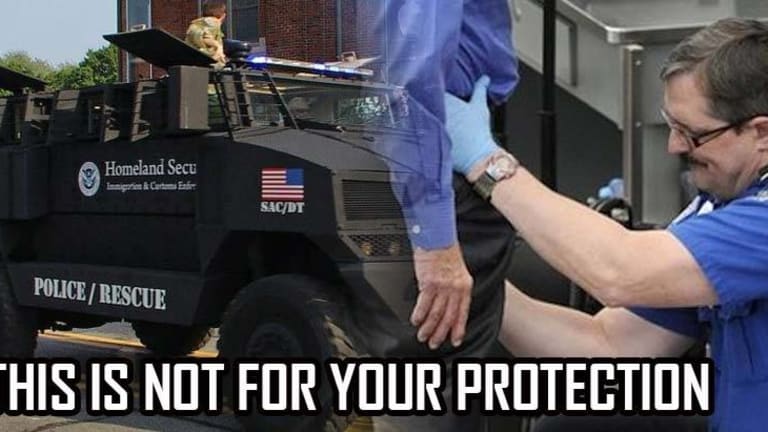 Police State FAIL - 72 DHS Employees on Terror Watch List, TSA Misses Almost Everything
With a corrupt and incompetent government like this one, who needs terrorists? The police state is not for your protection - it's for your oppression.
Washington DC, - Congressman Stephen Lynch revealed in a recent interview on Boston Public Radio that there are 72 people on the US terror watchlist who currently have jobs with the Department Of Homeland Security.
Congressman Stephen Lynch stated in his recent interview that he backed a recent bill to change the screening process for refugees because he and other representatives did not trust the Department Of Homeland Security to be in charge of the operation. According to Lynch, an inspector general's report conducted back in August showed that there were a large number of people on both the US terror watchlist and the DHS payroll.
In the interview, Lynch said, "Back in August, we did an investigation—the inspector General did—of the Department of Homeland Security, and they had 72 individuals that were on the terrorist watch list that were actually working at the Department of Homeland Security. The director had to resign because of that."
He also pointed out that they did a review of DHS screening in airports and found them to have a 95% failure rate.
"Then we went further and did an eight-airport investigation. We had staffers go into eight different airports to test the department of homeland security screening process at major airports. They had a 95 percent failure rate. We had folks—this was a testing exercise, so we had folks going in there with guns on their ankles, and other weapons on their persons, and there was a 95 percent failure rate. I have very low confidence based on empirical data that we've got on the Department of Homeland Security. I think we desperately need another set of eyeballs looking at the vetting process," he added.
Later in the interview, Lynch suggested that the entire TSA screening process may be scrapped entirely.
"I think we have very low-paid TSA and DHS workers, I think there's a huge turnover there, when you talk to the people at the airport who are actually working there. When Bush created this system, I think it was 700,000 employees, he basically stripped away their right to join a union. They're trying to use low-wage employees there, I heard from a TSA employee last week who was leaving, and he said there's just no room for advancement there, they're just stuck. I think morale is part of it, and the whole screening process is being revisited now after the inspector general's report," Lynch said.
The fact that there are people working for the DHS who are on the terror watch-list is not necessarily as scary as it sounds, considering the fact that the list itself is a farce, with over a millions names of mostly innocent people, according to the ACLU. However, this does point to the gross incompetence of the agency, and highlights the facade that is 'national security.'
The full interview can be heard below:
" width="790" height="444" frameborder="0" allowfullscreen="allowfullscreen">
John Vibes is an author and researcher who organizes a number of large events including the Free Your Mind Conference. He also has a publishing company where he offers a censorship free platform for both fiction and non-fiction writers. You can contact him and stay connected to his work at his Facebook page. You can purchase his books, or get your own book published at his website www.JohnVibes.com.