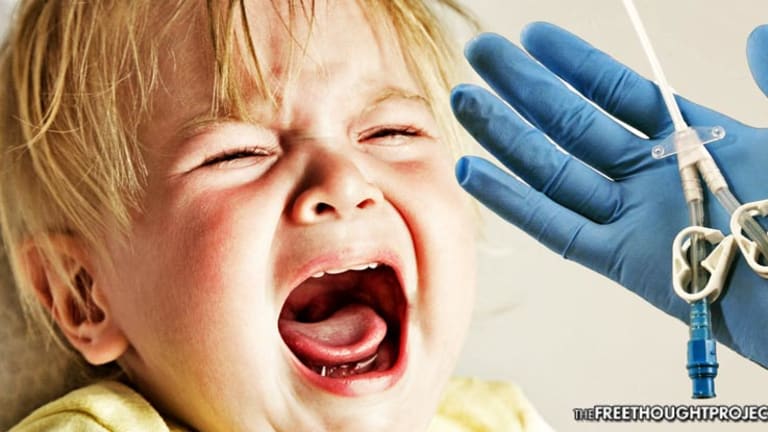 Cops & CPS Caught Torturing Toddler with Forced Catheterization to Look for Drugs, ACLU Files Suit
The ACLU has filed two lawsuits after multiple victims were found to have been forced catheterized by cops and social service in a sadistic search of urine.
Pierre, SD — The American Civil Liberties Union of South Dakota has just filed a major lawsuit against the South Dakota Department of Social Services, Avera St. Mary's Hospital, members of the Pierre Police Department, the Sisseton Police Department, and the South Dakota Highway Patrol. The lawsuit is important as it seeks to put a stop to the state's forced catheterization program that indiscriminately victimizes adults and children alike — all to see if they have an arbitrary substance in their urine.
While it seems that a lawsuit to prevent the state from forcing extremely painful medical procedures on children may be a bit over the top, the fact is, it is entirely necessary. The state of South Dakota, as the Free Thought Project has reported before, has a sordid history of forcing catheterization.
As the ACLU notes, two lawsuits have been filed; one on behalf of a three-year-old child who was forcibly catheterized as a means to collect evidence of child abuse or neglect, and the other on behalf of five adults who were subject to forcible catheterization as part of criminal investigations. All plaintiffs were subjected by law enforcement and state officials to forcible catheterization in violation of the Fourth Amendment's protection against unreasonable searches and the Due Process Clause of the Fourteenth Amendment.
Dirk Sparks is one of the plaintiffs in the case. In an interview earlier this year, Sparks recalled that horrid night that it happened to him. "It was degrading," Sparks said. "I was angry. I felt like my civil rights were being violated."
The nightmare began when police responded to an incident, in which Sparks had done nothing wrong, at his home. However, one officer said he saw Sparks being "fidgety," so police claimed the right to test his urine.
Because Sparks refused to pee in a cup for cops, they arrested him and brought him to the hospital.
"I didn't actually think they were going to go through with it," Sparks said of the event which left him in pain for weeks and an emotional toll which is still there today. "Even when we went to the hospital, I thought it was a threat."
But cops followed through with their threat.
Once in the hospital room, four police officers held Sparks down while they placed a hood over his head. He was then chained to a bed with his pants around his ankles while a nurse at Avera St. Mary's Hospital in Pierre forcefully inserted a pencil-sized tube into Sparks' urethra to extract his urine involuntarily.
Sparks recalls that through the mesh hood, he could see a fifth officer filming the sadistic torturous practice.
Sparks told the Argus Leader that the pain lasted for weeks and every time he tried to go to the bathroom he was reminded of that torturous event. The kidnapping and forced catheterization were so traumatic for Sparks that he moved away because he now fears the Pierre police.
The second lawsuit involves Kristin Hunter and her three-year-old little boy.
Police intervened after Hunter's boyfriend was on probation and failed a routine urinalysis. So, multiple cops showed up at her house, along with a Department of Social Services employee and demanded she and her kids produce urine to see if they too had drugs in their system. Hunter's children were 3 and 5-years-old at the time.
Police told Hunter that if her kids couldn't pee on demand that they would be taken from her. Luckily, Hunter and her 5-year-old daughter were able to produce a sample. However, the young boy, who wasn't potty trained yet, was unable to go.
Police and social workers then held down the child and sexually assaulted him via forced catheterization.
"They just shoved it right up there, and he screamed so bad," Hunter said.
Because these sadistic cops and social worker were apparently filthy at the time, the poor young toddler contracted a staph infection from the process. "He's still dealing with a staph infection, and we are still giving him medication," said Hunter.
"Quite frankly, it's cruel and barbaric to forcibly catheterize anyone, let alone a 3-year-old child, and this process raises serious constitutional concerns," said Heather Smith, executive director of the ACLU of South Dakota.
"Forcible catheterization is painful, physically and emotionally damaging, and deeply degrading," said Smith. "Catheterization isn't the best way to obtain evidence, but it is absolutely the most humiliating. The authorities ordered the catheterization of our clients to satisfy their own sadistic and authoritarian desires to punish. Subjecting anyone to forcible catheterization, especially a toddler, to collect evidence when there are less intrusive means available, is unconscionable."
Force-catheterizing adults and children is the work of sick tyrants and has no place in the ostensible land of the free. Hitler, the Stasi, and their depraved scientists would be proud.