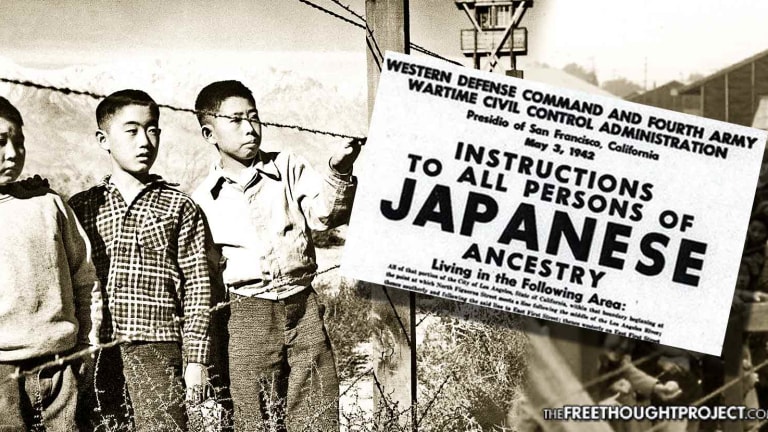 78 Years Ago Today, US Authorities Began Locking Up Americans In Internment Camps
Today is the 77th anniversary of the signing of the executive order which allowed the internment of Japanese Americans — in concentration camps on US soil.
Authorities swarmed towns, knocking on doors, questioning neighbors, rounding up those who now, suddenly, didn't belong — couldn't be considered Americans — to detain them in concentration camps until the problem could be sorted out. Later.
Those targeted by the sweeps cowered in fear of being ripped from the familiarity of daily life — knowing, ultimately, the unreal had become the new reality — and the situation would never return to a static 'normal.'
Although this could facilely describe present-day ICE raids and the detainment and deportation of people living in the U.S. without official approval, this has happened before — and though our previous flirtation with discriminatory fascism might have been a bit uglier, nothing prevents the same from happening today.
Today marks the Day of Remembrance, because on February 19, 1942, President Franklin D. Roosevelt signed Executive Order 9066, opening one of the nastiest chapters in United States history — the mass internment of Japanese Americans.
And while much discussion has been made of President Donald Trump's Mexico border wall, immigrant raids, and Muslim-majority nation immigration ban, for swaths of the country, the predominant sentiment still comprises some version of, it can't happen here.
But it can. It did.
And the abomination of Japanese American internment camps — where more than two-thirds of the 120,000 detainees had been born in the United States — must not be forgotten, understated, or passed over like a historical anomaly. Because that's precisely why our more abhorrent moments creep from the past, transformed into modern, and oft worse, manifestations of an evil we thought swept into history's dustbin — collective memory lapse nearly guarantees a repeat performance.
Will we ever learn?
"When the order was first signed, there was uncertainty,"writes U.S. Representative Doris Matsui of Roosevelt's decree for Quartz. "Who, exactly, was impacted by this? Where would they and their families go? What would happen to their businesses? Their homes? Details about the implementation of the order were unclear, and families faced confusion and fear about what would happen to them. With the stroke of a pen, their future was suddenly unknown. People's lives had changed and they couldn't even be sure how.
"My family was one of them. On my mother's side, my grandfather was able to arrange the management of his Central Valley farm so that his business was preserved until the US military allowed us to return home. My father, who lived in Los Angeles, had to halt the seed business he was starting in order to report to Poston, Arizona, where both of my parents ended up being interned. The Poston internment camp is where they met and married, and where I was born."
The inhumanity of rounding people up and holding them like livestock should have permanently scarred the collective American conscience in shame — as slavery has. But prevalent eagerness to support Trump's various actions screams that we, as a country, have forgotten the past — even as its specter is summoned before us.
Japanese Americans, for five years, became less-than human in the eyes of the paranoid government, which felt — for inexcusably ignorant reasons — that anyone of Japanese ancestry just might be a spy for the enemy.
"We've been here before," Eli Broad wrote in an email in 2017 to the Los Angeles Times, discussing the Japanese American National Museum exhibition about that time period. "We must remember the past, or we are condemned to repeat it. We have a generation of students and young people — and even those who are not as young — who are not familiar with what happened 75 years ago."
Congress attempted an apology for the government's inexcusable transgression with the Civil Liberties Act of 1988; but for those who experienced internment, preventing the horrors of history from coming alive 77 years later would be a gesture infinitely more fitting.
"My wife, Edye, and I are old enough that we know what can happen when the political climate treads dangerously close to policies that seek to lock people up because of their religion or ethnicity," cautioned Broad, whose eponymous foundation provided the majority of funding for the exhibit.
In fact, the experience so traumatized many Japanese American families, discussion of the camps simply didn't happen — the pain, but not necessarily the details, passed unabated and unresolved from one generation to the next.
"We never talked about it, or if we did it was just joking," Jeanne Wakatsuki, author of Farewell to Manzanar, toldNBC. "I was married 13 or 14 years before my husband knew [about Manzanar]. Somehow he asked me about it. I began to tell him and I became hysterical. It was shameful for three years to be living in this prison camp."
Seventy-eight years after Executive Order 9066 spawned terror, chaos, and uncertainty — and abandoned reason, dignity, and the Constitution — those families beg Americans not to ignore or dismiss the parallels they see. And feel.
Matsui keenly points out, "President Trump and his supporters referenced the unjust internment of Japanese Americans multiple times during the 2016 election as a way to validate proposed policies aimed at the Muslim community. Most Americans, I believe, doubted that these assaults on religious liberty and human rights would actually be considered."
Broad noted this Day of Remembrance has particular significance "for the simple reason that history holds [importance] for the present, especially now that executive orders are very much in the news. We cannot forget the tragedies they can inflict. America was founded on religious and ethnic freedoms, on the belief that all people, regardless of the color of their skin or their ancestry or their political views or their religion, have value and deserve to be treated with dignity and respect."
That applies equally to people in the United States who lack the State's permission slip to be here.
Hate and fear — and stultifying ignorance — have too many Americans impatient to shed decency, as long as the group targeted doesn't include them. And that's precisely the worry for those who lived in internment camps — when hate and fear and ignorance take the wheel, nothing good or just will come of it — particularly if people feel they aren't threatened.
After all, it's okay if it happens to them.
We should be shocked and utterly appalled — both by our history and our present — but support for these discriminatory authoritarian policies evinces the lessons of February 19, 1942 have not been heeded accordingly.
Perhaps one of the most hapless mistakes that can be made is to ridicule the growing chorus of Cassandras warning we're headed down a familiar road — no, Trump isn't literally Hitler, and no one is saying as much.
But to imagine history as dead and motionless — and not repetitive, simply because the circumstances have changed — is the gravest mistake of all.