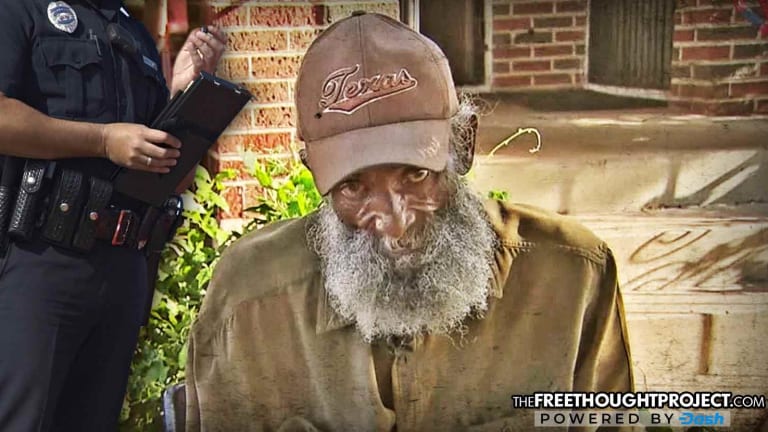 79-Year-Old Vet with Dementia Evicted by Gov't from Home He OWNED Over Unpaid Property Taxes
An elderly veteran who has owned his home since the 1930's was evicted and thrown out on the street by government because he couldn't afford his property taxes.
Fort Worth, TX – A 79-year-old veteran suffering from dementia was evicted from his long-time family home on Friday, and his belongings scattered across the front yard, after failing to pay a $6,000 property tax bill.
"All this is furniture from my living room," Billie McGruder, who lived in the house for decades, told a crew from CBS DFW. "It's out there for everybody to see."
Only two weeks prior to his 80th birthday, McGruder got a knock on the door informing him that it was time to vacate the home he inherited from his parents who bought the house in the 1930s.
"They come to evict me for back taxes," said McGruder.
Tarrant County records reveal that authorities seized his home over nearly $6,000 in unpaid taxes and auctioned the property off to a real estate company for $38,000.
While Tarrant County Precinct 8 Constable Michael Campbell told WFAA that the eviction followed standard protocol, with the property being sold on January 2, 2017, to a new owner, McGruder said he didn't know what was happening to his home in recent months, understand the letters about overdue taxes or realize that his home was being put up for auction.
"He had an opportunity to file a legal challenge to the writ," said Constable Campbell.
But according to family and friends, McGruder suffers from dementia and likely did not understand what was taking place. For example, when interviewing McGruder, a WFAA reporter asked his age; he said he was 68-years-old—he is actually 79.
"He understands but he doesn't understand," explained neighbor Anthony Drake Jr., who said he has known McGruder his entire life, and explained that the 79-year-old vet was like a "grandfather" to him.
Thankfully, the community has come together to correct this manifest injustice.
"As long as he doesn't have a home, he has one here," said Drake.
When the new homeowner was tracked down by local media, he was surprised to hear about the systemic failures that allowed an elderly vet with dementia to be evicted from his family home.
The new owner, Yamal Mulid, told CBS2 that he knew nothing about the former owner when he purchased the property at auction.
"If I knew this was going to happen or the old man is in the house, I would never have bought the house," he said. "If they want the house back, they can have it. I wish they could come up with the money and they can buy the house back from me."
Meanwhile, as the drama was upending McGruder's life, local residents took it upon themselves, in coordination with his family, to start a GoFundMe for him—and they have raised nearly $12,000 as of Thursday.
Subsequently, Tarrant County Tax Assessor-Collector and State Senator Konni Burton said on Monday that Mulid had agreed to reverse the sale of the home.
"He will back out of the sale, and so now, the home can go back to Mr. McGruder," Burton said.
McGruder's ordeal highlights the extreme shortcomings of our current system, as no one should have to go through the process of having their life completely upended, with a lifetime of memories strewn across the lawn.
Tarrant County Tax Assessor-Collector Ron Wright said McGruder could have filed an over-65 exemption before the auction, which would have indefinitely deferred his taxes, thus negating being taken to court or evicted. Of course, an elderly man with dementia living on his own cannot be expected to legitimately be aware of such processes.
"It's frustrating, it's aggravating, it's sad," Burton said about the situation.
Burton said her and Wright are discussing potential legislative solutions to help prevent situations like this in the future.
"Ron and I are already talking about how we can prevent this from happening in the future, so we're looking at legislation right now, talking about it," she said.
It seems clear that this man needed some assistance in navigating the tax bureaucracy—as someone without dementia can easily get lost attempting to navigate the never-ending maze of tax hell.
The idea of forcing an elderly veteran with dementia onto the streets and confiscating a property that has been owned by his family for nearly 80 years, simply because he didn't pay the government forced taxation on the value of the land he already owns, is clearly tyrannical in nature.
Thankfully, neighbors and community came together to help find a resolution for McGruder. On Monday, Dallas-based Veterans R Moving Us packed up what was left on the yard and transported it to a storage unit that's being paid for by an organization called Feed A Million Veterans.
"He shouldn't be in this predicament right now," said Verna Owens with Veterans R Moving Us. "Somebody should have had their eye on him."
While the home is in need of extensive repairs, and McGruder's health issues have forced him to stay with extended family, his family called the news of getting the home back "amazing."