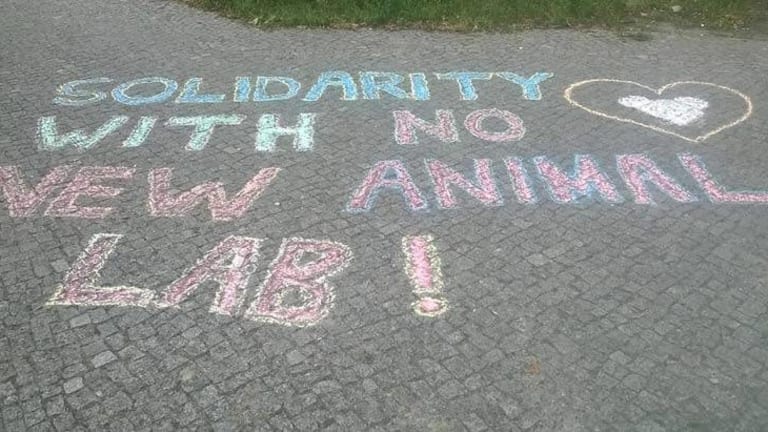 Activists Arrested for Writing "Save the Animals" On Public Sidewalk with Chalk
For writing with washable chalk on a public sidewalk, for college students were charged with harassment, criminal mischief, and disorderly conduct.
Beaverton, OR -- Four activists were recently arrested for chalking phrases like "save the animals" and "no new animal lab," on a public sidewalk, with washable chalk.
Late last month the activists wrote the message in chalk to protest the construction of an underground animal experimentation facility at the University of Washington. It did not take long for police to show up, and when they did they arrested all of the activists and charged them with harassment, criminal mischief, and disorderly conduct.
According to witnesses, police did not even attempt to interact with the activists or ask them any questions, but immediately arrested them.
Lauren Regan of the Civil Liberties Defense Center is the attorney defending the activists in court and she recently pointed out to reporters that the arrests are obviously a violation of the right to free speech.
"Law enforcement have a duty to uphold the constitutional rights of all citizens, and not merely to do the bidding of large corporations who seek to silence their critics. In this instance, the police appear to be clearly violating the First Amendment rights of activists, which undoubtedly includes using sidewalk chalk to write slogans on public sidewalks, which are traditional public forums that provide the most expansive protection for free speech," she said.
Luckily, the free speech defense did hold up at their arraignment this week, where the district attorney announced that the city would not be pressing charges against the activists.
The activists, who requested that their names not be published for their own safety, said in a joint statement that:
"We are very pleased that these absurd charges were not filed by the DA. Clearly Skanska and Beaverton police are reaching for anything to disrupt the campaign, but their efforts have been unsuccessful. No New Animal Lab will continue to organize and build momentum against Skanska for choosing to build this lab. We look forward to the March on the University of Washington on October 2nd."
John Vibes is an author, researcher and investigative journalist who takes a special interest in the counter culture and the drug war. In addition to his writing and activist work he organizes a number of large events including the Free Your Mind Conference, which features top caliber speakers and whistle-blowers from all over the world. You can contact him and stay connected to his work at his Facebook page. You can find his 65 chapter Book entitled "Alchemy of the Timeless Renaissance" at bookpatch.com.