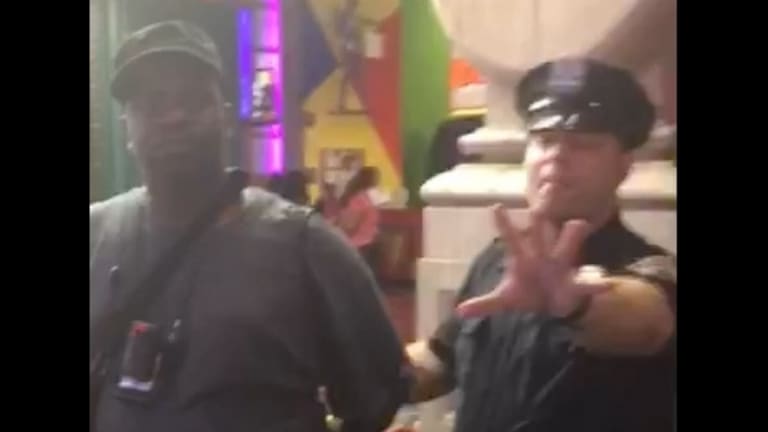 NYPD Arrest Man for Filming -- Delete His Video, But This Footage Survived
A member of a police accountability activist group was arrested for filming cops in Times Square and the cop deleted the footage.
America's new army, determined to hold police officers accountable, are armed with video cameras. And for some police officers, the sight of activists filming them, is apparently too much to bear. Instead of being relaxed and going about their daily business, many officers of the peace feel the need to threaten the citizens they're sworn to protect. As The Free Thought Project has consistently reported, filming cops is not a crime, but some police officers obviously disagree.
A " target="_blank">video was uploaded this week of an arrest which took place last summer. Citizen activists known as the Copwatch Patrol Unit were in Times Square, attempting to exercise their freedoms to film police officers in public, when they came across Officer Michael Ashford.
The NYPD officer didn't take kindly to having his image recorded and began to ask the activists to show their identification. Producing none, and not backing away from the officer, Ashford felt he had to make an arrest for what he called "obstructing governmental administration" -- for not showing Ashford their ID. He chose to arrest Roy Beckford, a Black man. The charges were later changed to a disorderly conduct summons, and was signed off on by a Sergeant Tanakur Chowdhury, but was later dismissed just before Beckford's court date.
According to the caption from the Youtube video, "Roy Beckford, an activist with the group Copwatch Patrol Unit, says that NYPD Officer Michael Ashford arrested him simply for filming him using his personal cellphone on the job, a violation of the NYPD patrol guide. Following the arrest, he claims that police deleted the video he had shot from his cellphone. The disorderly conduct charge against him was later dropped, and he is now suing for false arrest."
Ashford assaulted several of the activists by pushing them, something they cannot do to him, but an action which he clearly did to them, as can be seen in the video. Beckford's unlawful arrest was followed by the unlawful destruction of the video which he'd taken on his phone.
Beckford took his complaint in November to NYC's Civilian Complaint Review Board which "substantiated three allegations total of abuse of authority against Chowdhury and Ashford. The CCRB recommended that Ashford be retrained and that Chowdhury be docked vacation days." But just as The Free Thought Project has reported on numerous occasions, docking an officer's vacation pay is hardly any punishment at all for falsely arresting an activist for exercising his rights to free speech, and freedom of the press. As of the writing of this report, it is unclear whether or not any punishment of the officer has been affected.
Beckford is suing the officers involved as well as the police department. His lawsuit seeks damages for the officers allegedly violating his rights and destroying his documentation.
Beckford's lawyer David Rankin said, "He was taken off the street in handcuffs and placed in a cell for a number of hours…If a private citizen took someone off the street in the manner that this police officer took Mr. Beckford off the street, they'd be facing felony kidnapping charges. So, just because somebody is annoyed does not give a police officer anything that resembles the right to handcuff them and place them in a cage." Rankin added, "It certainly seems to us that the officer deleting video is evidence that the officer knew that his conduct was wrong."