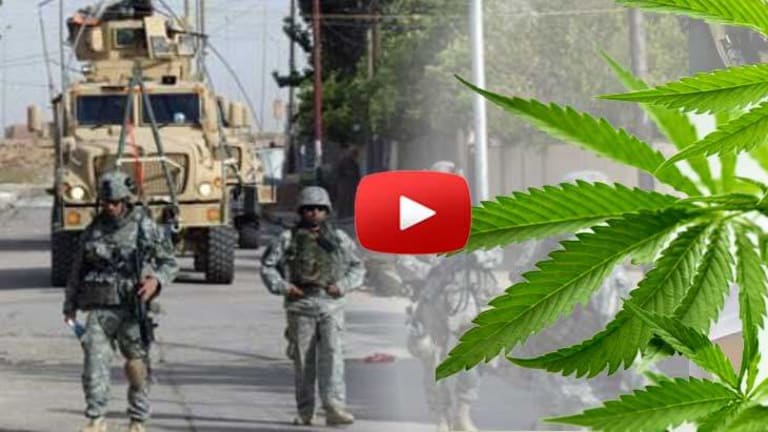 Instead of Admitting Drug War Defeat, Cops Up their Game and Bring in the US Military
While some states are realizing that kidnapping, caging, and killing people for a plant is immoral, other states are doubling down on oppression and bringing in the US military.
Butlerville, IN -- New video has surfaced from the Atterbury-Muscatatuck Training Center in Indiana. Local and State Police and National Guard troops teaming up with Blackhawk Helicopters to assault a plant that grows from the ground. Training exercises included rappelling from a the base Rappel Tower and rappelling from a UH-60 Blackhawk to simulate mock raids.
Originating from the military Public Affairs Office three state agents defended the need to protect the public from a plant that has been legalized in multiple states for medical and recreational use.
According to SGT Lou Perras of the Indiana State Police, the purpose is "to bridge that gap between the DOD the in non-DOD organizations."
Perras continued to justify the use of military equipment and training, "the National Guard has a unique skill set with assets and personal training so it allows us to gain that knowledge and those assets from the from the National Guard to better protect our citizens and the state."
Apparently, applying military assets is necessary to defeat a failed drug policy. Some argue that the combined use of "military assets" with local law enforcement is a violation of the Posse Comitatus Act which states it "is to limit the powers of the federal government in using its military personnel to act as domestic law enforcement personnel."
The debate is over the Posse Comitatus "loophole" that permits the same National Guard troops that Obama deploys overseas to enforce foreign policy to act as local Law Enforcement against a failed drug policy when they come home.
Richard Branson the eccentric Billionaire mogul recently mused on his CNN Blog:
"The U.S. has the largest prison population in the world, with about 2.3 million behind bars. More than half a million of those people are incarcerated for a drug law violation. What a waste of young lives.

In business, if one of our companies is failing, we take steps to identify and solve the problem. What we don't do is continue failing strategies that cost huge sums of money and exacerbate the problem. Rather than continuing on the disastrous path of the war on drugs, we need to look at what works and what doesn't in terms of real evidence and data."
1SG Joshua Brown feels confident in his ability to attack plants with Blackhawk Helicopters, "I think you could throw anything at us and all those agencies would work well together and solve it for the state."