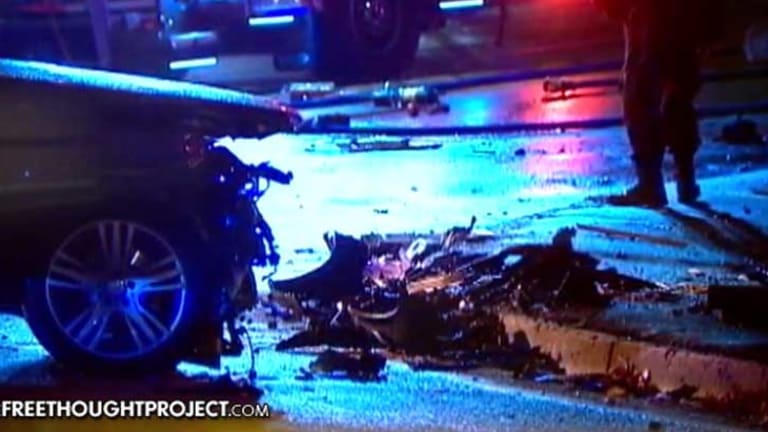 2 Young Adults and a Toddler Killed in Crash After Police Initiate 100mph Chase Over Drugs
A man wanted on drug charges fled from police only to lose control and plow into an innocent family's vehicle -- it's time to end the drug war.
North Versailles, PA -- 22-year-old Demetrius Coleman made a terrible, dangerous, and deadly decision to drive his car at speeds over 100mph through busy city streets during the middle of the day. This dangerous action led to Coleman plowing his vehicle into a car occupied by two adults and a young child -- all three of them were killed.
The man was identified as David Bianco. The names of the woman and toddler were not immediately released.
Coleman's actions are certainly criminal and he undoubtedly deserves to be held accountable for the deaths of these three innocent people. That being said, when we look at the reason Coleman was driving so fast, this high-speed crash could have been prevented entirely.
Because the state chooses to outlaw arbitrary substances, a black market is created which turns people who use or sell these substances into criminals. The government's war on drugs takes otherwise morally innocent people, whose only crime was to possess a substance deemed illegal by the state, and puts them in cages with society's worst.
When they are released from these cages, after their ostensible 'rehabilitation,' these individuals are worse off than they were when they were simply taking a substance that makes them happy. Because the state kidnapped them and locked them in a cage for 'drugs,' these individuals find themselves unemployable and are forced back into the only market that will put food on their plate -- the black market.
This cycle of arresting drug users and turning them into career criminals has been going on for decades. The effects on society are as dangerous as they are apparent -- and almost no one in government is doing anything to stop it.
When police pulled over Coleman at 2:17pm, he'd made an illegal u-turn. This minor traffic infraction quickly evolved into a high-speed pursuit because Coleman was wanted by police for, you guessed it -- a drug charge.
Instead of simply allowing Coleman to go and catching up with him later, the officer initiated the pursuit that would end in a tragedy.
According to Channel 11 News, police told them that speeds reached more than 100 mph during the chase. Authorities said that as per protocol, the East McKeesport police officer who initiated the chase was placed on administrative leave.
"I heard bang, and a few minutes later, I heard police cars. (I) came outside the door, and that's when I saw the smoke. I only saw the one white car at the beginning, the SUV, and then the burnt car," witness Paul Trammell said.
No one is denying who is at fault for this tragic crash, and that is Coleman. However, it would be irresponsible not to mention the drug war's role in the crash as well.
If the state didn't use AR15s and police MRAPs to wage a war against what people want to do with their own bodies, Coleman probably would not have had a warrant out for his arrest and would not have chosen to run from police.
Most people outside of the apparatus that enforces the drug war, can easily see the harm caused by treating addiction and substance abuse with police force. However, the state continues to plow on.
Even the medical and science communities are calling for an end to the drug war. But the state ignores them.
Earlier this month, in an editorial in the BMJ, the UK's most widely-read medical journal, doctors argued that laws against drug use have harmed people across the world, while stressing that drug addiction should be viewed as a health problem and police involvement must end.
Sadly, these two innocent adults and one innocent child are now part of the collateral damage in the most immoral war ever waged on humanity.
[author title="" image="https://tftpstagingstg.wpengine.com/wp-content/uploads/2016/03/magorist-e1456948757204.jpg"]Matt Agorist is an honorably discharged veteran of the USMC and former intelligence operator directly tasked by the NSA. This prior experience gives him unique insight into the world of government corruption and the American police state. Agorist has been an independent journalist for over a decade and has been featured on mainstream networks around the world. Follow @MattAgorist on Twitter and now on Steemit[/author]