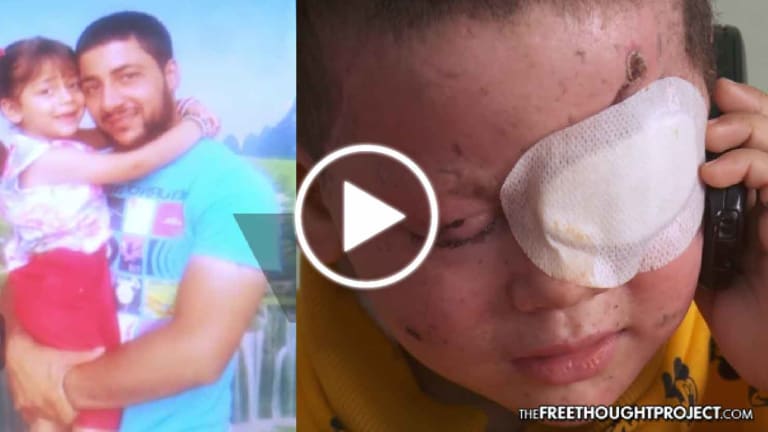 Heartbreaking Video of 4yo Girl Who Survived US Airstrikes Proves It's Not 'Our Freedom they Hate'
4-year-old Hawraa, is slowly recovering from severe wounds she suffered in a coalition airstrike on her home that killed her mother and most of the family.
(RT) — The father of the 4-year-old Hawraa, who is slowly recovering from severe wounds she suffered in a coalition airstrike on her home in Mosul that killed her mother and most of the family, told RT about the horrors and desperation he went through during the raid.
Hawraa miraculously survived the US-led coalition airstrike on al-Jadida neighborhood in Mosul on March 16 that claimed the lives of her mother and two other relatives.
"We were sitting at my uncle's house. She [Hawraa] and her mother, and my uncle's wife went back home to cook and give her a bath, because she was sick. So they went home at eight o'clock, and the house was shelled by the American air force," Hawraa's grieving father, Alaa, recalls.
Hawraa was the only one to make it through the airstrike, and then had to battle for her life in the field hospital of Iraq Special Operations Forces after suffering multiple shrapnel injuries. The girl, although still feeble and is hospital care, is keen on making a full recovery. Hawraa has become strong enough to be able to speak to her other relatives by phone, although she still needs her grandmother's help to sit down.
The 4-year-old seems not to comprehend completely what has happened to her.
"Yesterday, she was touching her hair and asking, where is my hair? Is it burned off?" Hawraa's grandmother told RT.
While it will take a long time for the child to heal physically, it will be even harder to get rid of mental scars.
"She has developed a fear from explosions and the sounds of bullets. She doesn't want to go back, ever," her grandmother said.
'Made in USA'
Adjusting to the brutal reality is no less tough for Alaa, who keeps replaying events of the night of the raid. Due to the constant shelling of the area by Islamic State (IS, formerly ISIS, ISIL) terrorists, Alaa was forced to stay in his uncle's house effectively being trapped there for three days and thus unable to help his family.
"I tried to save her, but I couldn't save her from the shelling and the airstrikes. And Daesh [IS] were firing at us, and there were snipers, they were shooting at me so I couldn't go out with her, I stayed there around three days," Alaa said, adding that every time he attempted to go outside, he was shot at.
The news on his wife's demise came amid that chaos. A neighbor told Alaa that he saw somebody who appeared to be his wife lying under a wall with a big, one meter high and half a meter wide hole in it. Walls with such man-made holes are used by IS militants to move swiftly while at the same time in disguise.
"I went through the holes and I saw my wife. I saw only one of her legs and part of her abdomen. She had no leg, no arms and no head, just this part of her body still there. I tried to take her out and they started to shoot at me. I just covered her with a blanket so the dogs wouldn't eat her body," Alaa recalled.
Alaa was told that his house, with his family inside, was targeted in the coalition raid. Later he discovered what he believes was a part of an American shell used in the bombing.
"You know that at the end of the missile there are four flaps, on that cartridge was written 'made in USA', I'm sure that was American," Alaa said.
Alaa's family became one of the many civilian casualties inflicted by the coalition air raids in Mosul. As terrorists use civilians as human shields and deliberately draw coalition warplanes to residential areas, the line between civilian and terrorist targets has become blurred.
Alaa believes that the bomb might have mistakenly landed on his house, while it was intended to strike a shooting position of jihadists in a nearby home. He recounts the toll of other misplaced strikes, going as far as calling the carnage "genocide."
"All of these were airstrikes. Our house, out neighbor's house. In one house alone, 144 people [were killed] and in front of our house 32 people [were killed]. Next to our house 13 people [were killed], in the house behind us more than 20 [were killed]," he said.
"This is genocide, I don't know, how else can you see this?"
The US-led coalition has subsequently issued a statement, admitting that it targeted the area at the request of the Iraqi forces at the time of the incident and launched a formal investigation into the deaths of dozens of civilians in the residential neighborhood of western Mosul on March 17.
Announcing the probe, US CENTCOM commander General Votel stressed that IS "exploits" the US "sensitivity for civilian casualties" by using them as human shields, arguing that in this particular case the IS fighters "bear the responsibility for this as well."