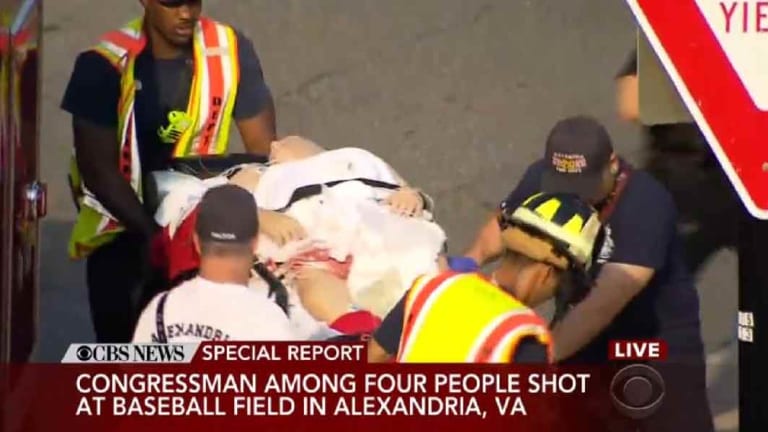 Mass Shooter Reportedly Asked 'Are Those Republicans?' Before Shooting Congressman, Cops
A source close to the shooting noted that the shooter asked if his potential victims were democrats or republicans before opening fire.
Update 7:
(ZH) — The shooter has been identified at 66-year-old James Hodgkinson of Belleville, Ill.
Update 6: Virginia Governor Terry McAuliffe and law enforcement officials held a press briefing which began around 10:30AM EST. Among other things, officers confirmed that the 2 U.S. Capitol Police Officers who were shot this morning were in "good condition." Virginia police said the FBI will be taking over the investigation.

Not surprisingly, VA governor McAuliffe used this tragedy to push gun control.
Update 5: The House has gone into recess and confirmed that no votes are scheduled for today in light of this morning's shooting. The House Sgt. as Arms will brief members of Congress later this morning.

Update 4: Majority Whip Steve Scalise's office has just confirmed the congressman was shot in the hip and was transported to MedStar Washington Hospital Center where he is currently undergoing surgery.

Update 3:
Shortly after the shooting this morning at a congressional baseball practice, Representative Mark Walker (R-N.C.) said that it appeared the "gunman was there to kill as many Republican members as possible." Walker, who was at the practice for the upcoming annual congressional baseball game in Alexandria, Virginia, confirmed he was "shaken but okay."
Update 2:

Michigan Rep. Mike Bishop tells WWJ Newsradio 950 he was attending the practice around 5:30 a.m., just outside of Alexandria, when shots rang out. He said he and his colleagues were "sitting ducks."
"As we were standing here this morning, a gunman walked up to the fence line and just began to shoot. I was standing at home plate and he was in the third base line," Bishop said. "He had a rifle that was clearly meant for the job of taking people out, multiple casualties, and he had several rounds and magazines that he kept unloading and reloading."
More than 50 shots were fired, according to CBS News, with some accounts putting the number closer to 100. Four people were injured, including two Capitol Hill police officers and House Majority Whip Steve Scalise. The suspect was also shot.
"The only reason why any of us walked out of this thing, by the grace of God, one of the folks here had a weapon to fire back and give us a moment to find cover. We were inside the backstop and if we didn't have that cover by a brave person who stood up and took a shot themselves, we would not have gotten out of there and every one of us would have been hit — every single one of us," said Bishop. "He was coming around the fence line and he was looking for all of us who had found cover in different spots. But if we didn't have return fire right there, he would have come up to each one of us and shot us point-blank."
Bishop was uninjured. General Jack Bergman, who represents northern Michigan and the Upper Peninsula, and John Moolenaar, from Midland, were also at the practice; both uninjured. Democratic members of Congress were practicing at a different field, miles away.
"Two of our staff was hit, Steve Scalise was hit on second base, I watched him get hit and I couldn't do anything to help him. We tried to get him off as fast as we could but this guy was relentless with his fire," he said. "One of our staffers got hit in the chest and I pray for him, I just don't know what the outcome is going to be. This is a tragic situation and frankly, it's changed everything as I know it forever."
A suspect, who received at least one gunshot, is believed to be in custody. Bishop said the man didn't speak a word. "He stood there silently. None of us saw him walk up," he said. "One of our coaches had his son, his 11-year-old son — I have an 11-year-old son, too, who's supposed to be here — and I am just, I can't even tell you, I don't know. Fortunately everybody's OK. It's just traumatic." * * * Update: Virginia Police have confirmed the suspect is in custody and is no longer a threat. According to RealClearPolitics reports Rebecca Berg, Rep. Jeff Duncan plans to give a statement to police regarding a conversation he had with the shooter before leaving practice early. The man is said to have been wearing running clothes, and asked Duncan: "Are those Republicans or Democrats out there practicing?" Per source familiar.

* * *
Trump has issued a statement on the shooting saying, "We are deeply saddened by this tragedy."
* * *
As we detailed earlier, at least five people have been shot, including House Majority Whip Steve Scalise - the third ranking Republican - and aides, during a baseball practice in Virginia Wednesday, Fox News confirmed. The shots were reported on East Monroe Street in Del Ray, Alexandria police said on Twitter at 7:30 a.m. The location was near a YMCA.
An injured Steve Scalise is shown being carried away on a stretcher.
More breaking headlines:
BROOKS: APPEARS SOME SECURITY DETAIL MEMBERS WERE INJURED
BROOKS SAYS SECURITY DETAIL SHOT BACK AT ASSAILANT
BROOKS: HELICOPTER LANDED ON FIELD TO TRANSPORT INJURED
BROOKS: AT LEAST 5 INJURED, INCL. SCALISE, STAFFER, 2 GUARDS
SEN. PAUL WITNESSED SHOOTING, HEARD `RAPID SUCCESSION OF SHOTS'
SEN. PAUL: `I PROBABLY HEARD 50, 60 SHOTS'
PAUL: EVERYONE LIKELY WOULD HAVE DIED IF NOT FOR CAPITOL POLICE
PAUL: LOOKED LIKE SCALISE SHOT IN LEG OR HIP
PAUL: CAPITOL HILL POLICE PREVENTED A 'MASSACRE' ON FIELD
SEN. PAUL SAYS DECISION WAS 'STAY OR RUN' DURING SHOOTING
SEN. RAND PAUL WAS IN BATTING CAGE DURING SHOOTING
INJURED GUNMAN IN CONGRESS MEMBER SHOOTING APPREHENDED: FOX
A reporter from the Huffington Post tweeted that a congressman said he "heard there was a shooting at the Congressional baseball game practice field." ABC 7 News reported "multiple shooting" in the 400 block of E. Monroe Street.
"Both @POTUS & @VP are aware of the developing situation in Virginia. Our thoughts and prayers are with all affected," White House Press Secretary Sean Spicer tweeted.

Scalise, 51, is the House majority whip. He has represented Louisiana's First Congressional District since 2008 and chairs the House Republican Study Committee. He is married with two children. Scalise's district includes New Orleans.
According a report from Rep. Mo Brooke, who said he was not shot, more than 50 rifle shots were fired.
"We used my belt to help put a tourniquet around his leg," says witness @RepMoBrooks of Alexandria shooting victim.
Brooks adds that a helicopter landed in center field and took one of the wounded to a hospital, Rep. Brooks said

Here is the full list of those present at the practice:
Police tweeted they "believed" the gunman was in custody. Sen. Mike Lee told Fox News, however, the gunman was dead. He said a staffer used a belt as a tourniquet to stop Scalise's bleeding.