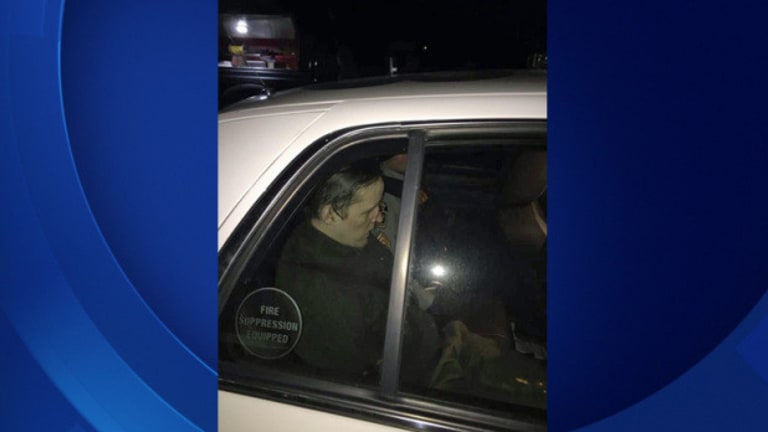 Alleged Cop Killer Eric Frein has Been Captured
Canadensis, PA -- Suspected Pennsylvania cop killer Eric Frein has been captured alive and without incident according to State Police.
According to KDKA,
Frein is charged with opening fire outside the Blooming Grove barracks on Sept. 12, killing Cpl. Bryon Dickson and seriously wounding another trooper.

Sources tell KDKA Investigators that state police are using Cpl. Dickson's handcuffs to bring Frein in.

Two law enforcement officials say Frein was captured by U.S. marshals in an abandoned airplane hangar. They say Frein surrendered.

The officials weren't authorized to discuss the circumstances of Frein's arrest and spoke to The Associated Press on the condition of anonymity.
State police say they acted on a tip from a local resident who was walking his dog weeks ago in a wooded area 2 miles from the barracks and spotted a vehicle slightly submerged in a pond and called 911.
Inside the vehicle police found shell casings that matched those found at the shooting scene, according to State Police Commissioner Frank Noonan.
The vehicle belonged to Eric Matthew Frein, 31, of Canadensis, Pa., who, according to police, was armed with the .308-caliber rifle that he used to open fire on the barracks and at large until now.
Frein has managed to evade the police for over a month now, despite a manhunt involving over 1000 officers. He was believed to still be in the area, as police have been finding camp sites, one of which included an AK-47, soiled diapers (presumably so he could stay in one spot without moving for longer periods of time), as well as a diary which reportedly recounts his actions that evening.
Police have pursued thousands of tips during the manhunt. They've even gone to the point of assaulting and stopping a man they believed looked like Frein, over 20 times.