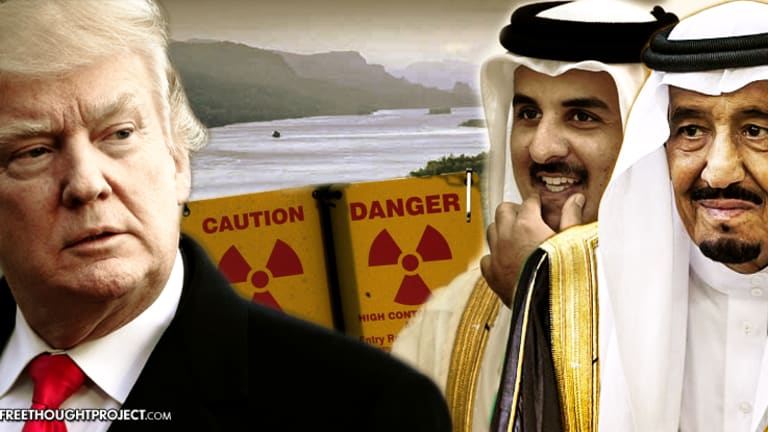 America First? Gov't Claims No Funds to Stop US Nuclear Waste Leak, While Giving Billions to Dictators
The Hanford Superfund site continues leaking radioactive waste into the Columbia River, while the Trump Administration prepares billion-dollar arms deals with the terrorist-supporting Saudis and Qataris.
Radioactive waste still flows "freely" into the Columbia River from the U.S. Superfund site at Hanford — a situation desperately in need of remedy, given the number of civilians located nearby — yet the Trump Administration instead decided this week on a multi-billion dollar arms sale to authoritarian nations accused of actively funding terrorist groups.
News of the continuous leak arrived from U.S. EPA Project Manager Dennis Faulk during a meeting of the Hanford Advisory Board, which Courthouse Newsreports,
"[C]ame as part of a five-year review of cleanup measures taken at the Superfund site. Officials with the EPA and the Department of Energy said at a meeting Wednesday that the review showed most of the cleanup actions at Hanford were properly 'protective,' meaning the public was shielded from the worst of the site's estimated 500 million gallons of potentially radioactive waste.
"Radioactive sludge in shuttered reactors, contaminated soil in landfill sites and equipment that was once used to refine the uranium that fueled the nuclear bomb dropped on Nagasaki were all properly contained, according to the report."
But that information, welcome though it may be, comprised the rosiest news — since, on a darker note, Mike Cline, director of the Department of Energy's Soil and Groundwater Division, asserted hexavalent chromium- and strontium-90-tainted groundwater has been "flowing freely" into the Columbia.
Concerns for the stretch of river abutting the Superfund site, called Hanford Reach — designated a national monument 17 years ago by then-President Bill Clinton — were stirred because the area faces potential review by Trump Interior Secretary Ryan Zinke for a possible revocation of its status and, thus, evaporation of funds for amelioration.
To protect the Columbia River and surrounding environs by containing the radioactive water, agencies sought to construct a "permeable reactive barrier" and build stronger wells — but the Department of Energy and EPA face a cut under Trump's proposed budget of around $120 million.
Cleanup of Hanford already languishes from a minimal budget — cuts that deep, officials asserted, could paralyze the imperative program.
Worse, Trump and his administration have been preoccupied with procuring multi-billion dollar deals on arms and military equipment with a pair of known human rights-abusing, terrorist-funding governments — Saudi Arabia and Qatar — complicated infinitely by on ongoing feud between the two on the topic of, unironically, funding and supporting terrorists.
On Tuesday, the Senate voted to reject a bill blocking $110 billion in total arms sale to the Saudis — an authoritarian kingdom and apparent Teflon-coated ally to the U.S. — criticism of whose human rights abuse and double-dealing with nefarious entities never negates the American government's lustful need for imported oil.
At present, growing public awareness harpoons the House of Saud and its government for an effective blockade of Yemen — which some intone could constitute a violation of international law — as well as for a persistent bombing campaign, both of which have left innocent civilians in dire need of assistance with scores dying of malnutrition.
Qatar was recently skewered by the Saudis — and a subsequent succession of Gulf Cooperation Council states — for support of militants fighting in Yemen and elsewhere.
Trump, aligning with the Ally Who Can Do No Wrong, sided with the Saudis in excoriating only Qatar for being a terrorist nation; yet — nearly in the same breath — proceeded to green light a $12 billion arms deal with the Defense Department.
However — and, again, unironically — the Saudi and Qatari governments both featured prominently in documents revealed by Wikileaks from a cache leaked from Hillary Clinton's emails from 2015 for being known funders of the menacing Islamic State.
Pots, meet kettles.
In other words, despite the U.S. State Department and associates of Clinton, having long been cognizant of the active funding of ISIL by the Saudis and Qataris, the administration of Donald Trump rewarded each of the disputing states with billions in sales of yet more weapons.
Elucidation on the ironic morass can be gleaned from each of the three nations' fealty to oil and the business of fossil fuels than can ever be derived from a logical analysis attempting to justify massive exchanges of weapons and cash and the training and support of terrorists otherwise ambivalent to all three.
All of this political, economic, and industry wrangling — much of which occurred to the condemnation by the American public as wasteful, if not foolish, spending — ignores the offensive lack of budget monies for sites like the Hanford Reach and many others.
It's a veritable guarantee the heft of the U.S. populace would champion the need to contain radioactive, noxious contaminants inside the nation's borders over that to supply known terrorist-friendly countries with untenable arms deals.
But that's precisely what Trump and his ilk have decided — and, it appears, the rest of us will instead be left to collectively shrug our shoulders. This is, after all, egregiously characteristic of Washington's wearisome business-as-usual.