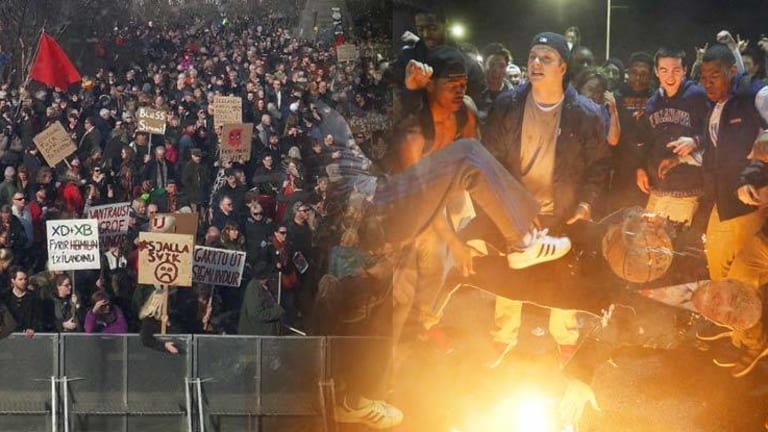 As Americans Rioted for a Ball Game, Iceland Took to the Streets and Forced their PM to Resign
As the US descends into 'Bread & Circus' Times, Iceland just forced the Prime Minister to resign for being corrupt.
Reykjavik, Iceland -- Last night, thousands of impassioned college students took to the streets of Villanova, Pennsylvania, to take a stand for what they believe in. Thousands gathered, many of whom clashed with police to stand up for their cause -- NCAA basketball.
Had these college students, been at the wildlife refuge in Oregon to protest BLM land grabs, they would have been called terrorists. Had they been in Ferguson, Missouri to protest police killings, they would have been called thugs. Instead, these inebriated individuals who started fires, assaulted cops, and caused other people injuries -- are called "revelers."
It is this tendency of Americans to shun those who stand up for a cause, and the glorification of insignificant bread and circus events, that almost guarantees tyranny.
If we compare America's view on protesting with that of Iceland, however, we find the opposite.
After the now infamous Panama Papers had exposed Prime Minister Sigmundur Davíð Gunnlaugsson, and his secret use of offshore accounts, the citizens of Iceland took to the streets.
It was revealed in the leaked Panama Papers that Gunnlaugsson's wife owned a secret offshore investment company with multi-million claims in Iceland's failed banks.
According to the Guardian,
The leaked documents from the Mossack Fonseca law firm show Gunnlaugsson and his wife, Anna Sigurlaug Pálsdóttir, bought a British Virgin Islands-based offshore company, Wintris Inc, in December 2007 to invest her share of the proceeds of the sale of her father's business, Iceland's only Toyota importer.

Gunnlaugsson sold his 50% stake to his wife for a symbolic $1 at the end of 2009, eight months after he was elected to parliament as an MP for the centre-right Progressive party. He failed, however, to declare an interest in the company either then or when he became prime minister in 2013.
Gunnlaugsson has denied all the allegations against him and has publicly stated that the failure to declare the interest was due to an error created by he and his wife sharing a bank account. On Monday, tens of thousands of protesters marched on Reykjavik to demand Gunnlaugsson's resignation. And, on Tuesday -- it worked.

A whopping 6.6 percent of the entire country took to the streets -- not to celebrate their winning team, drink beer, and set trash cans on fire, but to incite change through letting their so-called leaders know that they will not stand for corruption.
"What would be the most natural and the right thing to do is that he resign as prime minister," Birgitta Jónsdóttir, a former WikiLeaks activist who represents the opposition Pirate party in parliament, told TheGuardian. "There is great demand for that in society; he has totally lost all his trust and believability."
On Tuesday, Gunnlaugsson resigned.
As the Guardian reports, 
Iceland's embattled prime minister, Sigmundur Davíð Gunnlaugsson, has tendered his resignation in the wake of a mounting political crisis over his family's offshore investments, local media have reported.

The agriculture and fisheries minister, Sigurður Ingi Jóhannsson, told state broadcaster RUV that Gunnlaugsson was resigning as prime minister and that he would be replacing him.
Iceland's track record of holding bankers and politicians accountable is second to none in the West. As corrupt, thieving, and even murderous politicians and bankers in the US get appointed to positions of authority, similar folks in Iceland are rotting in jail.
Until the infatuation with irrelevance takes a back seat to reality and facing down the tyrants out to control our lives, we can expect to see more of the same. We need only look at the choices for presidents in the country right now to realize -- Americans have a long road ahead.
[author title="" image="https://tftpstagingstg.wpengine.com/wp-content/uploads/2016/03/magorist-e1456948757204.jpg"]Matt Agorist is an honorably discharged veteran of the USMC and former intelligence operator directly tasked by the NSA. This prior experience gives him unique insight into the world of government corruption and the American police state. Agorist has been an independent journalist for over a decade and has been featured on mainstream networks around the world. Follow @MattAgorist[/author]