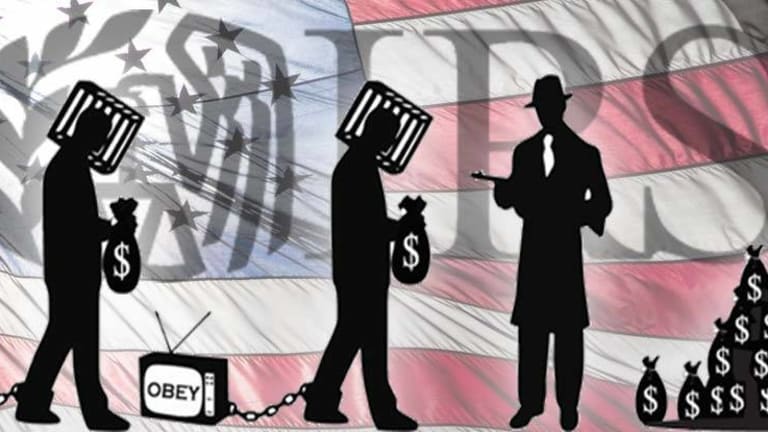 Americans Will Spend More on Taxes in 2016 than on Housing, Food, and Clothing — Combined.
An eye-opening report finds just how 'taxing' your fair share can be.
A new report from the Tax Foundation reveals a rather startling fact: Americans will spend more on taxes in 2016 than they will on housing, food, and clothing — combined.
As the hashtag #TaxationIsTheft once again marks the approach of Tax Day, this report could easily infuriate people in the United States even further — particularly those concerned about how the government chooses to utilize their tax money.
With $3.3 trillion in federal taxes and $1.6 trillion in state and local taxes, a full 31 percent of the nation's income goes to taxation. The Tax Foundation hopes to raise awareness about taxes with "Tax Freedom Day," which falls on April 24th this year. According to the report:
"Tax Freedom Day is the day when the nation as a whole has earned enough money to pay its total tax bill for the year. Tax Freedom Day takes all federal, state, and local taxes and divides them by the nation's income."
Though April 24th could be considered a late date, Tax Freedom Day would occur even later when including the government's notorious borrowing habit.
"Since 2002," the report continues, "federal expenses have surpassed federal revenues, with the budget deficit exceeding $1 trillion annually from 2009 to 2012. In calendar year 2016, the deficit will grow significantly, from $592 billion to $698 billion. If we include this annual federal borrowing, which represents future taxes owed, Tax Freedom Day would occur on May 10, 16 days later."
April 24 will be the federal Tax Freedom Day, but because state tax burdens and policies vary, people living in different states will have differing Tax Freedom Days. Mississippi's Tax Freedom Day fell on April 5 — the earliest in the nation — but Connecticut has the dubious distinction of the latest Tax Freedom Day, May 21.
"Tax Freedom Day gives us a vivid representation of how much federal, state, and local tax revenue is collected each year to pay for government goods and services," said Scott Greenberg in a statement cited by Breitbart. "Arguments can be made that the tax bill is too high or too low, but in order to have an honest discussion, it's important for taxpayers to understand the cost of government. Tax Freedom Day helps people relate to that cost."
Taxes have skyrocketed over the years, though 2016's Tax Freedom Day occurs a bit earlier than the latest on record — in 2000, Tax Freedom Day fell on May 1, when Americans paid 33 percent of collective total income in taxes.
Perhaps the best illustration of our mounting tax bill could be found in the report's comparison of Tax Freedom Day over a century ago. In 1900, that day would have fallen on January 22 — when Americans paid just 5.9 percent of their total income in taxes.
With April 15th, Tax Day, quickly approaching — and considering the Tax Foundation's report — Americans might want to consider why a growing number of prominent figures have joined Ron Paul in proclaiming #TaxationIsTheft.
">