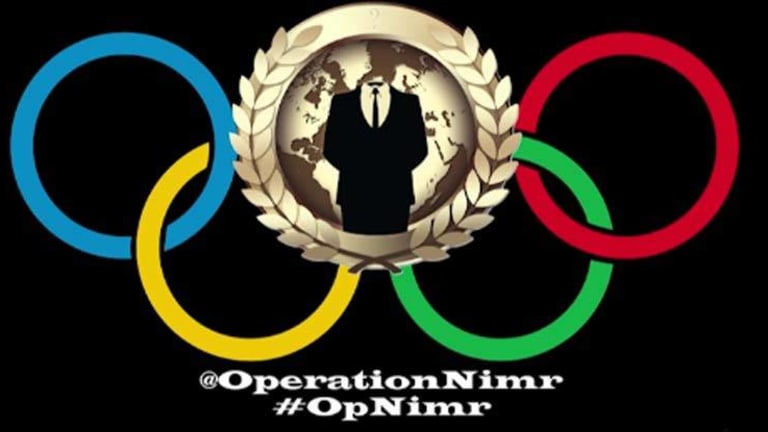 Anonymous Calls on IOC to Ban Saudi Arabia from 2016 Olympics Over Human Rights Violations
Last year, Saudi Arabia beheaded more people than ISIS -- many of them convicted as children -- and they are invited to the Olympics.
Lausanne, Switzerland - Activists from the hacking collective 'Anonymous' have called on the International Olympic Committee (IOC) to ban the Kingdom of Saudi Arabia from the 2016 Summer Olympic games in Rio de Janeiro, Brazil, due to their numerous human rights violations.
The announcement from Anonymous follows the groups cyber-attack on the Saudi government on Jan 4, which took down Saudi government websites for over 24 hours, in response to the executions of 47 people – including numerous people who were under 18 when convicted of their "crimes" – carried out in direct violation of international law.
A " target="_blank">press release from the #OpNimr/Operation Nimr section of Anonymous stated:

Anonymous are calling on the IOC to ban Saudi Arabia from this year's Summer Olympics. Anonymous and Operation Nimr "#OpNimr" are calling on the International Olympic Committee to ban Saudi Arabia from the upcoming Summer Olympics in Rio. On January 2, 2016 Saudi Arabia executed and crucified 47 people, several of whom were children at the time of their arrests. Prominent, peaceful Shia cleric Sheikh Nimr al-Nimr and Arab Spring activists Ali Saeed Al Rebh, Mohamed Al Sheuikh, and Mohammed Al Suwamil were among the executed. Arab Spring activists Ali Mohammed Baqir Al Nimr, Ali Saeed Al Rebh, Abdullah Al Zaher, Dawoud Al Marhoon, Mohamed Al Sheuikh, and Mohammed Al Suwamil were teenagers at the time of their arrests. In 2012 an online movement was started to ban Saudi Arabia from participating at the London Summer Olympics because of the country's suppression of women's rights. Saudi Arabia lifted their ban and allowed two female athletes to compete for the first time. We feel the IOC banning Saudi Arabia from this year's Olympics for their human rights atrocities will secure the freedom of the three remaining Arab Spring activists. We hope added attention on Saudi Arabia's human rights abuses will help spark another online movement to ban Saudi Arabia from the Olympics.
Perhaps it's time the world took a page out of the U.S. foreign policy playbook and began to isolate pariah states, such as Saudi Arabia, which refuse to conform to international norms of human rights. Being one-half of the U.S. led "Petrodollar" alliance that underpins the current global finance paradigm doesn't simply allow for carte blanche human rights violations because the other half of the partnership is the global hegemonic power.
The Olympics are the perfect place to make a bold political statement that blatant human rights violators like the House of Saud will not be given the privilege of competing in the most prestigious international sports competition in the world, as a means of symbolizing the current regimes failure to secure the basic human rights of the people of Saudi Arabia.
Jay Syrmopoulos is a political analyst, free thinker, researcher, and ardent opponent of authoritarianism. He is currently a graduate student at University of Denver pursuing a masters in Global Affairs. Jay's work has been published on Ben Swann's Truth in Media, Truth-Out, Raw Story, MintPress News, as well as many other sites. You can follow him on Twitter @sirmetropolis, on Facebook at Sir Metropolis and now on tsu.