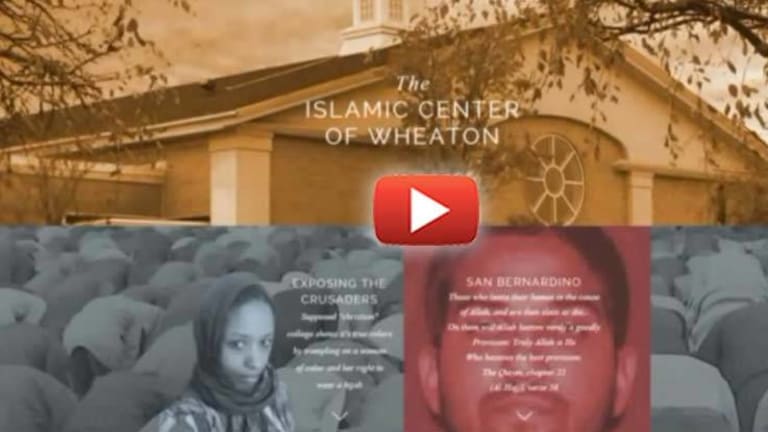 Bigot Attempts to Smear Local Mosque with Fake ISIS Website - But Failed Miserably
Police are looking for the group who is behind the website attacking Islam and mocking Christians who interact with Muslims.
In what was described as the inaugural sortie in a "guerrilla campaign" targeting Americans of the Islamic faith, an unidentified group of cyber-hijackers created a bogus website claiming to represent the Islamic Center of Wheaton, Illinois – one designed to validate every imaginable anti-Muslim trope and stereotype. Prior to being taken down after an injunction was issued by a US District Court, the website touted ISIS and the "myrters" [sic for "martyrs"] who carried out terrorist attacks in Paris and San Bernardino, and featured a section entitled "teaching children to be martyrs" depicting youngsters carrying assault rifles and marching under the ISIS flag.
The only substantive clue regarding the identity of the website's creator was a "press" link to a manifesto composed by an individual referring to himself as "Commander X." Supposedly a lifetime resident of Wheaton who has expatriated to a "Scandinavian country," the author expressed outrage "that the local Wheaton government, a critical number of Wheaton College professors and so many Christian Churches have been co-opted by the radical left and their open immigration agenda." He also praised Donald Trump for provoking public discussion over the immigration and refugee policy by proposing a ban on allowing Muslims into the United States.
The imposture wasn't known to representatives of the Wheaton mosque until they received a visit from a police detective who asked questions about its content.
"An email went out last week to local officials with an ICW signature pointing recipients to the fake website," explained a statement on the mosque's authentic website. "The email made it to the local Wheaton Police Department, who in turn contacted ICW for notification and clarification."
"Our first concern was, `Is this our Islamic center putting this out?' and we quickly found out it wasn't,'" explained Wheaton Police Chief Jim Volpe to the Daily Herald newspaper.
In addition to misrepresenting both the ICW and the faith it represents, the spurious website "is also making mockery of Christians who are interacting with ICW," complained the statement from the mosque. Far from being an insular, secretive terrorist training academy, the ICW has been transparent with the local community and prominently involved in interfaith outreach efforts.
The congregation, which numbers roughly 700 people, purchased an abandoned Assembly of God Church building in Wheaton roughly two years ago, becoming "what is believed to be the city's first Islamic institution," reported the Chicago Tribune.
"Wheaton is a city of faith, and we're very privileged to be able to establish an Islamic community for Wheaton and especially for the western suburbs," said Abraham Antar, a spokesman for the mosque, who expressed regret that the Assembly of God congregation "lost their opportunity to stay here." He also expressed delight that the new facility "really presents us with an opportunity to bridge the relationship with all congregations within the area."
Sarah Britton Miller, who attended a Friday service at the ICW mosque as a spectator roughly a year ago, recounts a sermon that did precisely what many American critics of Islam frequently demand: It condemned terrorism in general, and ISIS in particular, as a violation of the tenets of that religion.
Referring to the depredations committed by those who kill and terrorize others while invoking Islam, the Imam paraphrased a familiar verse from the Quran: "If you kill a soul, in my eyes you kill all of humanity. If you save a soul, you save all of humanity."
"Before I know it, he has launched into a discussion of the very issue that [a Muslim academic had discussed] the day before," recalled Miller. "Growing more and more forceful, he decries the evil and injustice done by groups like ISIS. He says, `People need to see the mercy of Allah…Are we living true to the mercy of Allah?'"
During a communal meal following the worship service, Miller asked the Imam "to explain some of the frustrations he expressed earlier in the prayer service. He gives me the following metaphor: If you take one part of your body—your toe or your ear or your arm—and you blow it up, expanding it until it is bigger than the body itself, you get a very strange looking person."
In similar fashion, continued the cleric, the image of Islam "has been twisted and distorted until it is no longer a true depiction."
I have no idea who they are," the Imam said, referring to ISIS and similar groups. "How can you call yourself a Muslim when you violate the fundamental truths of Islam?"
Writing in The American Conservative, Alan Jacobs observes that his friends who attend Wheaton College "know that the people who worship at the Islamic Center of Wheaton are their neighbors, and Christians are supposed to love their neighbors, so … so they show up. They visit. They talk. They bring their children."
The creation of the fake ICW website, Jacobs contends, is not merely an attack on the character, integrity, and – at least implicitly – the religious liberty of Muslims in Wheaton, but by derivation an attempt to defame their Christian neighbors: "Christians from the Wheaton community who have befriended their Muslim neighbors are being smeared, along with those neighbors, as advocates of murder and terror."
Noah Toly, a Wheaton resident who has attended events at the mosque, was stunned to find that the ersatz website had published photos of himself and his children along with doctored images of his Muslim neighbors.
"The photo makes it seem like you're trying to inflame people against us now, too," wrote Toly in an open letter to the website's creator. "You've doctored the photo a bit, though, including a couple of menacing, masked, and armed men, as well as a poster or something that seems vaguely threatening toward Israel. But you haven't doctored it the way I would want. You see, I look a bit wider than I normally do, because I've got my arms up around the shoulders of my neighbors. If I were doctoring it, I'd totally slip a new photo in -- something slimming. It's not like I'm skinny, but we could get something svelter."
Toly ended his note with an invitation to buy the perpetrator a beer if he would be willing to "tell me all about why you did this." Besides, he added, "If you meet me for a beer and a chat, I won't sue your pants off when the FBI finds you."
Given that the FBI is much better at choreographing bogus terrorist plots than solving actual terrorism-related crimes, it's doubtful that the creator of the malicious website is intimidated by the thought that the G-men are on his trail.