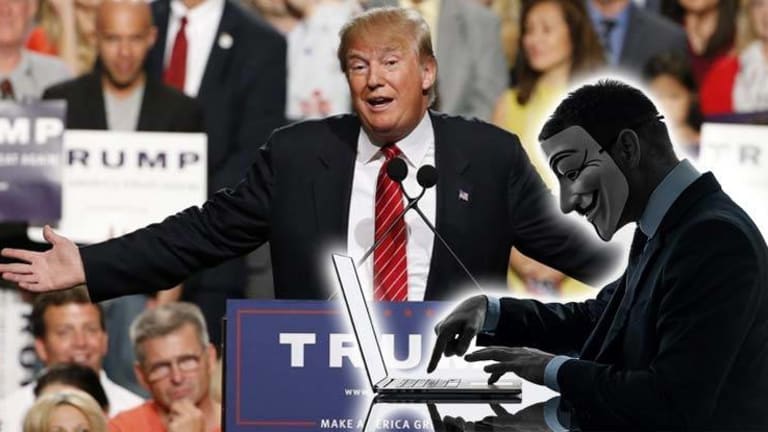 Anonymous Declares "Total War" on Trump -- Promises to "Dismantle His Campaign"
Anonymous just announced they have huge plans for Donald Trump -- starting April 1.
In December, shortly after Trumps comments about banning Muslims and "shutting down part of the Internet," Anonymous released a statement, decrying his tyrannical statements and declared #OpTrump.
While there have been some small cyber attacks launched against the billionaire presidential candidate since this 'declaration,' none have been so significant until earlier this month. On March 5, the hacktivist collective released Trump's voicemail messages showing how the liberal media is supporting his campaign.
The move to hack the voicemail of Trump was bombshell. And now, Anonymous has vowed to relaunch cyber-operations against the US presidential candidate starting April 1.
"Dear Donald Trump, we have been watching you for a long time and what we see is deeply disturbing. Your inconsistent and hateful campaign has not only shocked the United States of America [but] you have shocked the entire planet with your appalling actions and ideas. You say what your audience wants to hear but in reality you don't stand for anything except for your personal greed and power," the video states.
The video is a call to arms for hacktivists worldwide to join together and "dismantle his campaign."
"We need you to shut down his websites, to research and expose what he doesn't want the public to know. We need to dismantle his campaign and sabotage his brand. We are encouraging every able person with a computer to participate in this operation. This is not a warning, this is a declaration of total war. Donald Trump – it is too late to expect us."
Anonymous has listed the targets of their attack online, as well as the resources necessary to carry out them out. 
It will be interesting to watch this unfold as Anonymous has been highly successful in their coordinated efforts to disrupt the online activities of ISIS in recent months. The hacker group did in a few days what the US massive surveillance state couldn't do in years.
After being called "idiots" by those who behead innocent people to further their cause, the hacker collective Anonymous dealt a huge blow to the terror group ISIS. But that was just the tip of the iceberg.
In November, the Free Thought Project reported on Anonymous taking down over 5,500 Twitter accounts tied to Islamic State members.
Shortly after this victory, Anonymous published a 'Guide to Fighting ISIS Online.'
The release of this guide enlisted the talents of amateur hackers worldwide, and the results were nothing short of phenomenal.
The guide was published in an IRC (internet relay chat) channel by a member of the hacker group. That member released the guide, along with the following message.
"Instead of sitting idle in the [chat] channel or lurking around and doing nothing, you can benefit greatly from the different tools and guides that have been provided to you,"he wrote. "Your contribution means a lot and we encourage you to partake in all of the Op's activities if you can, the more the merrier."
After the instructions had been released, 20,000 ISIS accounts were obliterated.
If this is the type of cyber force coming toward the Trump candidacy, the billionaire will do well to invest some of that money in a giant firewall.
[author title="" image="https://tftpstagingstg.wpengine.com/wp-content/uploads/2016/03/magorist-e1456948757204.jpg"]Matt Agorist is an honorably discharged veteran of the USMC and former intelligence operator directly tasked by the NSA. This prior experience gives him unique insight into the world of government corruption and the American police state. Agorist has been an independent journalist for over a decade and has been featured on mainstream networks around the world. Follow @MattAgorist[/author]