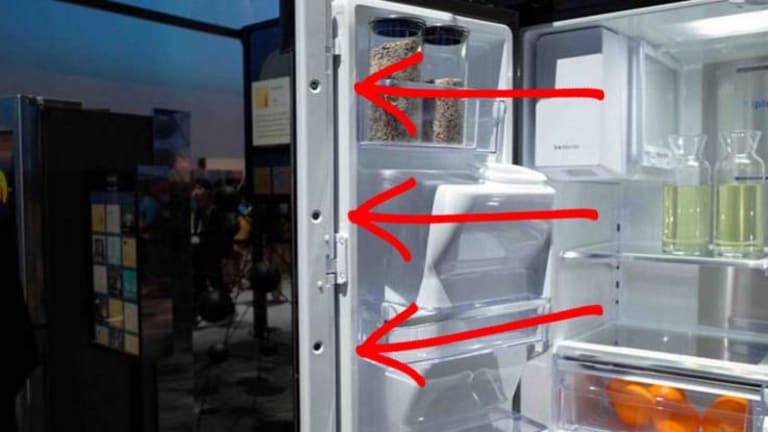 Cops Now Taught to Use Appliances in Crime Investigations, Because Your Fridge is Watching You
Police say your fridge or washing machine — the Internet of things — may be vital witnesses to solve murders and violent crimes — seriously.
Thanks to what's known as the Internet of things — the growing number of 'smart' devices and appliances connected to the web and each other — will be used by police to solve violent crimes.
Your fridge, law enforcement says, might help solve a murder.
However beneficial that sounds, it indicates a number of circumstances to send chills down the spines of privacy rights advocates — or anyone who doesn't find the idea of, say, a washing machine spying on their every move.
"Wireless cameras within a device, such as fridge, may record the movement of owners and suspects," Metropolitan Police head of the digital, cyber and communications forensics unit, Mark Stokes toldThe Times.
"Doorbells that connect directly to apps on a user's phone can show who has rung the door and the owner or others may then remotely, if they choose, to give controlled access to the premises while away from the property.
"All these leave a log and a trace of activity. The crime scene of tomorrow is going to be the internet of things."
Stokes explained detectives are already being trained to hunt for such devices at crime scenes in order to map both victims' and suspects' digital footprints. So many appliances and personal devices are now linked to the Internet under the premise of convenience, Stokes assessment isn't an exaggeration.
Indeed, many privacy advocates and domestic surveillance critics — like whistleblower Edward Snowden — have long warned the consumer culture's lust for convenience and saving time would usurp more rational goal of keeping the government's prying eyes out of our homes.
Instead, as the Telegraphexplains, in just one example,
"The new Samsung Family Hub Fridge has cameras that carry a live feed of its contents, so shoppers can tell what they need when they are out at the shop. The dates and times that people logon to the fridge, therefore could provide alibis or prove people were not were they said they were."
Further, authorities have been working to create a portable "digital forensics toolkit" — for analyzing microchips and downloading information on the spot — so police would not be forced to remove large appliances from a crime scene for testing.
As Stokes noted, however, private corporations — the manufacturers of these devices — could create obstacles to this potential gold mine of information. Concern for customers' privacy has, indeed, been a barrier for investigators in Bentonville, Arkansas, who have filed search warrants to obtain the information from murder suspect James A. Bates' Amazon Echo.
Law enforcement have filed search warrants with Amazon for recordings from the device in hopes it had been voice activated and captured clues to explain how Victor Collins was strangled to death in Bates' hot tub in 2015 — but, thus far, the company has not complied.
"It is believed that these records are retained by Amazon.com and that they are evidence related to the case under investigation," the search warrant reads.
Police have already obtained information from the electric water meter on Bates' house, and feel the Echo — a voice-activated device which plays music, can answer questions, turns on home appliances, and uses artificial intelligence to improve service over time — might have recorded information vital to parsing out the murder.
When it comes to the Internet of things and the accommodating features such devices provide, costs to personal privacy far outweigh the benefits of saved time. Indeed, considering law enforcement and government authorities are far from infallible, the thought your connected devices have an astonishing amount of information about your otherwise private life should be of sharp concern.
While it might be noble to solve violent crime using any means necessary, the potential for abuse — police trumping up charges after accidentally 'discovering,' for example, non-violent, victimless crimes a person committed — is unparalleled.
For owners of the Amazon Echo worried about privacy, instructions for deleting audio recordings can be found here.