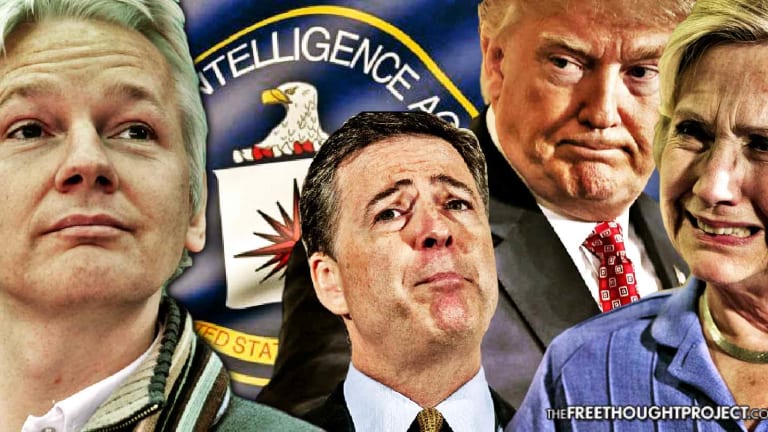 Julian Assange Just Destroyed the FBI, CIA & Fake News in an Epic Tweetstorm
Julian Assange goes on an epic Twitter rant to defend his character and expose the nefarious deeds of those who want to kill him.
Arguably, he's the world's most wanted man. Hated by governments, loved by the common man, Julian Assange seems determined not to go down without a fight. He's been falsely accused of date rape, espionage, and subverting foreign governments, including the United States.
However, if you ask him, he'll tell you he's a journalist who believes governments should be held accountable for their actions. And in his latest Twitter rant, you'll see why. He takes on his critics and those who want him dead, head on.
In his first tweet on Thursday, Assange addressed the latest accusation that he's a pedophile. He linked a CNN video clip and tweeted, "On CNN former CIA claims that I am a "pedophile." Quality work from the folks that gave us Iraq, Libya.." Thus implying the CIA is largely responsible for the proxy wars taking place in the Middle East and Northern Africa.
The video segment showed Phil Mudd, a former CIA analyst, claiming Assange is a pedophile who's holed up in the Ecuadorian Embassy and said, "he's not credible." Unfortunately for Mudd, most Americans believe Assange is credible after publishing leaked documents from several sources within the U.S. government who refused to go along with the government's narratives. In fact, even the current sitting president claimed on the campaign last year that he "loves Wikileaks."
Exposing the mainstream media's bias toward him, Assange then tweeted, "Sun newspaper stated that I raped two men then apparently invented a fake journalist to put on the byline." Indeed, the article does purport to show that a reporter by the name of Holly Christodoulou published the article.

But when reporters confronted The Sun on the story's apparent inaccuracies, the newspaper then changed the story as well as the author's name. "Shortly after the correction was published, the article was heavily revised and Christodoulou's name replaced with the name Eileen Weybridge," writes Shootthemessenger.
"I love journalism. It's so accurate and professional. War, peace and the fate of millions ride on it. We're all in such good hands. Wow!" he tweeted implying it's not journalists who are starting wars, displacing millions, and leaving a trail of dead in their wake. It's governments, powerful ones who are willing to go to war over lies about who's gassing whom.
Wikileaks, not Assange, then retweeted a tweet which shows former president Barack H. Obama, endorsing French presidential candidate Emmanuel Macron. The tweet is probably meant to reflect Obama's condemnation of the alleged Russian meddling in the U.S. presidential election by showing the former president openly meddling in France's election.

"Obama intervenes in election to tell French to vote for Macron after previously ordering CIA to steal parties' plans," the tweet reads. Linked to the tweet was the following story. In 2012, under the Obama administration, the CIA was ordered, according to Wikileaks to use all of its available human and electronic assets to retrieve several political parties' plans for the election.
Wikileaks published the story taken from the leaked CIA Vault 7 documents. They wrote, "All major French political parties were targeted for infiltration by the CIA's human ("HUMINT") and electronic ("SIGINT") spies in the seven months leading up to France's 2012 presidential election. The revelations are contained within three CIA tasking orders published today by WikiLeaks as context for its forth coming CIA Vault 7 series. Named specifically as targets are the French Socialist Party (PS), the National Front (FN) and Union for a Popular Movement (UMP) together with current President Francois Hollande, then President Nicolas Sarkozy, current round one presidential front runner Marine Le Pen, and former presidential candidates Martine Aubry and Dominique Strauss-Khan."
In his next tweet, he openly defied the mainstream media's narrative. He wrote, "I haven't been charged, have already been cleared and the UN says I am right. Yes, CNN, I am dismissive."
Assange is right. He hasn't been charged with any crimes and he attached another subsequent tweet with a statement from the UN panel exonerating him from all allegations and legal proceedings. His followup tweet was an upload of a court document which asked for the Swedish Government to drop his arrest warrant over the rape case SMS text messages now show was a set-up.

The Washington Times wrote that the court motion was a request for the Swedish government to "drop a long-standing arrest warrant against their client Wednesday so the WikiLeaks publisher may once and for all take refuge in Ecuador in light of a looming U.S. indictment." As long as there's an arrest warrant, Assange cannot seek permanent political asylum in Ecuador.
Addressing his rape charges, Assange tweeted Thursday, "The government of Sweden continues to be in breach of the UN's findings in Assange v Sweden." He attached a video clip of Christophe Peschoux, spokesperson for the UN's expert panel investigating Assange. In it, Peschoux called for the UK and Sweden to restore to Assange his liberty and compensate him for the unwarranted charges of rape against the world's most famous journalist.
Assange then called out Hollywood's collusion with the American government to create an anti-Assange film called "The Fifth Estate." He linked his tweet to an interview of his friends who had watched the film and were leaving the theater in shock from the caricature that Assange is some paranoid cult member. A person leaving the film called it "shit" and his friends all agreed, saying it was anything but realistic.
The witch-hunt continues against Assange. As long as he's alive and relaying to the world how various intelligence agencies are spying on everyone using their own cell phones, smart televisions, and computers, and as long as he's publishing internal documents from political parties who actively subvert their own candidates, and as long as he publishes military secrets the warmongers want to remain hidden, he'll always be a marked man.
It doesn't matter if he gets the political refuge he's seeking; they're out to kill him, all for being a journalist.