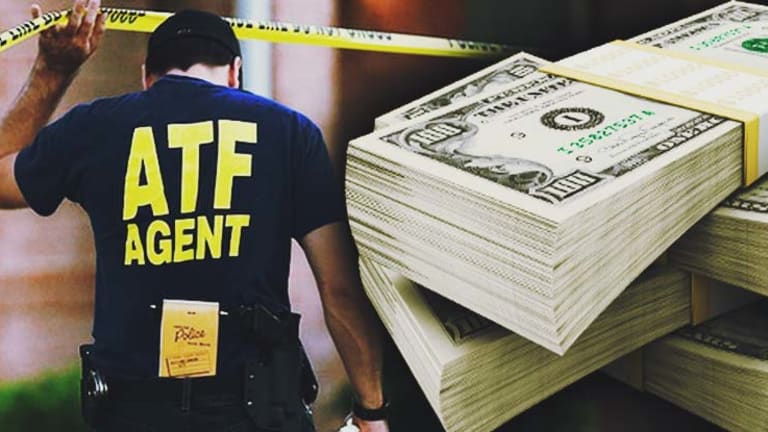 ATF Busted for Illegally Selling Millions of World's Deadliest Drug
The ATF was caught red-handed selling the world's deadliest drug -- by the ton -- all in an effort fo fund its black operations.
How do 700 tobacco farmers uncover a highly secretive criminal operation generating millions of dollars in fraudulent cigarette sales? By going into business with the Bureau of Alcohol Tobacco, Firearms and Explosives (ATF), as they sold millions of dollars of cigarettes, the number one cause of preventable death, that's how. And the operation may be as scandalous and controversial as the famed Fast and Furious gun running program with which the ATF was also involved.
Raleigh-based U.S. Tobacco, a group of farmers who operate small farms from Virginia to Florida, was looking to expand its operations by purchasing a distributor, someone with a warehouse and the means to supply retailers with their cigarette brands Wildhorse, Traffic, and 1839. They negotiated a deal with Big South Wholesale and its owners, Jason Carpenter and Christopher Small. Big South had a network of retailers and held out promise for U.S. Tobacco to be able to distribute their own brands.
Because Big South was able to make purchases on behalf of U.S. Tobacco, the distributors had access to U.S. Tobacco funds. The parent company quickly began to notice irregularities in various business transactions. According to the New York Times, Big South bought tobacco for, "$15 a carton and sold it to U.S. Tobacco at $17.50. The profit, about $519,000, went into what was known as a 'management account.' That account, while controlled by Mr. Carpenter and Mr. Small, helped pay for A.T.F. investigations."
That's right. According to a lawsuit filed by U.S. Tobacco, who is suing its own distributor, the ATF was running a cigarette purchasing operation disguised as a tobacco distributor, all allegedly in an effort to generate black market currency with which the ATF could then use to fund its other off-books operations.
The arrangement U.S. Tobacco had with Big South created an internal conflict of interest. Not knowing that Big South was actually a cigarette-running ATF operation, the parent company turned in the distributor to the Justice Department for investigation. But apparently, since the ATF is a part of the Justice Department, nothing happened as a result of the case. However, a federal judge, after discovering ATF's involvement within Big South, added the federal government as a defendant in U.S. Tobacco's case against Big South.
Since the company filed a complaint with the Justice Department, instead of finding a resolution, U.S. Tobacco said they then became the target of a Treasury Department inquiry. In other words, it appears as though the federal government is punishing the cooperative of small time farmers, for seeking damages they say they've sustained as a result of the federal government's involvement in their tobacco business. The amount of money lost, the parent company claims, amounts to 24 million dollars.
Big South, the Times writes, isn't your typical distributorship. "Its assets included more than two dozen vehicles, including expensive S.U.V.s and a fleet of Mercedes, BMW, Audi, Lexus and Jaguar sports cars," the Times describes. Carpenter and Small, Big South's owners, weren't hapless participants in the ATF's scheme. According to heavily redacted documents related to the case, writes the Times, they've been serving within the government across various agencies, for years, yet their true employer remains an enigma.
Stuart Thompson, U.S. Tobacco's CEO, began to question the financial movements at Big South in 2012 when he took over the company. That's when he met Brandon Moore, Big South's warehouse manager, who was ready to tell Mr. Thompson all he knew. According to the Times;
The arrangement began to break down in late 2012, when Mr. Thompson joined U.S. Tobacco as the chief financial officer. He was curious why his warehouse was placing so many orders for a brand of cigarette that competes against U.S. Tobacco. He could not get a straight answer, the company said in court documents.

In March 2013, Mr. Moore picked up the phone, called Mr. Thompson and explained what was happening. "I did what I did because of the ethics of it," Mr. Moore said recently. "What was happening there was wrong."

Once U.S. Tobacco discovered the bookkeeping irregularities, it reported them to the Justice Department, which investigates white-collar crime and government misconduct. Records show that the Justice Department, which includes the A.T.F., investigated some aspects of the case but no charges were filed.

"We voted unanimously to give everything we had to the government," said Charlie Batten, a U.S. Tobacco board member whose family has worked the same North Carolina soil for generations. "We thought they would take it and run with it. What happened was, they've fought us tooth and nail."

Because of the sealing order, Mr. Thompson, Mr. Batten and others are prohibited from discussing what happened to the money — even with their own farmers.
Even with the revelations the ATF was running an illegal operation inside of their company, and with the Justice Department being aware, U.S. Tobacco has been unable to divorce itself from Big South. That's because the federal government now wants its tax revenue from all of the secret tobacco transactions the ATF initiated at Big South. "Those secret tobacco sales, it turns out, should have been taxed. And the government wants its money," writes the Times.