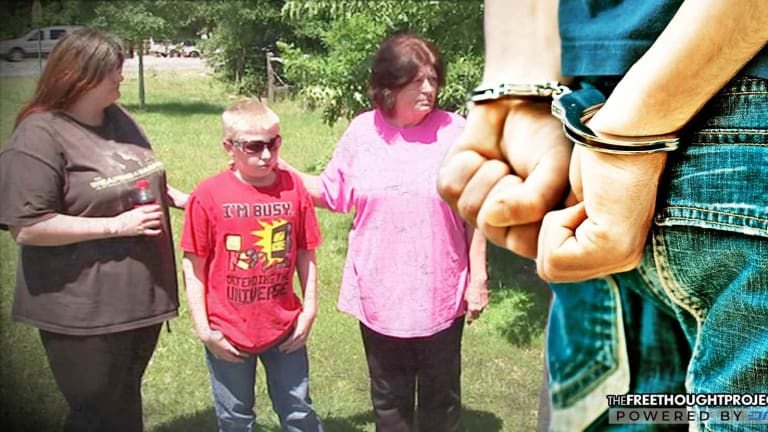 Autistic 5th-Grader Handcuffed, Arrested for Playing With 'Imaginary Gun' at School
An autistic 5th-grader's imagination led to his subsequent handcuffing and arrest after he was seen "brandishing an imaginary rifle" at his school.
Conroe, TX — After the shooting in a Parkland, Florida high school earlier this year, the entire nation is on edge and is taking steps to make sure it doesn't happen again. Because authorities ignored the shooter's threats, and essentially allowed the massacre to take place, police are being extra cautious now to ensure this does not happen again.
Since that fateful day, school children across the country have been arrested for threatening behavior. Now, however, a case out of Texas has many wondering if this reaction to fear is going to far as a 5th grade autistic student was arrested for "brandishing an imaginary rifle."
On Monday, 12-year-old David Sims, a 5th grader in Conroe Independent School District's Bozman Intermediate school, was handcuffed, hauled away and charged with a crime for motioning his hands like he had a gun.
The boy's actions apparently threatened his art teacher who then called the police.
"She (CISD Police Officer) just put handcuffs on me and told me I need to go with her," David told Fox 26.
"They just said, 'We don't tolerate that. We take it as a threat.' A threat? He didn't threaten anyone. He didn't do anything but play," said Amy Sims, David's mother.
Sims explained that she was never notified of her son's arrest until after he'd been booked. Sims noted that like many kids with autism, her son doesn't understand that playing make believe guns on campus has become inappropriate behavior.
"Being put in handcuffs, not knowing what he did wrong, I could have had a talk with him and told him look, I know you like to play guns, but you can't do it in school," said Amy Sims.
Indeed, that is all that should have happened. However, this little boy is now facing criminal charges instead.
David was held for hours at the juvenile detention center on Monday wondering what it was that he did wrong.
According to Montgomery County Attorney, J.D. Lambright, the autistic child allegedly made a threat along with the make believe rifle. However, his mother disagrees.
Lambright told Fox 26 that because of David's mental disability, he may be able to beat the charges.
"We want to get them turned around and on the right path," Lambright said, implying that playing with an imaginary gun is how kids apparently get led astray.
Lambright explained that police are responding to similar incidents all across the district.
"Right after the Florida incident we were getting two a day, three a day and it wasn't isolated to any particular school. We have six school districts in Montgomery County and they were coming in across the County," said Lambright.
Although the school would not comment on this specific case, they did release a statement saying, "Situations involving students with special needs are responded to with consideration for each unique need."
David's mother believes that her son is certainly getting this special treatment, however, she calls it the discriminatory kind.
"Because he's disabled, they automatically think he's got something mental, so he might go shoot up a school," said Amy Sims.
As for David, he will not be allowed back at the school and he must attend an alternative disciplinary school for the rest of the year.
Sadly, as schools across the country rely more and more on police to force student compliance, instead of training and common sense, this scenario becomes more common.
Last year, the Free Thought Project reported on 6-year-old Nicholas, who is diagnosed with attention deficit hyperactivity disorder and disruptive mood dysregulation disorder. Nicholas was kidnapped from his elementary school by police and imprisoned in a psychiatric hospital.
He was held, including multiple stints in a 'seclusion room,' for three days at River Point Behavioral Health -- for a temper tantrum at school. 
If a 6-year-old boy was taken by police from a school and locked in an isolation room in the 90's, you can rest assured that this would not fly. The same goes for a 12-year-old boy with autism getting arrested and charged with a crime for an imaginary gun. Now, however, police force as a reaction to childhood problems has become the go-to approach in the land of the free.