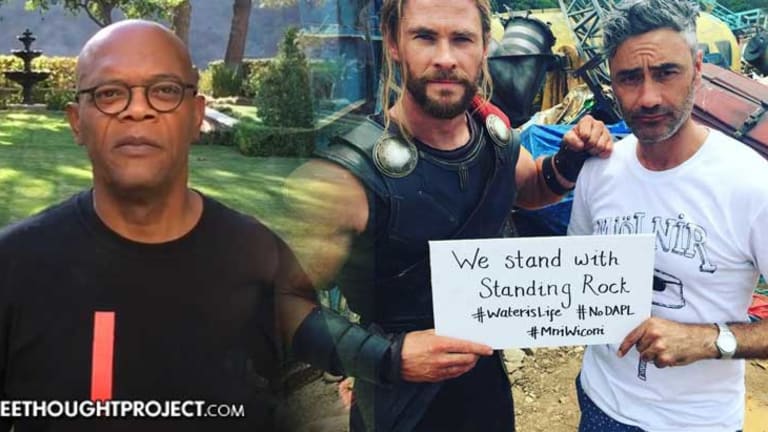 Cast of the Avengers Heroically Comes Out in Real Life to Call Attention to DAPL Protesters
Four stars from the Avengers have joined forces to demand Obama and others pay attention to Standing Rock and halt the Dakota Access Pipeline.
Four stars from the movie, The Avengers, have now joined forces to demand President Barack Obama pay attention to abuses and excessive force being used against the Standing Rock Sioux Tribe and other water protectors fighting construction of the Dakota Access Pipeline.
Chris Hemsworth, Mark Ruffalo, Samuel L. Jackson, and Chris Evans have teamed up to use their celebrity status on behalf of Native Americans concerned the pipeline's route under the Missouri River could poison drinking water for both the reservation and at least 18 million people downstream.
Members of the Standing Rock Sioux are also particularly concerned further construction by Energy Transfer Partners endangers sites sacred to the tribe, some of which tribal historians had been unable to assess until recently due to previously longstanding lack of permission from now-private property owners.
All four Avengers have taken to social media in the past month to encourage others to share their support of opposition to the pipeline. As Ruffalo, who plays The Hulk in the film, said in a recent video:
"Take a stand for our brothers and sisters in #StandingRock! Join me in telling @barackobama to just say #NoDAPL. Period. Sign the petition and #StandWithStandingRock at the link in my bio."
Thor actor Hemsworth shared a photo in full costume holding a sign which read, "We stand with Standing Rock #WaterisLife #NoDAPL #MniWiconi."
In a particularly poignant public apology, Hemsworth admitted horrendous ignorance in wearing "traditional dress of First Nations people" to a party on New Year's Eve, and acknowledged ongoing exploitation of Native Americans and all indigenous peoples. Below the picture described, he wrote to Instagram:
"Standing with those who are fighting to protect their sacred land and water. #nodapl #waterislife #mniwiconi @taikawaititi I would also like to take this opportunity to raise something that has been bothering me for sometime. Last New Year's Eve I was at a 'Lone Ranger' themed party where some of us, myself included, wore the traditional dress of First Nations people. I was stupidly unaware of the offence this may have caused and the sensitivity around this issue. I sincerely and unreservedly apologise to all First Nations people for this thoughtless action. I now appreciate that there is a great need for a deeper understanding of the complex and extensive issues facing indigenous communities. I hope that in highlighting my own ignorance I can help in some small way."
Evans, who played the role of Captain America,
Tell @POTUS to say #NoDAPL by signing the https://t.co/dQNr1DwUoT petition!!
— Chris Evans (@ChrisEvans) November 4, 2016
">tweeted a link to the Stand With Standing Rock website — which asks people to sign an ever-lengthening petition, call the White House, and/or donate to the cause — along with the caption:"Tell @POTUS to say #NoDAPL by signing the standwithstandingrock.net petition!!"

Jackson, Nick Fury in the Avengers, posted a brief video in support of the Standing Rock Sioux, with the caption:
"I'm saying #nodapl and @barackobama should too! Sign the petition and standwithstandingrock.net #standwithstandingrock."
He stated in the video:
"I'm Samuel L. Jackson, and I acknowledge the First Peoples of America. I stand for their right to clean water — and today, I stand with Standing Rock. Go to standwithstandingrock.net to take action."
Besides providing needed publicity for opposition to the controversial Dakota Access Pipeline, a number of celebrities have visited encampments in North Dakota along the Missouri River, including Sacred Stone and Oceti Sakowin, among others.
For his part, Ruffalo — co-founder of the Solutions Project, working to implement renewable energy — went far beyond mere words, and together with Native Renewables founder Wahleah Johns delivered trailers equipped with multiple solar panels to tribal elders to power sorely-needed services at the camp, like medical tents.
"This pipeline is a black snake that traverses four states and 200 waterways with fracked Bakken oil. We know from experience that pipelines leak, explode, pollute and poison land and water. But it doesn't have to be that way," he explained.
Singer Dave Matthews also made an unpublicized appearance at one of the camps, playing his song "Don't Drink the Water" for a small audience, including an excited group of kids he greeted afterward with hugs. Matthews had spoken to and performed for young students at Standing Rock Elementary earlier in the day to stress the importance of the arts in education.
"Just to be part of maybe helping inspire them to see the greatness inside of each of them, you know," he told the school audience. "And maybe inspire them to be everything that they could be."
On November 27, Matthews and other yet-to-be-announced artists will play a benefit concert for the cause in Washington, D.C. According to benefit announcement:
"Dave Matthews will host 'Stand with Standing Rock' Benefit Concert at DAR Constitution Hall in Washington, D.C. on Sunday, November 27, at 7:00 p.m with additional artists to be announced soon. All net proceeds from the show will be utilized to support the Standing Rock Sioux Tribe in its opposition to the Dakota Access Pipeline. The funds raised will help provide supplies, legal assistance and other necessities to the 'water protectors' – the protesters who are currently at the frontlines of the tribe's fight."
Actress Shailene Woodley, from the film series Divergent, spoke out against pipeline construction and visited the camps recently — only to be met with arrest by heavily-armed police as she live-streamed events on Facebook to nearly 45,000 people.
Actress Susan Sarandon joined Dakota Access Pipeline opposition in support of the Standing Rock Sioux in August, and has continued vocally calling out President Obama, the presidential candidates, and other politicians who have hardly uttered a word on the issue.
"It is discouraging that both Hillary Clinton and Obama, who have professed to be protectors of Native American rights—and Obama even visited that particular reservation—have been silent," Sarandon told the Observer in September. "Why haven't we heard from more people who are supposed to be progressive, who believe in global warming? I'm not even talking about Trump, because he's out of the concession with the science—but those people who pretend to care about the environment and believe in global warming, how can they not speak out on what's happening?"
Water protectors at the North Dakota camps, who have put their routines on hold to adamantly oppose the pipeline, face an even harsher than normal winter, with January daytime Fahrenheit high temperatures expected to dip into the teens and nights in the negative digits — and those numbers don't account for notorious plains winds, which can drive wind chills to chilling extremes.
Indeed, attention from these and other celebrities to the struggle of the Standing Rock Sioux water protectors facing off against a Big Oil behemoth couldn't come at a better time. Even if you don't hold stars in particularly high regard just for appearing in films or making music, those employing their celebrity status — a public platform of millions of people — are at least using that fame for greater good.
To help fight construction of the Dakota Access Pipeline, even if you are unable to travel to Cannon Ball, North Dakota, follow this link and this link for suggestions, and visit standwithstandingrock.net.