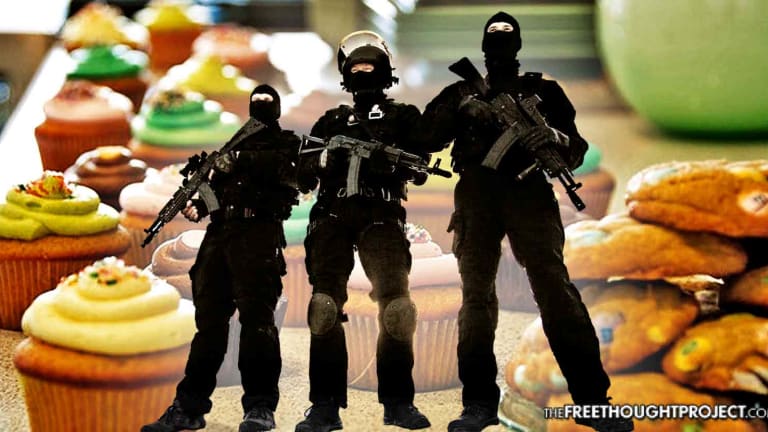 Bakers Sue State Because Selling Cake is Illegal and Can Get You Thrown in Jail—Seriously
Bakers are fighting back against the only state that makes selling home-baked goods "illegal" and they are arguing that the law is meant to protect commercial bakers.
Bakers in New Jersey are fed up with the possibility of a $1,000 fine for selling a single cake, and they are coming together to sue the only state that makes it illegal for individuals to sell home-baked goods. Fines, as TFTP has frequently reported are enforced through the threat of police action. If these bakers choose not to pay the fines—they could end up in jail—for baking a cake.
The ban on the sale of baked goods that were not made in a commercial kitchen was also present in Wisconsin, where bakers could face up to six months jail for selling a single cookie, up until May 2017 when a state court declared it unconstitutional on the basis that the law had "no real or substantial connection" to consumer protection.
After securing a legal victory in Wisconsin, the Institute for Justice is now working with three bakers in New Jersey and hoping for a similar outcome. IJ intends to prove that the ban is purely political as bills to end it have passed the Assembly three times unanimously, and the only person who has repeatedly refused to allow a vote in the state senate, Sen. Joseph Vitale, has claimed that he wants to protect commercial bakers from competition—which is unconstitutional.
While it is illegal to sell baked goods, allegedly because of the safety concerns that come from bakers using their own kitchen instead of a commercial kitchen, New Jersey does make an exception for baked goods that are "prepared for sale or service at a function such as a religious or charitable organization's bake sale."
Therefore, either New Jersey does not care about the health of the people who are consuming the baked goods sold by charities, or the initial ban is purely political to protect commercial bakers from competition. As the Institute for Justice noted:
"The state cannot justify the license and commercial kitchen requirement with safety concerns. These requirements apply even when a baker only wants to sell goods that the state deems 'not potentially hazardous.' Not potentially hazardous baked goods are those that are shelf-stable, do not require refrigeration and are very safe to eat. They include most cookies, breads and muffins commonly made in home kitchens. As a Wisconsin court recently concluded, there is no report of anyone, anywhere, ever getting sick from an improperly baked good."
The lawsuit was filed on behalf of Heather Russinko, Martha Rabello and Liz Cibotariu. They are all mothers and home bakers, and together they founded the NJ Home Bakers Association.
Russinko is a single mother who lives paycheck to paycheck. She started baking 10 years ago as a way to heal from an abusive marriage. But when baking for her son's school fundraisers turned into fulfilling orders from friends and family, she found out that she was doing something that had been deemed "illegal" by the state.
"It was crushing because I always wanted to have my own business. I believe in creating your own destiny and being self-sufficient," Russinko told CBS News.
In order to make her dream come true of having her own business featuring her famous cake pops, Russinko would have to start by renting space at a commercial community kitchen. As the Institute for Justice reported, renting out space in a kitchen can cost around $35 an hour, in addition to licensing fees, storage fees other expenses such as child care for mothers who would otherwise be baking at home.
The current legal fight on behalf of these home bakers is nothing new. Erica Smith, an attorney for the NJ Home Bakers Association, told CBS News that they have been lobbying the state legislature for nearly a decade to change the current law.
"The bakers here, they didn't just jump and file a lawsuit, they have been fighting for 10 years to get this law passed in the legislature," Smith said.