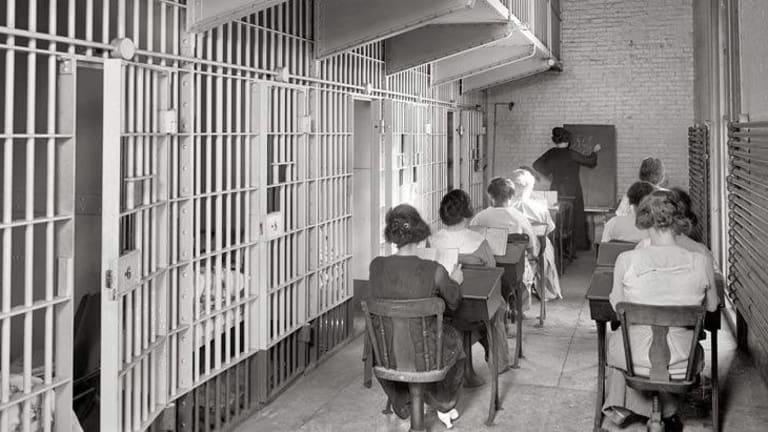 Baltimore Aims to Make Schools Even More Like Prisons with Armed Police Patrols
Baltimore, Maryland - In recent weeks, we have been reporting on a number of disturbing cases where school police officers have brutally attacked small children and even senior citizens in some instances.
The Baltimore City School District is one of the places where these attacks have recently occurred, and now they are considering allowing the school police officers to carry guns.
Supporters of the measure have argued that this would offer more protection against outside attackers, but many critics are concerned that this could turn an average scuffle with a student into a fatal situation.
"I think because of everything that's going on nationally, we want to ensure that the police officers are safe and that they can ensure the safety of the students and the staff members," Baltimore City School Board student commissioner Eddie Hawkins said at a recent town hall meeting.
However, a number of community members and parents assembled at the meeting in protest, saying that this bill could have dangerous consequences.
"I learned at the hearing in Annapolis that there was only one special needs training from 2012 to 2014. No one could tell me if officers needed to do a certain number of hours before they could be assigned to a school," parent Melissa Schober said.
Most of the students oppose the measure because they don't want the schools to become even more like prisons than they already are.
"I go to school every day to learn, not to be threatened or to feel like I'm a part of some institution where I'm being watched or policed 24/7," Baltimore City College High School student Makayla Gillam-Price told reporters.
Just last month, school police in Baltimore made headlines because a 13-year-old girl received 10 stitches in her head after she was attacked by police at Vanguard Middle School.
Sadly, these types of attacks are regular occurrences all throughout the country, and they would surely be far worse if the cops had actually been carrying guns.
John Vibes is an author, researcher and investigative journalist who takes a special interest in the counter culture and the drug war. In addition to his writing and activist work he is also the owner of a successful music promotion company. In 2013, he became one of the organizers of the Free Your Mind Conference, which features top caliber speakers and whistle-blowers from all over the world. You can contact him and stay connected to his work at his Facebook page. You can find his 65 chapter Book entitled "Alchemy of the Timeless Renaissance" at bookpatch.com.