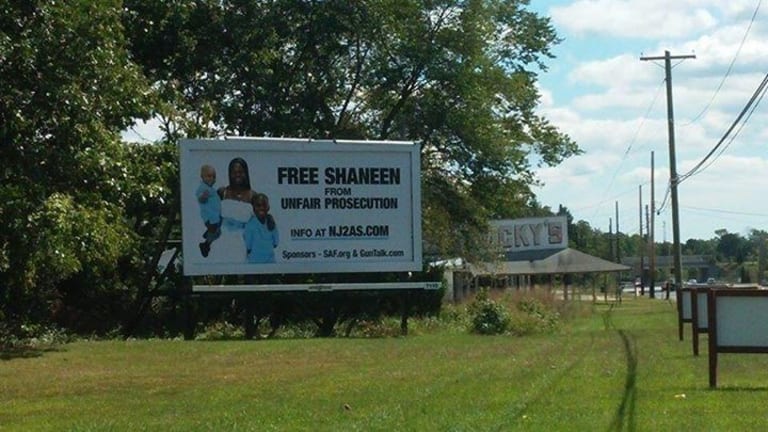 Billboards Appear in Support of Philly Mom Facing Weapons Charges For Legally Owned Firearm
Last year, Twenty-seven-year-old mother Shaneen Allen was arrested for traveling through New Jersey with a firearm that was legally registered to her residence, just miles away in Philadelphia.
Allen is now facing weapons charges that could result in a ten year prison sentence if she is convicted. People all over the country have been showing support for Allen in her case, and locally some supporters have paid for billboards to raise awareness about her situation.
The New Jersey Second Amendment Society, the Second Amendment Foundation and Gun Talk Radio gathered roughly $4,000 from local supporters to help with legal fees and awareness efforts like the billboard project. Four large billboards were placed on Route 322 and Route 40 in Atlantic County and are seen by thousands of people every hour.
Allen was arrested in October of 2013, after a traffic stop in Atlantic County, N.J where she told a police officers that she had a handgun in her car, and showed them her concealed carry permit.
The officers reacted by arresting the woman, because the state of New Jersey has extremely tough gun laws in comparison to its neighboring state of Pennsylvania, and her permit was actually no good across state lines.
"When she crossed the border into New Jersey, she was not involved in a crime, you travel into New Jersey with a gun at your own peril," said Frank Jack Fiamingo, president of the New Jersey Second Amendment Society.
Sadly, the same judge and prosecutor who gave special treatment to NFL player Ray Rice in his recent domestic violence charge, actually denied the very same options to Shaneen Allen.
According to NBC, Superior Court Judge Michael Donio and Atlantic County Prosecutor Jim McClain denied Allen entry into Atlantic County's Pretrial Intervention program, which would have kept her from serving time in jail and would have expunged her record of any charges related to the incident. Ray Rice however was granted that motion by the very same bureaucrats.
"When you compare the crimes, he punches his girlfriend out, she crossed the border from Pennsylvania into New Jersey," Fiamingo said.
Luckily, the outrage caused by this decision has forced Prosecutor Jim McClain to review the case and consider Allen for Pretrial Intervention.
While the case drags on, supporters hope that the new billboard project will raise more awareness about this injustice.
John Vibes is an author, researcher and investigative journalist who takes a special interest in the counter culture and the drug war. In addition to his writing and activist work he is also the owner of a successful music promotion company. In 2013, he became one of the organizers of the Free Your Mind Conference, which features top caliber speakers and whistle-blowers from all over the world. You can contact him and stay connected to his work at his Facebook page. You can find his 65 chapter Book entitled "Alchemy of the Timeless Renaissance" at bookpatch.com.