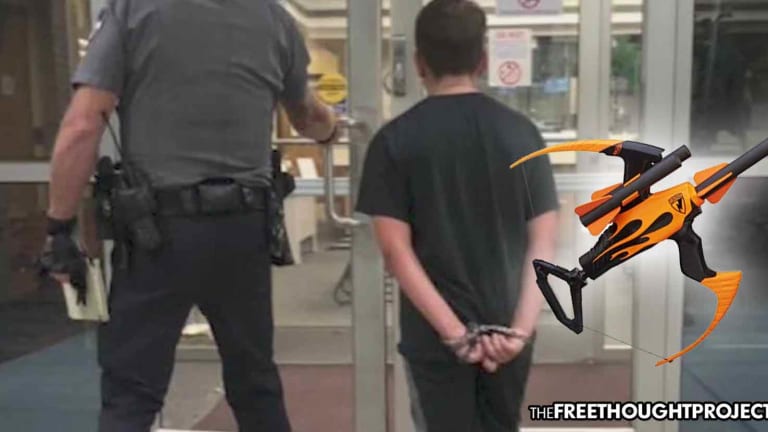 10yo Boy Handcuffed, Arrested, Charged with Felony for Playing with a Nerf Bow and Arrow
For playing with a non-functional toy Nerf bow and arrow, a 10-year-old boy was arrested and charged with a felony because someone reported him.
Colorado Springs, CO — In today's fearful society, even obvious toy "guns" like Nerf guns can land innocent children in the grips of the police state. A Colorado family is now sharing their story in hopes that this insanity will be exposed and kids can hopefully get back to being kids. The Carson family's 10-year-old son was arrested, handcuffed, and charged with Felony Menacing, a Class 5 felony, for playing with a Nerf bow and arrow.
Gavin, like all boys his age, has an imagination. So, he and his buddy grabbed his broken Nerf bow and arrow last year and went outside to play and imagine.
"The toy bow was an orange Nerf bow. It didn't work. Nothing could shoot out of it. Nothing would come out of it. The weapon, well toy I had, had an orange tip. It was also broken and couldn't shoot anything out of it," Gavin said, according to FOX 21.
Even if the Nerf toy was functional, Gavin's use of it couldn't have hurt anyone or anything. Nevertheless, when a loyal subject of the crown saw the two children playing with it, he just had to involve the police state.
"He slammed his breaks and started reversing as fast as he could," Gavin said. "He came up and started getting very heated and was very mad. I was at the time, very scared."
When the angry man began yelling at the small children, they ran home because he scared them. The man then verbally accosted Gavin's parents, as seen on the family's doorbell cam.
This fearful subject then called 911 to report two small children for playing with a Nerf bow and arrow. Seriously.
According to the Carpenter family, El Paso County Sheriff's deputies arrived and arrested both Gavin and his friend. He was handcuffed and taken to the Colorado Springs Police Department for mugshots and fingerprinting.
"They came back over, told me my rights, and told me what was going to happen. They put handcuffs on me, and I got into the car," 10-year-old Gavin Carpenter said.
"I told them I had no intention to have scared them or have any threat to their life," Gavin said.
This small child was held in jail for hours and not released until 10:30 p.m. Gavin's family immediately hired an attorney to help get the charge dropped, but the DA refused and fought to permanently scar this little boy's life forever because he pointed a Nerf bow and arrow at cars.
"It was just a hard no, that the District Attorney wasn't going to throw this out," Gavin's father Chris said. "That is when we moved into the diversion program."
Gavin was then sentenced to community service, forced to write an essay, and given multiple other tasks just so he didn't carry around a felony charge for the rest of his life—for playing with a Nerf toy.
"So if you run his name, nothing will show up, but he did have a Class Five Felony on there for at least half a year," Chris said.
EPSO released this statement when we asked about the arrest:
"If anyone is dissatisfied with the actions of any employee of the El Paso County Sheriff's Office, they have administrative avenues available to them. We encourage citizens to take advantage of those avenues."
In an odd twist, the family wants to restore Gavin and his friend's faith in police — who kidnapped and caged their son for a Nerf bow and arrow and charged him with a felony.
"Were trying to establish now for the boys a few events to help build trust in law enforcement because it was shattered. We want them to not be scared and show that law enforcement is their friends, and they need to show them the proper respect," Chris said.
Sadly, this father didn't learn that trust is a two way street. When an officer kidnaps a child for playing with a Nerf gun and seeks to ruin his life by charging him with a felony, he is not to be trusted.
Gavin is lucky he escaped this incident with a simple arrest and charges. A 14-year-old boy named Antonio Arce was not so lucky when he played with his orange tipped toy gun. When he ran away from a cop, that cop killed him, shooting him in the back twice. Last month, the officer, Joseph Jaen, who killed Antonio was cleared in his death—despite shooting the child who was unarmed and running away.