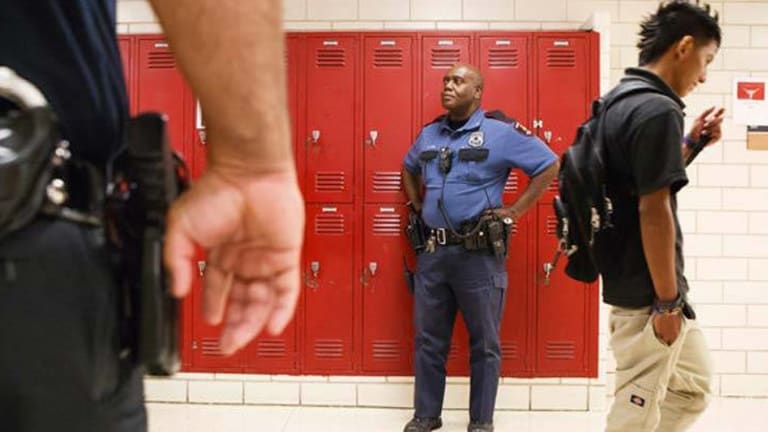 'Education' in a Police State - In California Alone, Schools Call the Cops Every 2.6 Seconds
Shocking records show that police are are not only patrolling the schools, they're given an active role in the discipline process.
San Jose, CA - Police presence in schools has been a topic of heavy debate in recent weeks due to a viral video that showed a police officer brutally assaulting a young girl as she sat at her desk in class. These cases are sadly common, and now seeming to take place on a daily basis all across the country.
According to figures released by the U.S. Department of Justice, 76% of all high schools in the country have police officers working on the campus all day, and teachers are calling them in for the most trivial disciplinary problems.
According to statistics released by the U.S. Department of Education and published by NBC News, in the 2011-2012 school year, teachers called the cops on students a total of 31,961 times in the state of California alone, leading to 6,341 arrests.
With 175 8-hour-long school days, that means that every 2.6 seconds a cop is called!
At one California school district, in particular, East Side Union High School District in San Jose, police were called on students 1,745 times during the 2011-2012 school year. This one school called the police on students more than ten times a day!
East Side Union Superintendent Chris Funk admitted that his staff relies way too heavily on the police presence at the school.
"I think that we had a practice here where we were relying too much on having the officer do the facilitation and the legwork versus the administration doing the legwork," Funk said.
"I think what happened was because of zero-tolerance policies, there was a period of time where people just went to the police and had students cited for everything. Now, we've really narrowed that gap," he added.
Laura Garnette, Chief Probation Officer for Santa Clara County explained that this is a nationwide problem that creates a school to prison pipeline that is very damaging for students.
"There are tragic long-term consequences, I think we certainly see a lot of cases where we think, 'seriously?' The consequences of having the criminal justice system and police intervene in what by most people's account is normal adolescent behavior is tragic," Garnette said.
Linnea Nelson, an education equity staff attorney at the ACLU of Northern California, explained that "The problem is that police tend to approach conflict by arresting people, rather than having a more supportive approach to keep kids out of trouble."
" width="790" height="444" frameborder="0" allowfullscreen="allowfullscreen">
John Vibes is an author and researcher who organizes a number of large events including the Free Your Mind Conference. He also has a publishing company where he offers a censorship free platform for both fiction and non-fiction writers. You can contact him and stay connected to his work at his Facebook page and purchase his books at his website www.JohnVibes.com.